No day is the same for freelance trainer and champion hunter rider Sandy Ferrell, but you can bet she enjoys every second of it. After closing her barn a few years ago, the 53-year-old from Hagerstown, Maryland, enjoys every aspect of horses, whether she's competing at the Totally Thoroughbred Horse Show at the Pimlico Race Course (Maryland) or winning the grand green championship at the Pennsylvania National Horse Show, as she did in 2018. She's also a fan of non-horsey hobbies like ballroom dancing.

Good morning! I hope everyone had a good night's sleep.
I am not a very good sleeper, probably due to many years of getting up at 4 a.m. worrying about the horses and trying to figure out how I could have done a better job the day before. In my current life as a freelance rider and trainer, I have the flexibility of scheduling my days in advance so that I can always be wherever and whenever I'm needed. Some of those days are filled with driving to numerous farms, some days in the same state, and some days require going to different states.
5 a.m. I automatically wake even if it's a day when I could sleep until 6-6:30. But this day requires me to get up and get going because it's a day that entails a lot of driving. I love my morning coffee even though I have to be a decaf girl—something that goes along with getting old!
When it's a day that does not require me to leave as early, I make a point of doing a 30-minute virtual EquestriOM Yoga class at 7:15. This class was designed by Erinn Chang and Vanessa Roman and predominately focuses on strengthening and stretching our riding muscles. The classes also focus on developing breathing techniques that are so important in all that we do. As riders and trainers, I think we spend so much time making sure our horses are in tip-top shape that sometimes we neglect our own bodies. I am so grateful to have become part of this amazing practice.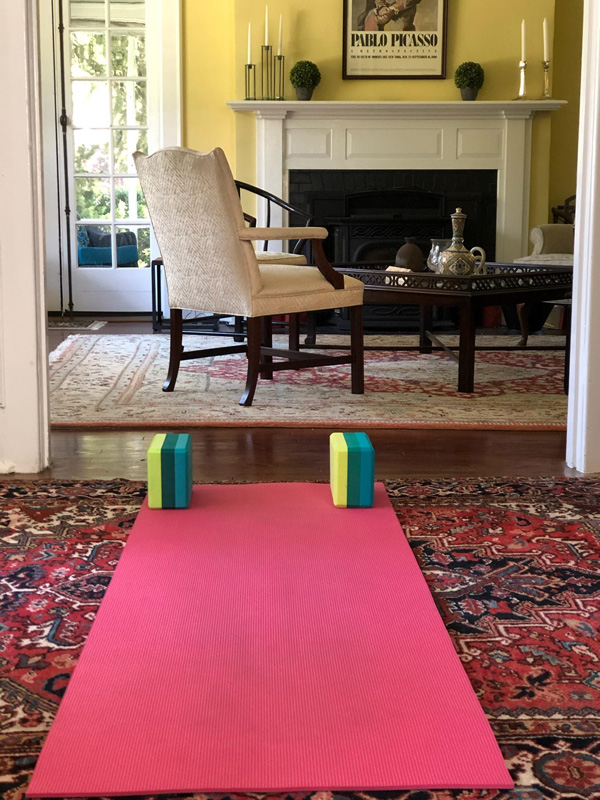 No matter what time I need to leave, I make a protein shake. I started doing this a few years ago, and now it's a must. Our lifestyle in the horse world doesn't always provide us with the time for proper eating habits. I have found that a shake gets me going and keeps me going through the day. These are the ingredients I like to use:
Naked Whey powder with no artificial flavoring
Fiber One Cereal
Mix of ground flax seed and psyllium husk
Super Greens powder
Those four ingredients are a must—as well as a small amount of coconut almond milk, Powerade Zero (trying to avoid as much sugar as possible), Premier Protein shake (peach flavored), plain Greek yogurt, blueberries and fresh mint. When I remember to buy it, I really enjoy adding peanut butter powder. It's definitely a process that I have to allow time for to make it. Even when I am traveling for horse shows, whether it be driving or flying, I pack individual baggies of all the solid ingredients along with my NutriBullet!
See what goes into Sandy Ferrell's breakfast shakes: 
5:45 a.m. I'm on the road. Today I am leaving Hagerstown, Maryland, with my first stop in Sparks, Maryland, two hours away. I have two clients there. One client has horses that we both show. She rides as an adult. We're currently working mostly on technique due to the coronavirus and choosing not to be on the road. Most days my assistant Kayla Yoder is there also, so between the three of us it all gets done in two to three hours. When finished there, I drive just up the road to teach a lesson to a client who does not show but has a Thoroughbred that was given to her. Both she and the horse have been such a joy to work with. Not everyone can have a super fancy horse nor the time to ride all the time, but dedication brings results.
After chit-chatting and scheduling her next lesson, I am back on the road headed to Bernville, Pennsylvania, another two hours away. My client there has a homebred that she is selling and is having his first trial tomorrow. This is a big day in so many ways. I don't get to work with this horse as much as I would like to, but I am dedicated to her for the next 24 hours. After we work with the horse, I will spend the night with her so that we can be up early preparing for the trial. This day in my life is more like a day and a half as my journey back home to Hagerstown will take three hours.
Practicing that golf swing:  
1 p.m. the next day: I've arrived home. I gave myself the afternoon off allowing for a few hours of fun. Luckily, there are still a few hours of daylight left, which means I can work on my golf game, and let me tell you, it needs a lot of work! I am very much a novice, and I can't get enough of it! Thank goodness my boyfriend John Psillas is a great coach. Today it's the driving range, working on the timing of my swing and my position. Who knew playing golf really has nothing to do with hitting the ball? When I do actually play on a course, keeping score is something that's avoided. At this point I'm pretty sure I'd have the club record of the most shots taken in a single round of golf. My goal at this moment is not to lose more balls than I did the previous time.
If I get home after dark, my go-to activity is to take a virtual class on our SoulCycle bike. For those who don't know what SoulCycle is, it's a spin class like none other. The people that do this class must have an acute ability to pedal to the beats of the music—it is serious stuff. Once again, I am a novice, and let me say when classes were being held live, you would find me in the back row! Doing SoulCycle and playing golf have been such an important journey for me. It's so interesting how so many things involve body control, balance, patience, connection and proper breathing. How many of us have heard those concepts a thousand times while riding?
Time for some virtual SoulCycle: 
6:30 p.m. John is the chef in our household. Cooking is one of the things that is out of my comfort zone that I have chosen NOT to try. I am a salad and veggie lover. My favorite ingredient in the salad is the roasted pecans. I had those for the first time a few years ago, and now I must have them in every salad; they are like candy! I am not a red meat eater, so John is fixing grilled salmon and broccoli—two of our favorites. We are not what you would call "fancy eaters." We try to be healthy, but let's face it, no one is beyond having cheat days!
8 p.m. Depending on the day, Netflix is our go-to! I also just finished watching the first season of "24" and WOW! I can't wait to start Season 2! "Dancing With The Stars" is really the only show that takes priority over the others. John is very grateful it's only on one night a week, and the season is short!
10-11 p.m. I'm in bed. Some nights are better than others, but I always look forward to the next day in my life!