Multitasking is a way of life for Indiantown, Florida-based John Stanley, 48, and his fiancée Lauren Briggs, 42. Stanley is a farrier, master of foxhounds and amateur huntsman for Four Winds Foxhounds and also manages his family's 2,000-acre cattle ranch.
Briggs is a U.S. Equestrian Federation "r" hunter/jumper judge who whips-in to Stanley, while Lilah Stanley, their 2-year-old daughter, keeps both parents on their toes.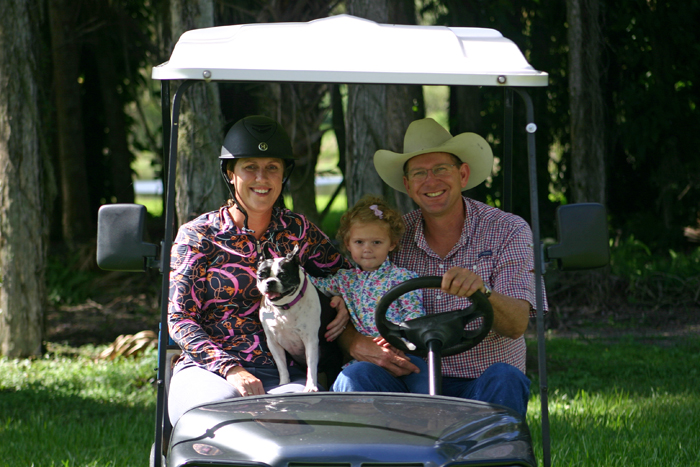 5:30 a.m. Get up, make coffee, get dressed for the day and take a breakfast sandwich to go! If it is a hunt morning, I am up at 5 a.m. and put coveralls over my riding clothes to start morning chores.
On days that we work cows, I get up at 4 a.m., and the working cowboys meet me at our cow pens at 6 a.m. to start gathering cattle before it gets too hot. We usually try to finish working cattle by noon to avoid heat stress on the cattle, horses and men.
7 a.m. Lauren and Lilah get up and get ready for the day. Their breakfast usually consists of Cheerios, yogurt and some cinnamon toast or a bagel for Lilah. Two-year-olds are finicky! While they are eating breakfast, I feed horses, then clean kennels while the horses are eating. When the horses finish, they are turned out.
On hunt mornings, I start getting horses and hounds ready to hunt. We have two staff horses and another horse we lease to a hunt member.
I put the tracking collars on the 10 couple of hounds we are hunting that day and put the hounds in the kennel yard until we are ready to hunt. On days that we trailer to the meets, hounds are loaded first on the trailer, and then I go load the horses.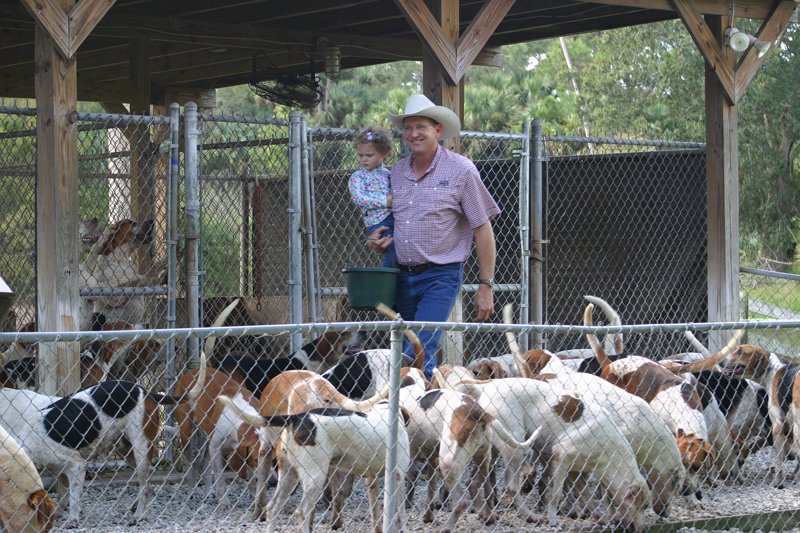 8:15 a.m. I go to the house to finish getting ready and pick up Lauren once the babysitter arrives.
Lauren helps me finish getting the horses ready before the hunt begins while I collect releases and capping fees and greet the guests and members.
8:45 a.m. We are off to the first covert of the morning! We hunt every Thursday and Saturday morning from October to mid-March.
The rest of the year, I take this time to exercise the hounds. Lilah and I will take the hounds out with the golf cart. We bring a bucket of dog biscuits. We also take Lily, one of our two rescued Boston terriers, with us. Lauren and her mom drove all the way to Danny and Ron's Rescue in Camden, South Carolina, to get her.
Lauren follows on horseback to keep the hounds together. This is also how we get our green horses and puppies going.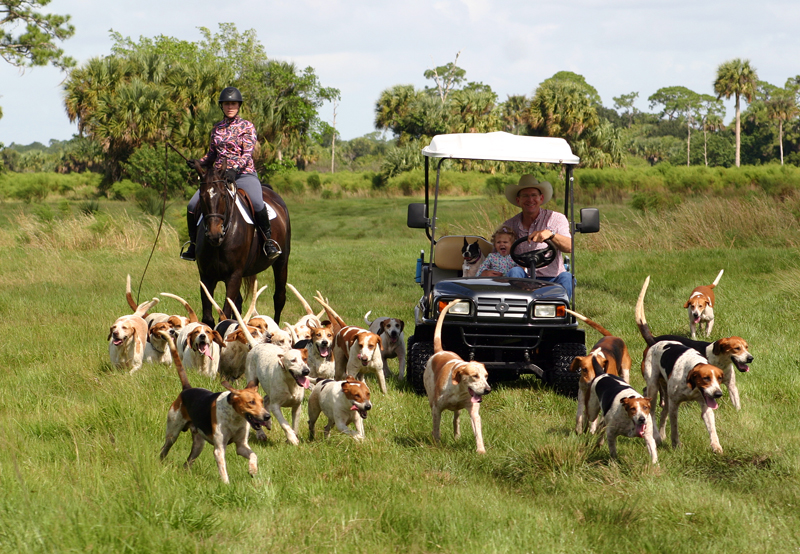 10:30 a.m. After hound exercise, I feed the hounds and put them back in their kennel runs. I also do any routine veterinary care at this time. During the hunting season, I work on the tracking equipment to make sure it is all working properly. We pride ourselves in coming home with every hound every time we go out!
11:30 a.m. I tack up my ranch horse and ride on the ranch to check and rotate cattle to different pastures. I also feed and check on the calves that we are preconditioning to sell.
On hunting days at this time, we are just getting back and taking off the tracking collars and getting the hounds settled back into the kennels. Lauren untacks and puts the horses away.
Before COVID-19, we would then have our hunt breakfast. Since we are not doing that right now, I have lunch with Lauren and Lilah and a little fun in the pool.
12:30 p.m. Lauren makes us all a sandwich: PB&J for Lilah or grilled cheese. Then Lauren goes out to ride another horse and do some barn work while I get Lilah ready for her nap.
1:30 p.m. Watching the baby monitor, I do some work in the garage like preparing my tools for shoeing horses in Wellington the next day, or I might do some book work and make phone calls in my office.
Lauren finishes making sure all the horses are in good condition and checks all of our hunt tack and horse boots for wear and tear. She also gets all the evening feed ready.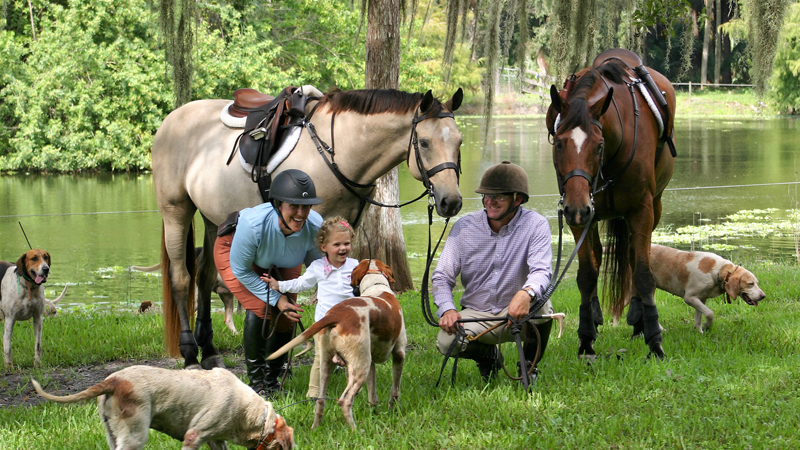 2:30 p.m. I go back out on the ranch. I use this time to ride the tractors: mowing pastures, roller chopping woods or spraying fence lines where exotic vegetation is ever trying to invade and take over our native Florida landscape.
We have a lot of old farm equipment, so there is always something that needs repair. I do most of our equipment repair myself. There are almost 50 miles of fence on the ranch, and it requires constant maintenance to keep it all in good shape.
4:30 p.m. Come home, bring in and feed horses. Clean kennels, fill water buckets and check hounds again. Feed and lock up our two rescue cats, Night and Mini, who live in the air-conditioned garage.
Then my favorite part of the day! Taking Lilah outside to play after her nap while Lauren finishes the barn work and gets dinner started. Our late afternoon activities include running around the yard with Lily the Boston terrier, riding her pony Chuckles, playing balance beam on our cross-country jumps, or a quick swim to cool off before dinner.
6 p.m. Dinner (which right now consists of lots of spaghetti and breadsticks, Lilah's favorites). A couple of times a month we have my parents over for dinner, or we might meet Lauren's family at an outside restaurant in Palm Beach near the ocean for dinner.
7:30 p.m. Lilah's bath time, and we get her ready for bed. Lauren and I take turns with bath time while the other cleans up the dinner dishes.
8 p.m. I give Lilah a snack of Cheerios and some milk while we watch a little "Daniel Tiger."
9 p.m. Hopefully Lilah is sleeping. I shower and get ready for the next day's activities of hunting, ranching or shoeing horses—or all three! We watch a little TV, news and most likely some "Days Of Our Lives" on DVR.
10:30 p.m. Night check in the barn and kennels and set the alarm for the next morning.