Erin is a head groom for Will Coleman Equestrian and has worked for the Virginia- and Florida-based Olympic eventer for almost two years.
She grew up in Athens, Georgia, where she began riding at 8 and started eventing at age 15. While in high school, she competed on her own horse and worked as the barn manager for Dublin Downs Eventing. She obtained an undergraduate degree in animal science from the University of Georgia, where she was on the UGA Eventing Team for four years and president of the team for two years.
After selling her most recent horse, began attending shows with Coleman as one of his head grooms. She's currently in Europe with Coleman, where he competed at the Luhmühlen Horse Trials, June 16-19, finishing 12th aboard Chin Tonic HS in the CCI4*-S. They're now preparing for the CHIO Aachen (Germany) CCIO4*-S, to be held July 1-2, where Coleman and Off The Record will be part of the Land Rover U.S. Eventing Team for the Nations Cup competition and will defend their 2021 title, as the first U.S. pair to win the prestigious competition.
She took us through a typical day at their farm in Ocala, Florida. 
---
The two top priorities each day are, one, ensuring that all of Will's riding goals for the horses are met, and, two, providing top-level care for each horse in our barn. The demands of five-star riders and their horses are intense, and I believe the key to successfully meeting these demands is to make sure our barn processes run smoothly and efficiently. I am fortunate to work with a team of people who share these views.
6 a.m. The day starts with breakfast and coffee, time allowing! I never like to start the day rushing, so I try to give myself enough time to fully wake up before heading down to the barn. If I'm running ahead, I'll quickly tidy the house so that when we're done in the evenings, everyone can come home to a clean space.
7 a.m. We have a group of four to five of us living and working together. On a normal day, we start the barn by 7 a.m. Most of the horses are turned out at night, so the morning consists of bringing horses in, feeding grain, then dressing, turning out and mucking the stalls of the few horses who stayed in overnight. Once morning chores are underway, I check the riding list written the night before and have Will's first horse of the day groomed, stretched and tacked up for him by 8:30 a.m.. Stretching is an integral part of our pre-ride routine.
8:30 a.m. At this point in the day we are in the thick of the hustle! Will does most of his riding from now through the early afternoon. Often, we must account for Will teaching lessons or taking lessons himself. If Will is jumping, or has an important dressage school, he may ask me to video. Will values having us watch how the horses go day to day. This helps our team to better care for the horses as individuals and allows us to provide feedback when Will is warming them up at shows.
Depending on the day, I also manage which horses are leaving the farm to gallop or do an off-property therapy such as Aquatread. Many days there are horses who need to be hacked or lightly flatted by the team. Usually, these guys wait until the afternoon, when Will is done riding, and I can get a ride in!
Every day, the all-important and less glamorous tasks take up a bulk of the time. These consist of laundry, cleaning tack, making grain and so forth. We also assist with client horses and sometimes even watch baby West Coleman so that Will's wife Katie can ride or teach!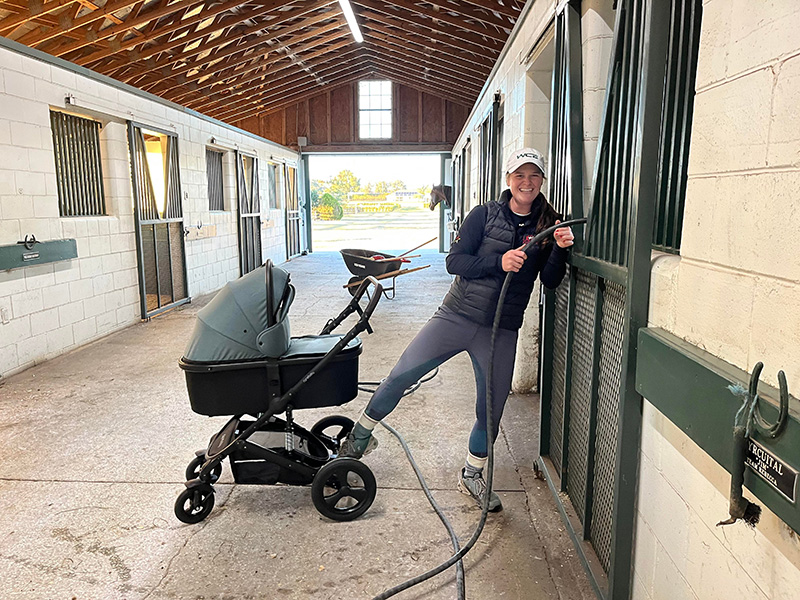 11:30 a.m. The horses get lunch hay, and we do a quick pick of the stalls as well. Not all horses get lunch grain, but the few that do get it around this time. We don't often take a lunch break; we eat on the go! Occasionally we will order food to the barn for the group, especially if it is going to be a busier day!
1:30 p.m. Will typically is done riding his horses, and now we will ride any horses on our lists for the day. If I don't have any horses to ride, this is a great time to pack for any upcoming shows or lessons or do some therapies with the horses. Especially leading up to big competitions, the horses may get regular treatments such as Functional Electrical Stimulation, which sends electrical impulses that mimic the brain signaling a muscle to contract. It can help correct muscle spams that can come from normal work or from injury. The FES is a therapy that we use frequently, can do ourselves in the barn, and the horses enjoy.  A session can take anywhere from an hour to an hour and a half.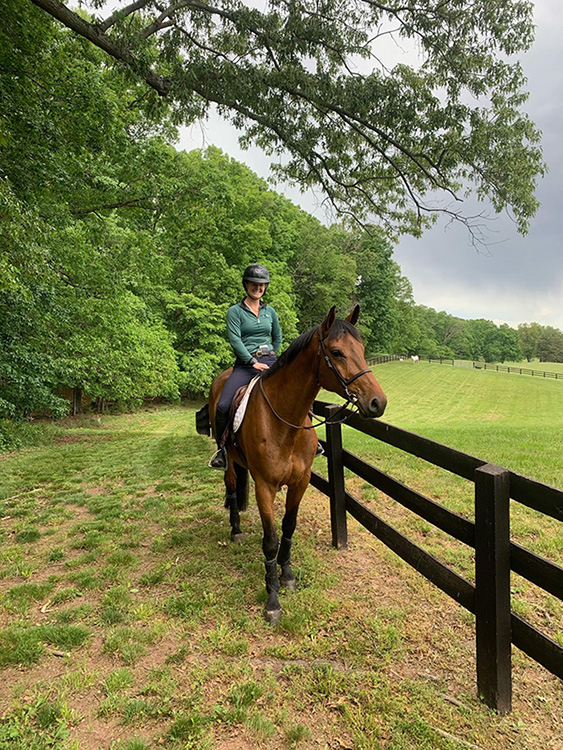 2:30 p.m. We throw dinner hay around 2:30 or 2:45, so the horses can get their dinner grain around 3 p.m. If the weather is nice, the horses can be turned out for the night before 3. Now that it's summer, the horses mostly get turned out later afternoon to avoid the worst of the heat.
4:30 p.m. Ideally we finish the day by 4:30 or 5 p.m. The remaining chores include tidying the barn and resetting everything for the next morning. Often there is more to do, such as having the veterinarian out, getting horses shod, or packing for a show. It's not always possible to finish by this time, but it is what we strive for.
6:30 p.m. Dinner for the humans! I really enjoy cooking, so most nights I make time to cook something and usually have leftovers for lunch the next day. We also have frequent team dinners at Will and Katie's house, which are always fun. They are both fabulous cooks.
8 p.m.: "Lates." As a team, we head back to the barn to check on the horses for the night. The horses inside get hay, and a few get grain. We check waters, wraps (if there are any) and change blankets as needed. We try to vary who does lates so that no one ends up doing it every night.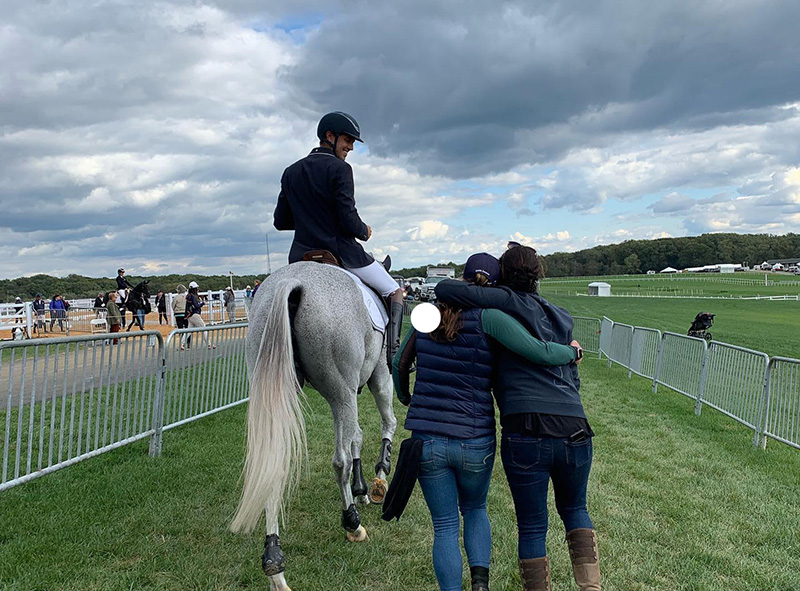 We work as a team as much as possible and try to plan our work each day as efficiently as possible. This sometimes allows us to take short afternoon breaks on the less hectic days. In the evenings we often cook for each other, go out to eat as a team, or we get treated to dinner by Will and Katie. We work hard, and we enjoy our time together.
---