In the summer of 2013, I bought a 6-year-old gray warmblood gelding named Cavalier II sight unseen off of a video from Europe with the goal that one day that horse would be a winning grand prix mount. But buying horses with dreams of grand prix is like playing the lotto: Anything can happen.
Five years later, I hit the jackpot! On Saturday, May 12, "Cav" and I celebrated our very first grand prix victory, winning the $25,000 Maffitt Lake Grand Prix in Cumming, Iowa!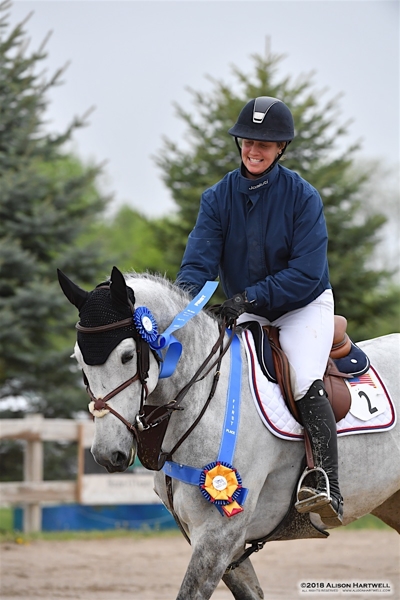 I've had a few big wins before—like team and individual gold medals at the 2004 North American Junior and Young Rider Championships—and when the horse is one you have brought along yourself, those wins feel particularly rewarding and reassuring that you've got what it takes.
Much like Memphis, the horse I brought along from his 6-year-old year to the wins at NAJYRC, Cav is a horse I've brought along from the 6-year-old jumpers to the grand prix. When you buy a young horse like Cav and start to move it up the ranks, with each step up the ladder, there's a little bit of a question of, "Is this where they max out? Do they have what it takes to make it to the next level?"
I'll be the first to admit there have been times when I've doubted myself, doubted our partnership, and questioned whether we're pushing past the level where Cavalier is most comfortable.
Just this winter, we started the season at the Winter Equestrian Festival in Wellington, Florida, where Cavalier topped a highly competitive field of 42 horses to win a 1.35-meter class, and that gave me a big boost of confidence. Then, we went to Ocala, Florida, and I didn't really feel like we were totally clicking. Cav however kept showing me that he had it in him and could really do this, so I reevaluated and took some things back to the basics.
Sometimes, when you get caught up in showing—especially during the busy winter season in Florida—it's easy to forget about the basics and the homework, and I had to remind myself of that. In the five years that I've had Cavalier, I've really taken my time with him and placed a strong emphasis on the basics and his flatwork, so that's what I did. I re-disciplined myself to putting in the homework with him before putting us to the test, and it's paid off tenfold.
In bringing along any horse, I've found there is a lot of that: the ups and downs, the return to the fundamentals, the trial and error. I've spent a lot of time figuring out what tools work best for Cavalier and me in the ring; we've been through a number of different bits and bridles and various ways to practice exercises at home. I worked with Wim Janssen in Florida, and he really helped me to figure out that less is more with a horse like Cavalier who has a little bit of a funny mouth, and I feel like I've finally sorted that out.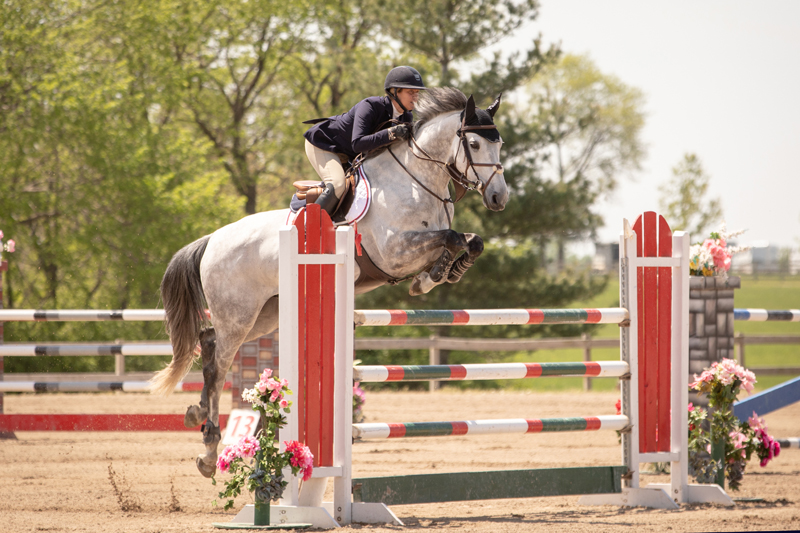 To now see all of that—all of the pieces of the puzzle and the five years of sweat, tears, hard work, time and money—come together in the grand prix ring is an absolutely incredible feeling!
Leading the victory gallop in the $25,000 Maffitt Lake Grand Prix was like a huge pat on the back for myself and for everyone who has supported Cavalier and me. It reminded me that I have what it takes; I prepared myself to walk into that grand prix ring not only on Saturday, May 12, but also every day for the last five years with Cavalier. And even more so, it reassured me that the horse I bought off of a video clip five years ago truly has what I saw in him then. I can't wait to see what the rest of his future holds!
---
Born and raised in Sheffield, Massachusetts, Caitlyn Shiels began riding at the age of 8. In 2018, Shiels launched her own True North Stables, based in Illinois and Florida and dedicated to providing individualized training and opportunities that allow horse and rider to excel in the sport.