This Giving Tuesday, we're sharing the most recent organization to be featured in the Charity Spotlight section of the Winter 2022 edition of Untacked, our lifestyle publication. Learn about more of the equine charities we've profiled by visiting our Charity Spotlight page.
---
The Stalder family—parents Sarah and Blake and their twin sons Ollie and Nicky—were excited to kick off summer 2022 with a small party at Sarah's parents' home in Flint, Michigan, in early June. They had much to celebrate, because after nearly three years of treatment, Nicky's leukemia was finally in remission. Attendees were mostly friends and family, but unknown to the boys, there was one other name on the guest list—Chief, a Hero Herd team member from the Detroit-based Camp Casey.
For nearly two decades, Camp Casey has been improving the lives of children afflicted with cancer, rare blood disorders and other life-threatening illnesses. Their premier program, Horsey House Calls, brings a horse directly to the home of a sick child. Volunteers and equine therapists not only teach the children basic horsemanship and give them an opportunity to ride, they also bring traditional camp experiences like games, crafts and pizza to children who often have never been able to participate in such activities.
Nicky Stalder's diagnosis came at just 18 months. Despite treatment, he relapsed twice, undergoing both a bone marrow transplant and finally CAR-T cell therapy. Due to the combination of Nicky's fragile health and the COVID-19 pandemic, the Stalders remained fairly isolated for several years. Neither boy had been able to attend preschool, and both had missed out on many other traditional childhood experiences. Meeting Chief just a few months before their 5th birthday was an experience Nicky and his brother are still talking about.
"It was the start of an amazing summer," says Sarah. "It was their first time meeting a horse up close, the first time we were able to have family friends come over. [The twins] had never played musical chairs, played with paint or chalk. The joy it brought my kids—they know how special that was.
"As soon as I saw the volunteers, I started to choke up," Sarah continues. "These people, who are strangers to us, take time out of their weekend to help us create amazing memories with our family. Camp Casey gave us one of the top five days of our lives with the kids, and I cannot say enough good things about them."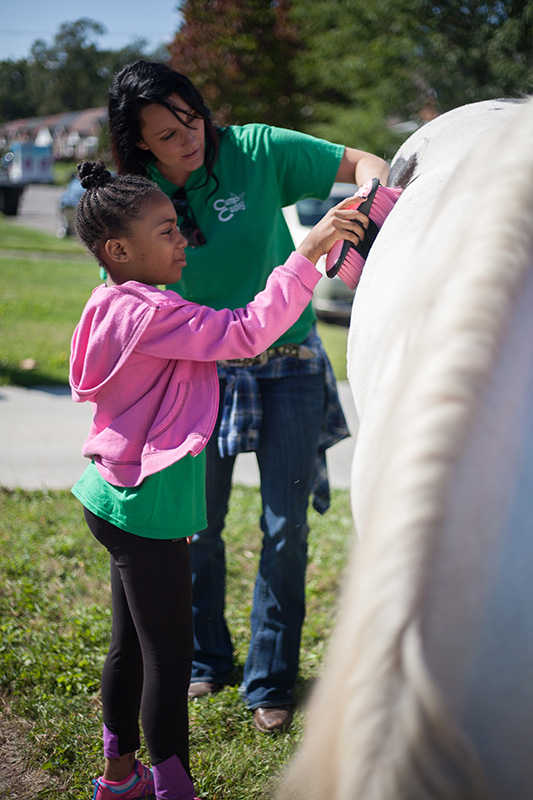 An Ongoing Tribute
Twenty years ago, Molly Reeser was a freshman at Michigan State University in East Lansing. A lifelong animal lover, she took a job at a private stable cleaning stalls for extra spending money. It was there that she met a young girl named Casey; the two immediately bonded over their shared love of animals and became close friends.
"Casey reminded me a lot of myself when I was younger," recalls Reeser. "She was extroverted, funny, sarcastic, incredibly outgoing and very likeable. She related well to the adults around her at the barn. But what stood out about Casey, beyond her being a spark plug of a personality, was that she was undergoing chemotherapy for cancer. That was evident; she had no hair, her face was bloated, and from her appearance, it was apparent right away that this was a sick child."
For 18-year-old Reeser, Casey's illness was a shattering reality check.
"If you think of who you are as a freshman in college, you are not thinking outside of yourself much at all," says Reeser. "Being confronted with what Casey was going through put my own health and life experiences in perspective."
For the next two years, when her health allowed it, Casey was a fixture at the barn and a treasured member of the "barn family." When she passed away at age 12, during Reeser's junior year, everyone was devastated.
"It felt like we were missing something at the barn, and it was just an awful experience for everyone to endure," says Reeser. "We wanted to do something to honor her memory."
But none of the traditional tributes—a bench, a memorial garden, planting a tree—felt like an authentic way to honor Casey. Reflecting on how much joy and normalcy the barn had brought to Casey, even during her hardest times, Reeser proposed an alternative.
"I announced that I was going to organize one day where we honored Casey's life by inviting children who had gone through what Casey had gone through, or who were in active treatment, and bring them to the farm," says Reeser.
Reeser obtained permission from the farm owners, got pizzas donated, recruited several friends from MSU to volunteer, and put a few hundred dollars' worth of paper goods and craft supplies on the emergency credit card her parents had given her when she left for school. More than 80 guests, including 20 children going through treatment and their siblings, participated in the first "Camp Casey."
"It was successful, it was beautiful, and it did exactly what I wanted it to do—honor Casey's life in this magnificent way by giving joy to other kids going through something similar," says Reeser. "It was supposed to be a one-and-done event."
About a week later, Reeser received a note from a 5-year-old guest who was undergoing treatment for the same type of cancer that Casey had fought. The letter simply said, "Thank you for giving me the best day of my life."
Reeser didn't quite know it at the time, but the course of her own life was about to drastically change.
"I had no intent of working in the nonprofit sector or with horses," says Reeser. "I really feel I was intercepted by Casey, one of the many angels who look over this organization." Motivated by the response from the young letter-writer, Reeser began organizing monthly "Camp Casey" events at the farm. Instead of pursuing traditional employment upon graduation, Reeser accepted a series of odd jobs and waitressing gigs while she worked to fundraise enough money to turn Camp Casey into something much larger.
"Now, 18 years later, our impact just continues to grow and grow, and the demand for our programs grew with it," says Reeser. "We are riding the energy of this organization every day. We want to keep growing and keep doing what we do."
Today, Camp Casey offers four cost-free programs to the families of children with life-threatening illnesses, serving an average of 1,600 participants annually. Programs are administered by a full-time team of five, 14 seasonal staff, and a network of 600 active volunteers. All of Camp Casey's programs focus on providing recreational opportunities that families dealing with serious illness might not otherwise be able to access, whether due to financial limitations or logistical bandwidth. Programming is available, at no cost, to any child with a life-threatening illness so long as the organization can physically get to them.
"We make it as easy and convenient as possible for parents who are absolutely going through the most overwhelming time in their lives," says Reeser, who remains the organization's executive director.
Horsey House Calls is perhaps Camp Casey's most famous program. Conceptualized as a way to bring a day of Camp Casey to the homes of children too ill to go to regular camp, the program deploys three to four times per week during the spring, summer and fall months. After a safety and grooming lesson, children are each given an opportunity to ride under the direction of certified equine therapists, while the rest of the attendees are entertained by volunteers making crafts or horse treats and playing games. With music playing and the scent of pizza in the air, a Horsey House Call can take on a block-party feel.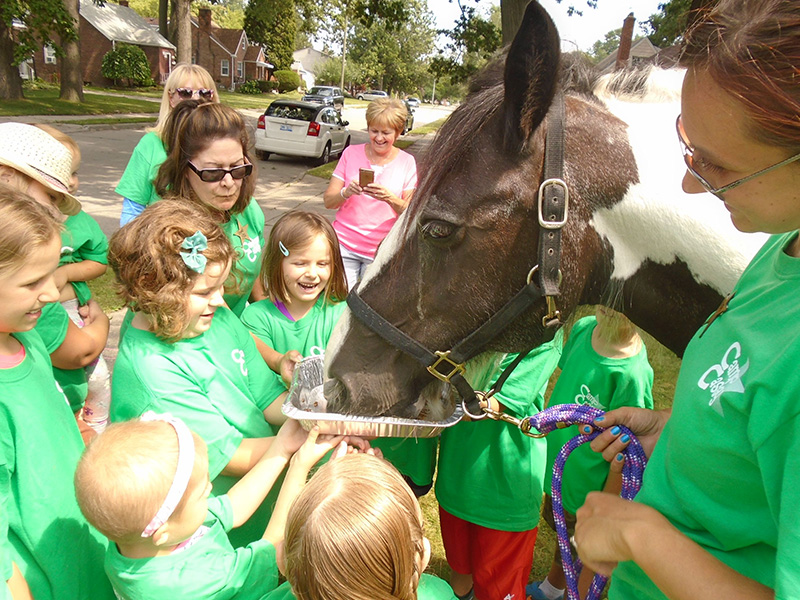 Camp Casey doesn't own horses; instead, the success of the house calls program relies on a network of equines known as the Hero Herd. All Hero Herd members are privately owned and go through a series of evaluations and assessments before and during their time with the program. The animals live with their owners and are picked up and leased by Camp Casey for the day. For the safety of the equines, none are ever trailered further than one hour to a visit, and only 10 children total are allowed to participate directly in the equine portion of the programming.
"It is an efficient way to operate our program without putting too much wear and tear on one animal," says Reeser. "Plus, it is cost-effective because we pay as we go. We pay the horse owner each time their horse deploys, but we are not paying upwards of $600 a month on a 10-horse herd."
Hero Herd members are chosen for their calmness and sweet temperaments and must be a minimum of 15 hands. Camp Casey has found that drafts and draft crosses are preferred; several are suitable for individuals with physical limitations.
While Camp Casey's programmatic reach is statewide, as many as 60% of the Horsey House Calls are made within the city of Detroit. When Camp Casey's brightly painted trailer arrives with its precious cargo, it draws communities together and provides support to families in great need.
"We work closely with the Children's Hospital of Detroit, and we are all from here," says Reeser. "We are in places where you'd never see a horse, where the kids and adults have never seen a horse up close before.
"For that parent going through this stressful time, to not have the camaraderie of your own neighbors is very isolating," Reeser continues. "We bridge that uncomfortable gap. Not only are we bringing a horse to the house, our trailer is super flashy, and it says 'cancer' on it. It is apparent why we're there, and we're making a big stink about it. We make sure the whole neighborhood feels invited. We bring pizza for 60, and it all gets eaten. I see neighbors meeting each other for the first time, hugging and embracing."
Camp Casey's Other Opportunities
In addition to Horsey House Calls, Camp Casey has created three other recreational opportunities for children facing life-threatening illness and their families.
• Cowboy Campout: Twice per summer, the Cowboy Campout program brings 10 families together for an all-inclusive "glamping" vacation at a dude ranch in Michigan. Frequently, within a few hours of arrival, children are removing their wigs as they realize that here, they do not need to blend in.
"It's a beautiful experience," says Reeser. "The families really interact and enjoy the support of others that are also going through something really difficult right now."
• Lone Star Getaway: In this program, Camp Casey organizes and funds a turnkey vacation for a single family at a privately owned rental property (such as an Airbnb or Vrbo). Often, these properties are offered for free or for a significantly reduced price, covered by Camp Casey.
• Outlaw Outings: Through the Outlaw Outings program, families are given access to an array of one-day recreational excursions—anything from a day at the spa to courtside seats at a sporting event to a trip to a pumpkin patch—that are coordinated and funded by Camp Casey.
"For families struggling with the realities of childhood illness, even something as simple as going to the apple orchard can be an incredibly difficult task to take on, when parents are also dealing with medical jargon, insurance companies, bills, or a child who is throwing up because his treatment is so physically painful for him," says Reeser. "Those recreational opportunities that you or I took for granted, a parent or someone had to organize them. We have these recreational events where families don't have to organize anything, and they can take a break."
Making Memories
Kassondra Lambert was searching the internet for grants to fund the purchase of a wheelchair-accessible van for her 4-year-old son, Ethan Lambert, when she learned about Camp Casey and its Horsey House Calls, and she applied right away. Though Ethan is often shy in new situations, he quickly warmed up to Hero Herd member Leslie and the volunteer team.
"He was able to pet her and brush her and, obviously, ride her," says Kassondra. "He was so happy, just so gleeful and so smiley. I saw a side of my son come out that I'd never seen before."
When Ethan was a year old, he was diagnosed with KIF1A Associated Neurological Disorder, a genetic disorder that impacts motor abilities, cognition and intellect. It is so rare—Ethan is one of three patients in the state of Michigan—that there is minimal research to support effective treatment. The disorder is progressive, and there is no cure. Although Ethan's symptoms are on the mild-moderate end of the spectrum, he is non-verbal, uses a wheelchair to cover long distances, and a walker with leg braces to get around.
But for nearly three hours on a fall afternoon, Ethan and his family could forget about all of that.
"It was a lot for his little body to go through, to sit with his legs so wide and support his core, but he did really well with it," says Kassondra. "He didn't tire or anything. To see him react to this huge animal, and to see him be soft and gentle and ride without fear—it was honestly life-changing.
"When we got Ethan's diagnosis, it really rocked our whole world," Kassondra continues. "We have had to learn to navigate the world of raising a human with a disability by ourselves. To know that there are organizations that care about recreation and fun, that have the support staff for families like mine—it was such a blessing to reach out, and say, 'I need help,' and for them to take care of everything. I got three hours of beautiful entertainment. I got to make memories with my family, and I didn't have to worry about anything."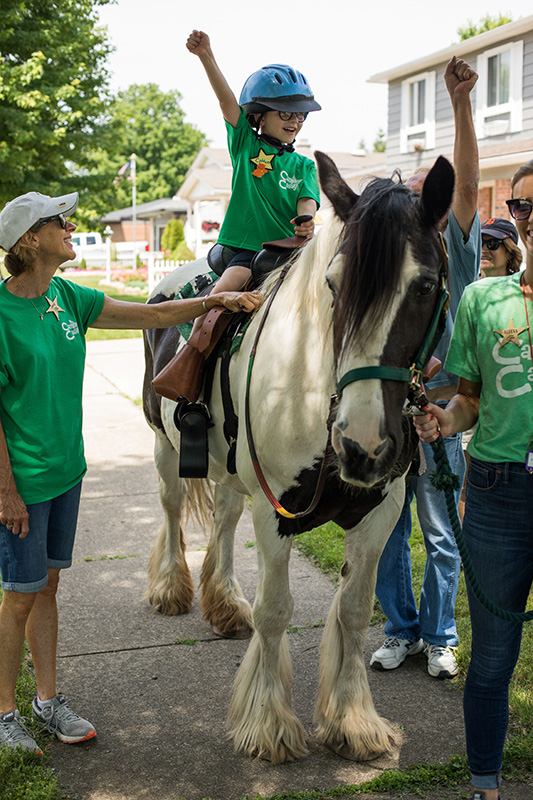 The Next Step
To help expand the scope of their work, Camp Casey has developed partnerships with various nonprofits in and around Detroit.
The Rouge Park-based Buffalo Soldiers Heritage Association, which operates a 150-year-old stable in one of the country's largest city parks, has become one of Camp Casey's closest collaborators. Both organizations are currently limited in their winter offerings due to lack of indoor space, but some creative coordination may change that in the future.
"On their property is an abandoned building that Camp Casey is hoping to renovate and turn into our administrative office," says Reeser. "And there is a five-acre parcel of land on which we are hoping to erect an indoor riding arena. Camp Casey would manage and operate it, and it would be home to Camp Casey's winter programs. But it would allow the Buffalo Soldiers—whose mission is to bring inner city kids to their farm to interact with horses and learn about the role African Americans served in our military—a place to use as well."
While Reeser admits that taking Camp Casey to this next stage is an ambitious goal, she is undeterred.
"I am confident that if you take it one step at a time and keep working at this dream, I do believe that before Camp Casey turns 20 years old, we will have a home to call our own," says Reeser. "The work we do is very unique and very special. The impact is like this spiral of good that just keeps getting bigger and bigger, and I could not be prouder of it."
---
This article originally ran in the Winter 2022 issue of The Chronicle of the Horse Untacked.
If you're just following COTH online, you're missing so much great unique content. Each print issue of the Chronicle is full of in-depth competition news, fascinating features, probing looks at issues within the sports of hunter/jumper, eventing and dressage, and stunning photography.
You can subscribe and get online access to a digital version as well as the print magazine, and a subscription comes with our lifestyle publication, Untacked.