Lexington, Ky.—Aug. 7
With the blue, red and yellow tricolor popping out against Jessica Zandri's So Charming's white coat, the accomplishment finally hit Caroline Passarelli: she had won on her very last ride at the USEF Pony Finals. In 2011 she made the inaugural walk up that ramp to the Walnut Ring at the Kentucky Horse Park on her small pony Little Black Pearl, and nine Pony Finals cycles later, she was descending for the final time.
"It's been nine years, and this is my last round at Pony Finals," she said through tears. "He's been an amazing pony. [My trainers at] Heritage and the Zandris are like family, and they've done so much for me. So it was really special being able to win my last round, and it meant a lot to have them all here with me.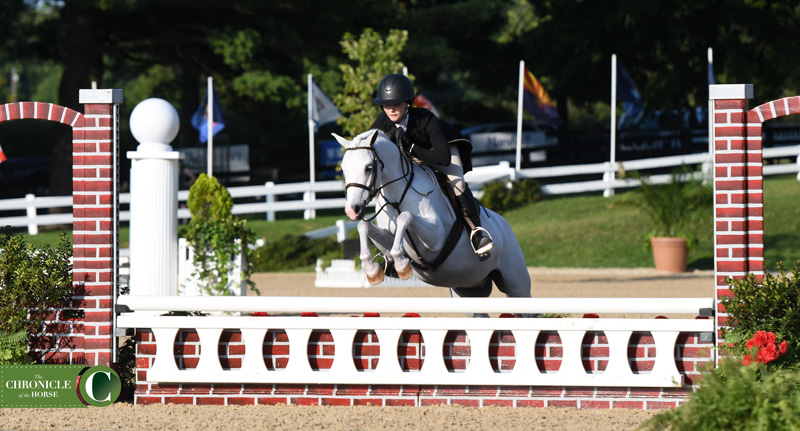 "I started at Pony Finals when I was so little with my first pony. So it's been a journey from the bottom to the top," she continued. "The ponies have been so amazing to me. It's just been incredible so I have a lot to be thankful for over the years."
"Ringo" marks the third "So" pony Passarelli has ridden for Zandri. And his mature temperament allowed him to soar to the top of the small green pony division, closing out Passarelli's swan song with 1007 total points, over 30 points above reserve champion Sunshine Kid and Annabelle Brown.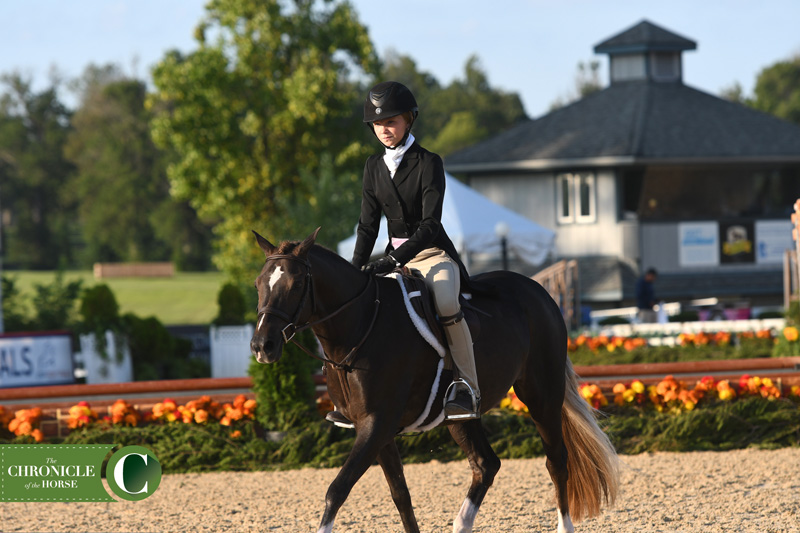 "I think the nerves have kind of left. Nine years on that ramp, I've kind of been able to just realize that it's any other round," said Passarelli. "It's a big deal, but at the end of the day, it's one round at one show, and you have to ride what you have that day. Honestly the whole week I knew that pony was going to be perfect. He really doesn't put a foot wrong. So I knew to just keep everything calm and relaxed and smooth. And he was amazing."
With one chapter ending, another begins as next Thursday Passarelli travels down to College Station, Texas, to start her freshman year at Texas A&M and ride for their NCAA equestrian team.
"I'll start as a freshman there, and then I'm going to finish my [USEF] junior year," she said. "So I'm going to come home and do regionals, Medal, Maclay, Washington, USET, all of those with my horse at Heritage. Then I'll go to college, come home for the summer, will definitely work somewhere, hopefully Heritage—and just keep kind of doing it. This is what I want to do with my life."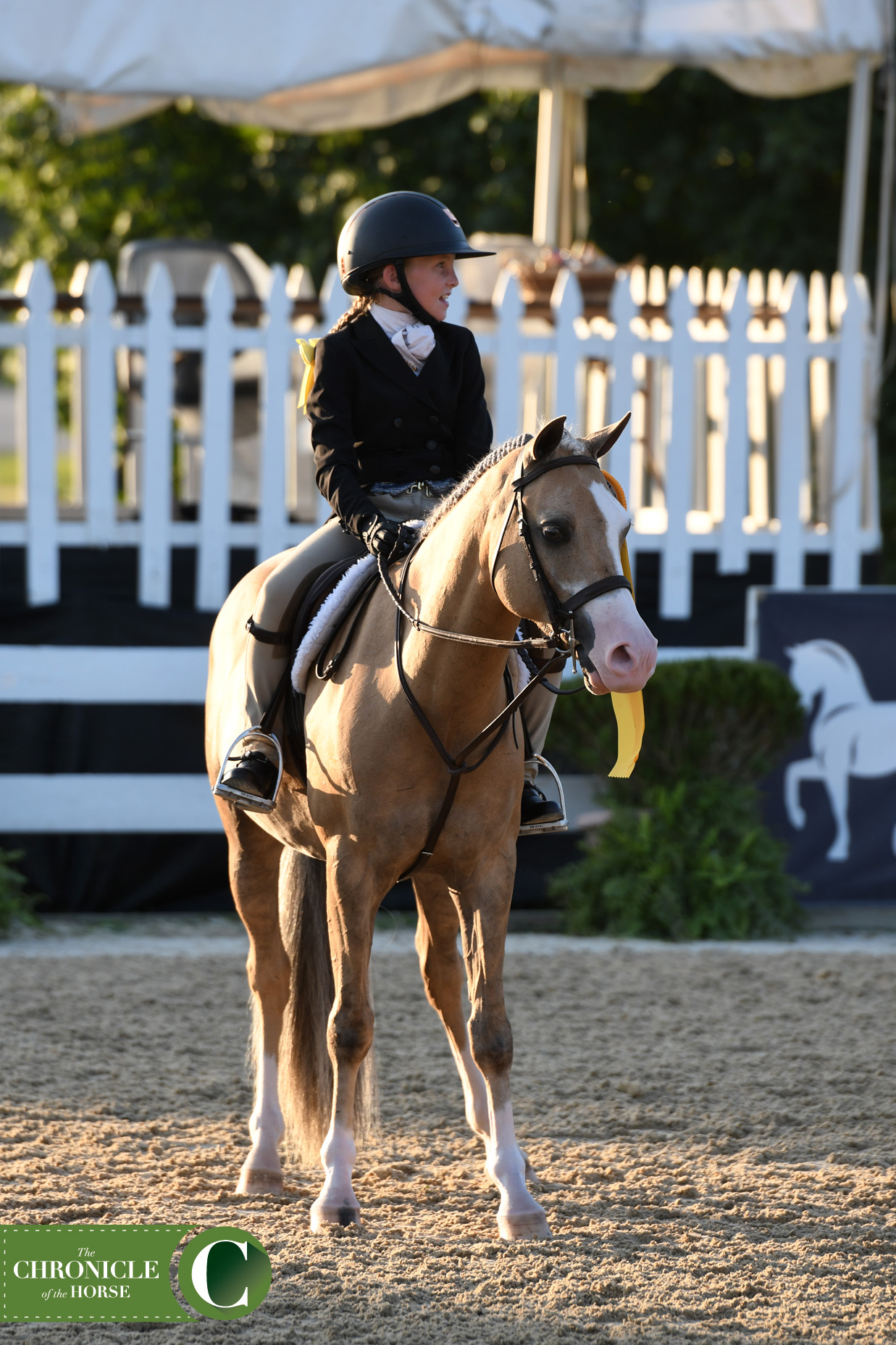 Prestige Goes For The Prestigious
It was either going to be a brilliant idea or an idiot idea, Jimmy Torano admitted—with not much in between. But that is always the gamble with off-the-wall ideas. His client Kat Fuqua had a fancy large green pony, Prestige, and the pair were collecting tricolor after tricolor in the large green pony division at the Winter Equestrian Festival (Florida). But after Florida, Torano decided to test the pony and try him in the regular division in the hopes of them qualifying for the fall indoor circuit.
So as Fuqua and Torano looked ahead to the USEF Pony Finals, they had two options: compete in the large green division or the regular division. Torano wanted to kick it up a notch.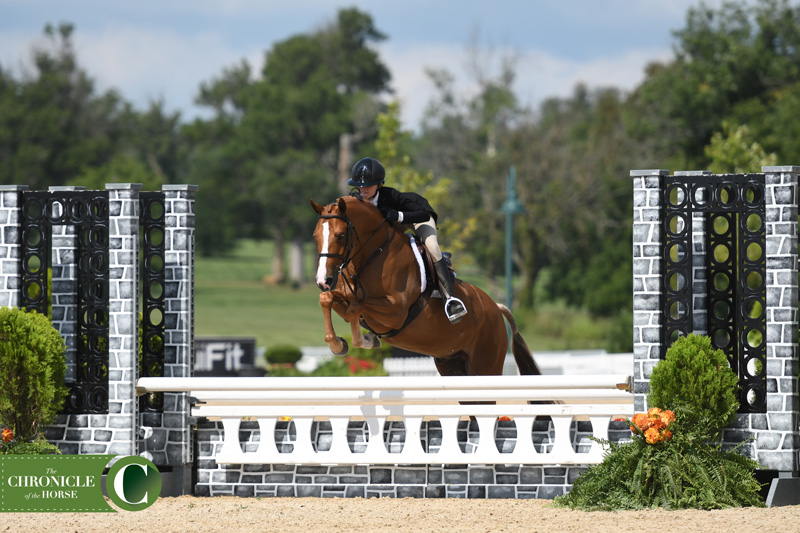 "About two months ago I said to [Kat's mother Shereen], 'We're qualified in the greens and we're qualified in the larges.' I said 'I think we should really make a run and try to win the larges. I know we can win the greens, but if we can win the larges here, it'll be a real big deal,' " said Torano.
And Kat followed his off-the-wall idea and took on the mature competition. Sitting in third after the model and the flat out of 145 ponies, the 12-year-old and the 8-year-old Belgian Riding Pony (Ive Van De Delthoeve—Bichette Du Moulin De Pierres), fittingly named "Prince," calmly walked into the Walnut Arena. And they exited with the highest total score of 1051.42—topping Fuqua's championship mount last year, Brighton, ridden this year by Samantha Takacs.
"She's a freak," said Torano of Kat. "She's a real talent. She's got ice water in her veins. To come in and do what she did today was unbelievable. To win it last year, you go late, you got Brighton coming in behind you, and to be able to nail it the way she did. It was unbelievable."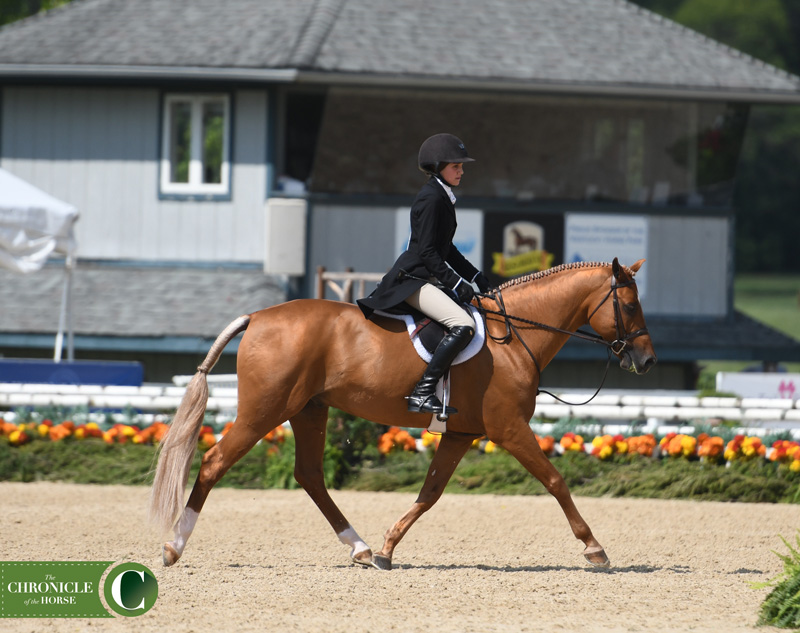 "It was kind of shocking to win because I was sitting in third," said Kat. "I kind of stayed by myself today and brought him some treats that said 'Prince' on them. So I just kept myself busy."
An off-the-wall idea turned into a tricolor idea.
"It all worked out today, so I look like a hero," said Torano. "I just thought it was more prestigious [to do the regular division]. It was a bigger deal to come and win the larges. For a green pony, if we can win the larges, against all these top ponies, that will be a real feather in this pony's cap. So I just thought—it's a gamble, it's a risk, but they were on board."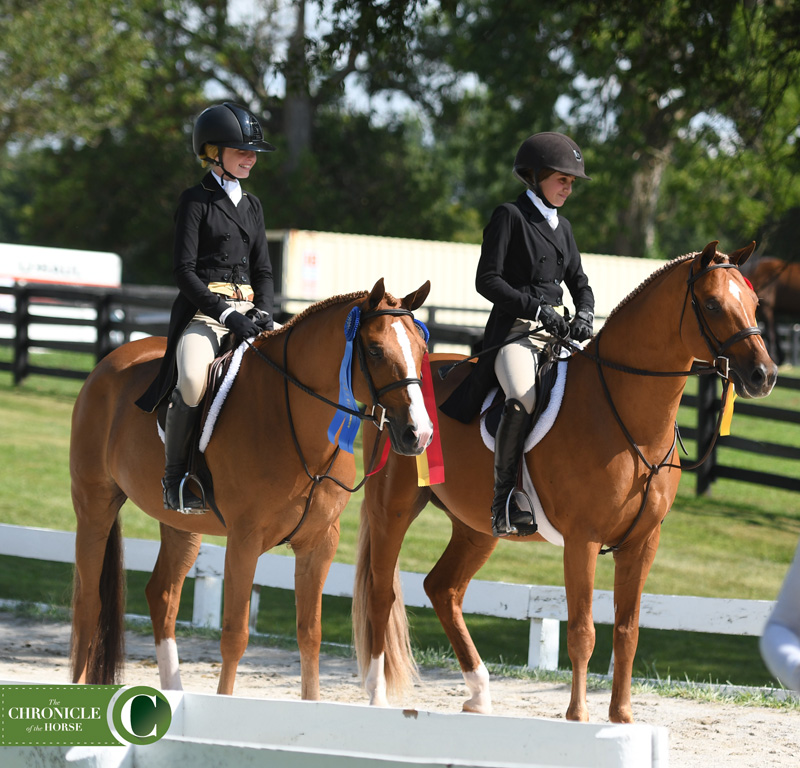 The Chronicle will have reporters on-site at the Kentucky Horse Park to cover all of the action and bring you stories, news and photos from USEF Pony Finals. Check in at coth.com and make sure you're following us on Instagram and Facebook. Don't forget to pick up a copy of the September 2 issue for more in-depth stories from the winners.

Important Links: USEF Pony Finals official website | Results | The complete schedule of classes and social and education activities | Live streaming from USEFNetwork | All of the Chronicle's coverage