Kate Conover doesn't normally make qualifying for the $25,000 World Championship Hunter Rider Professional Finals a major focus of her competition calendar, but that changed in 2023.
"My brother passed away in January, and I kind of just changed my focus to riding for my family," Conover said. That focus served her well during the class, held at the Capital Challenge Horse Show at the Prince George's Equestrian Center in Upper Marlboro, Maryland, on Oct. 6. Conover took home the win by completing a stellar handy round in the "playoff" round, then staying incredibly consistent and holding the lead with four unfamiliar horses in the "Final Four."
"My mom really loves it so I know she's watching," Conover, of Ocala, Florida, said after her win. "I can't call her yet because I'll cry but I know I made her really proud, and I know my brother is watching. I made this a focus, and I wanted it. I wanted it not just for me but for my family, and I couldn't be more ecstatic that it actually happened."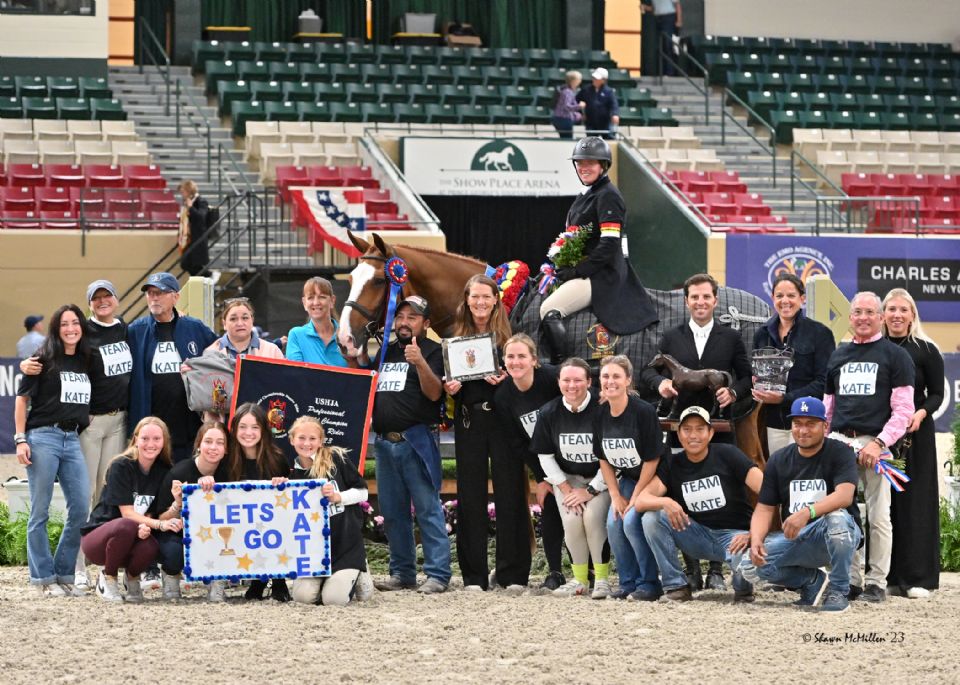 The class featured six of the country's top professional hunter riders going head-to-head. Shelley Campf, Conover, Nick Haness, Geoffrey Hesslink, Brady Mitchell and Leslie Steele qualified by virtue of their rankings in the WCHR national standings. All six riders competed in the opening playoff round over a handy hunter course set by Ken Krome on a horse of their choosing.
Three teams of two judges oversaw the class, with Chris Wynne and Virginia Edwards making up the first panel, Brian Lenehan and Scott Fitton on the second and Mark Jungherr and Eric Dirks sitting on the third. Each team awarded one score, and the average of those three scores represented the rider's overall mark. The riders with the four highest totals then advanced to the Final Four, where they took turns riding unfamiliar horses.
In the first round, Conover and Small Friendship, owned by R&R Sport Horses LLC, blew the competition away by scoring 93 over the handy course, which included multiple option jumps, walking through a chute and a long gallop to the final oxer.
"The horse I brought in the first round is one that I show in the first years, and I thought that I should go with one that I really know in that class because that track you had to be handy," Conover said of Small Friendship. "I think I made the right decision going with him, and he rose to the occasion and from there it was pretty amazing, the whole experience."
Second in the handy went to Geoffrey Hesslink, Wellington, Florida, and Spoken, owned by Shadowfax Equestrian LLC, with a score of 88.33. Brady Mitchell of Wellington and Holden Out, owned by Rein Family LLC, placed third with 86.66, while Shelley Campf of Canby, Oregon, and Understudy, owned by Ella Cate Duke, rounded out the final four with a score of 81.66.
Nick Haness of Temecula, California, and Queen Celeste, owned by Glade Run Farm LLC, and Leslie Steele of Calabasas, California, and No Reservations, owned by Curtis Holdings Inc., finished fifth and sixth, respectively.
Conover, Hesslink, Mitchell, and Campf returned for the Final Four on a clean slate, each jumping four courses, rotating turns on horses generously donated by their owners. Conover, Mitchell, and Campf were all riding in their first-ever WCHR Pro Finals, while Hesslink made his debut in 2020.
Conover started out her first round on Totoka Fuji, a 9-year-old Belgian Sport Horse gelding by Spartacus owned by Ingenium Farm. She scored 88 with a smooth ride to start out with a 2-point lead. She next rode Actionable, a 7-year-old Oldenburg gelding by Action Blue owned by LG Sporthorses LLC, to the high score of the competition with a 92, which raised her total to 180 and increased her lead to 8 points.
Riding Lifestyle, a 7-year-old KWPN gelding by Cape Coral RBF Z owned by Topline Imports LLC, in round three, her lead shrank down to 5.34 points as Mitchell came back with a strong ride on Totoka Fuji. It was her final ride on A Little Less Conversation, a 7-year-old Oldenburg gelding by Elvis Ter Putte owned by Emily Wolkind, that sealed the win with a score of 86.33 and a final total of 355.33.
Conover has been known for getting a leg up on many different horses throughout her riding career, even starting back on ponies. "When I was a kid, and my whole life, I never really had the same horse or pony all the time, so it's a lot of experience of just trying to make a relationship very fast," she explained. "I think it's that experience of riding them all differently, taking what you have in the moment, and doing the best you can. Every horse you don't ride the same. I think riding a lot of different horses my whole life really set me up well for this class here today."
Mitchell started the first round on one horse, but after an unfortunate refusal, he was granted a new ride. He switched over to Lifestyle and came roaring back with a score of 86. His final three scores of 86 on A Little Less conversation, 91.66 on Totoka Fuji, and 89.33 riding Actionable had him close but not quite enough with 259.32 for second place.
"From the first second this morning when we saw the Finals horses school, I have to say I wanted to make the second round so I could ride the paint horse [Totoka Fuji]," revealed Mitchell. "I knew I was going to like the way that horse felt, and I'm really glad that I had a chance to ride all of the horses. Totoka Fuji ended up being my best round tonight, and I'm glad I got a chance to ride him."
Regarding his handy round horse Holden Out, he remarked, "It actually worked out really nicely for him because he's such a brave, sweet horse so this was a fresh environment for him, and he hadn't had a chance to show in here yet, which I feel like brought out the best in his jump. He was really on his game."
Campf received scores of 83.33, 85.83, 88.66, and 83.33 for a total of 341.15 for third place.
"I had a conformation horse that didn't come at the last minute, so I didn't have anything to ride and then I decided that I was not going to ride in the Pro Challenge," Campf explained after the class. "I got invited into this class. I haven't been showing much this summer because I ripped my abductor muscle in my thigh, so it was kind of exciting and I didn't know how it was going to go.
"It was really fun to be riding with these riders, and we were all really helping each other," added Campf, who competed at the very first Capital Challenge Horse Show 30 years ago. "I thought it was a fun environment."
Hesslink had an unfortunate start in the first round with a lively Actionable. He was granted a reride on the same horse but withdrew during the round after a rail down. He returned for solid scores of 84.33, 83.66, and a high score of 91.33 on Totoka Fuji for a fourth-place total of 259.32.
"It wasn't my night tonight, and that's okay," said Hesslink. "I find it an honor to be in this class, and I think Kate is one of the most beautiful and most amazing riders so I could not be happier for her."
This was the second year in a row that a first-timer in the WCHR Pro Finals took the win after Nick Haness won in 2022.
For her win in the WCHR Professional Finals, Conover was presented with the All The Way Perpetual Trophy, donated by Elizabeth Busch Burke and Lisa Burke Horkan.
Tasha Visokay's Ingenium Farm was honored with The Far West Farms Perpetual Trophy as her horse Totoka Fuji ended up with scores of 88, 85.83, 91.66, and 91.33 for the highest cumulative point total of 356.82.