Five or six years ago, I had the opportunity to clinic with Michael Barisone several times. In addition to riding with him, I audited as much of the clinics as I could and took copious notes. Michael had plenty of sage advice, of course, but there was one phrase I had written down that is sticking in my memory this fall: "Never try to put the Grand Prix in your first level horse, but keep the first level in your Grand Prix horse."
It didn't resonate with me as much at the time, as I was a first level rider and wouldn't even know how to try to put the Grand Prix in the pony I rode. But as I've moved up a bit beyond that, Michael's statement is starting to make a lot more sense to me.
It's been a lovely, light fall for my horse Dixie and me. We wrapped up a strenuous show season in October, then took a break for a few weeks and eventually eased back into work. At first we limited our work to stretch rides and moseys in the field, then gradually began to add back in our regular dressage work.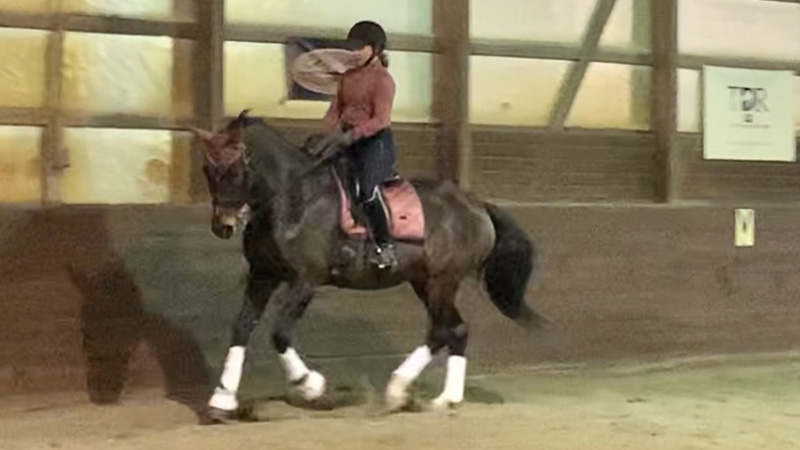 Of course, I knew it would take us a little while to get back in our peak fighting shape. I had planned to build her back up slowly and methodically. I thought of it sort of by the dressage levels—ride her like a first level horse for a bit, then introduce the second level elements little by little and start to lift the frame, then eventually end back up in the third level work where we left off.
Let me tell you—the remedial work in this exercise was telling.
I like to think that I ride as correctly as possible every time I swing a leg over my horse, but I'm human, and I'm an amateur who is still learning, so that is likely not the case a hundred percent of the time. Sometimes things can fall a little by the wayside in the training, especially toward the end of the show season when we really focused on test riding.
When I reintroduced elements from the first level tests, like a stretching circle, we went a little off the rails. "Humbled" does not even begin to explain how I felt as I realized I lacked steering on a 20-meter circle in a stretchy frame. Then, upon peppering in some second level movements, I discovered that the simple changes through the walk were more often than not canter-trot-walk-canter, and even the canter-walk transitions were not totally reliable.
I cannot overstate the magnitude of the hard look I took in the mirror over these lapses. They were simply from my lack of practice and lack of emphasis on the basics. It was a rude wakeup call but one I am grateful for, especially as we head into the winter. I've come to realize that, in Barisone's terms, in some places I had failed to keep the first and second level horses in Dixie as a third level horse. These gaps would undoubtedly provide some roadblocks as we inch toward fourth level.
And so began our very basic winter! So far, it's been all about the integrity of the contact. When I put my right leg on, does Dixie fill out the left rein? Unfortunately, the answer has not been "yes" every time I've asked. Most of our exercises lately have been about her sharpness and attentiveness to the aids and me riding every step in a true inside-leg-to-outside-rein connection. In other words, we are polishing up the training or first level horse within the third level horse.
I'm taking my time through these basics tune-ups. Beyond the absolute vitality of each of these foundational aspects, it's been kind of a nice physical and mental break for Dixie and me. As I have written about before, both our minds were a little fried from all our work on the flying lead changes this year.
Dixie is so good-natured that I really try to never take advantage of her willingness, so spending the winter working on exercises that are not so mentally taxing for her will hopefully be a welcomed break. I also think that it will boost her confidence in her balance, strength and overall carriage, plus her attentiveness to me as a rider, which will only benefit the flying changes as we eventually revisit them.
While this discussion might seem a bit niche to dressage, I am certain that it translates to every discipline equally. Every equestrian sport has basics that never disappear as the levels progress: A jumper needs to remain rideable to the base of each fence, whether the fence is a crossrail or a 1.20-meter oxer. A hunter needs to maintain a steady, active canter rhythm, whether it's over a 3'6" course or a line of canter poles.
I would encourage everyone to swallow their pride a bit and test out the integrity of the basics in their horse. If there are any lapses (you're not alone, believe me!), spend some time this winter tuning them up. I can almost guarantee you and your horse will come out better on the other end.
---
Laura Adriaanse is an amateur equestrian and U.S. Dressage Federation bronze medalist based in Philadelphia. She started out in the hunters, rode for the University Of Mary Washington (Virginia) IHSA team, then switched to dressage after college. She trains with Ana DiGironimo out of DQ Performance Horses in Swedesboro, New Jersey, with her Hanoverian mare Dixie Rose, with whom she hopes to make it to the FEI levels. She also owns an off-track Thoroughbred gelding named Chai, who lives in retired luxury at the Adriaanse family farm in Nottingham, Pennsylvania. Laura is a marketing and communications professional with aspirations of pursuing full-time equestrian media work. Outside work and the barn, she enjoys writing, live streaming horse shows, and spending time with her three cats.