North Salem, N.Y. — Aug. 5.
Anna Weniger's young riders freestyle gold has been in the making for 19 years.
Parents Dawn and Andrew Weniger had been friends with Marlene Whitaker, the founder at Custom Freestyle Inc., for years. When Anna was born, Whitaker made the promise to her parents that she would be the one to choreograph Anna's freestyle when she made it to the North American Young Rider Championship one day.
"We didn't even know if I would ride, much less do young riders or [North American Young Rider Championships]," said Anna, 19.
But she did make it to the competition in 2017, and Whitaker held up her end of the bargain.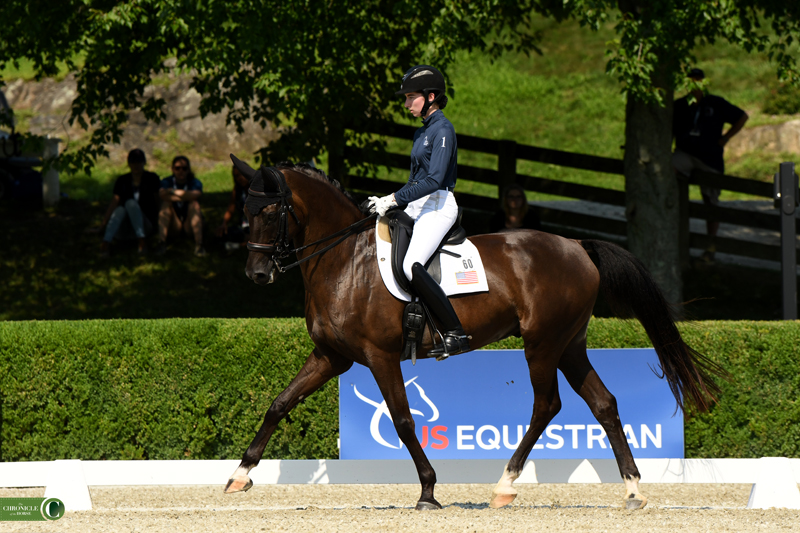 "She made a freestyle for me and we had a good time with it," said Anna. "But after last year she decided it wasn't good enough and she wanted to make me a new one. She's gone above and beyond."
Anna performed her new test for only the fourth time in competition this week at the Adequan FEI North American Youth Championships. Anna, Apex, North Carolina, said she feels beyond grateful for the promise Whitaker made her parents all those years ago.
"It was just in the back of my head for many years," said Anna. "But I never really expected that she would actually do it.
"It's the most incredible gift because I would never have such an incredible freestyle without her," she continued.
Beatrice Boucher's horse Delfiano spooked at one of the speakers during the beginning of their test, but the 20-year-old from Saint-Hyacinthe, Quebec, didn't let that shift her focus.
"I could feel he was a little stressed about the music," said Boucher. "But I just reassured him and patted him because being able to do the freestyle is already a big step, so I said 'Let's just do our best.' "
Her steady mindset helped earn her silver with a 72.80 percent.
Callie Jones, 20, and her horse Don Philippo were awarded bronze for their freestyle. Jones was also presented with the Dressage Style Award and The Fiona Baan Memorial trophy, given to the rider with the highest combined percentage score from team, individual, and freestyle dressage rides.
Her music was originally made for her fourth level freestyle, but Jones decided to try it for Don Philippo.
"We kept it really simple, but it really works for him and I, and it flows nicely," said Jones, Henderson, Kentucky. "I really couldn't be more proud."
A New Freestyle Can't Keep Robertson From Junior Gold
Everything about the situation was new for Chase Robertson: a new partnership with her horse and a new freestyle. All that didn't stop her from putting down a winning ride in today's junior freestyle competition along with her bronze medal from yesterday's individual final.
"I really came here just to get experience with [Winsome] because I've only had him for a little over a year," said Robertson, 16, Calgary, Alberta. "I wasn't expecting to walk away with a bronze, let alone a gold.
"We've had some troubles with some movements, and for him to step up to the plate and perform the way he did just blows my mind," Robertson continued.
Robertson and Winsome only tested out their freestyle once before coming to NAYC.
"The music really gets to me," said Robertson. "I can feel the same energy I have off of him, and he really pushes himself in it."
When asked if all the changes made her nervous, Robertson said she had no doubts in her mind about the test.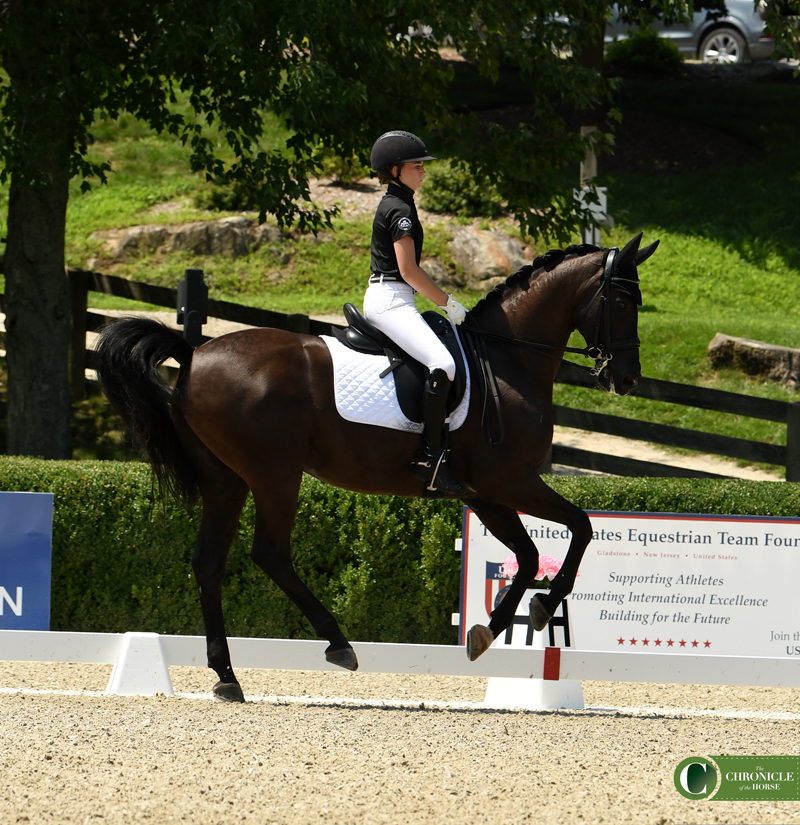 "I trust my trainer more than anything and she only puts what's best for me and Winsome into our training," said Robertson. "She trusts me, and I trust Winsome as much as I trust her."
Bianca Schmidt, 16, and Lou Heart edged out yesterday's winners Caroline Garren and Bell Angelo for silver with a score of 71.90 percent.
After getting Lou Heart in February, Schmidt and her sister, Isabella, got to work picking out the music for the freestyle.
"She really had to put up with me because I was going through a bunch of music and saying 'Oh, this doesn't fit. Oh, this doesn't work,' " said Schmidt, Edina, Minnesota. "The music is from 'Batman and Logan.' I'm a DC [Comics] fan, so I just loved it."
Garren, Atlanta, had nothing but positive things to say about her 10-year-old gelding.
"I'm thrilled with his performance, especially on the third day of such a long horse show," said Garren, 18. "I couldn't have asked for any more compliance from him. He tried his heart out."
You can see full results here.
Stay glued to coth.com for updates throughout the week for lots more from the Adequan FEI North American Youth Championships, and be sure you're following us on Facebook, Twitter and Instagram @chronofhorse. We'll have lots more from the competition in the Aug. 20 issue of the magazine.