Another horse has been euthanized after showing severe neurological symptoms and four more fever-only cases confirmed among horses linked to an outbreak of EHV-1 first reported Feb. 11 at Desert International Horse Park in Thermal, California, the California Department of Food and Agriculture reported late Thursday. Additionally, test results from a horse who was at the Los Angeles Equestrian Center for a show last week and was euthanized earlier this week after developing neurological symptoms have confirmed that horse had equine herpesvirus myeloencephalopathy (EHM), secondary to EHV-1, marking the first confirmed case for that showgrounds.
Cases linked to the Thermal outbreak now have been reported in Riverside County, home to Thermal, as well as Orange, Los Angeles, Santa Barbara, San Mateo and Ventura counties among horses that either were at Desert International Horse Park previously or were exposed to those horses upon returning to their home barns.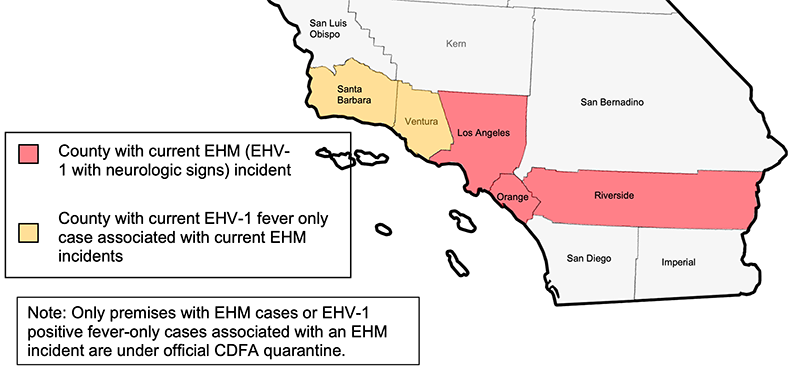 86-Horse Orange County Barn Quarantined
Two horses from one barn in Orange County began showing symptoms of EHV-1 on Feb. 22, and both were confirmed positive two days later. One of the two, a 10-year-old gelding, was among a group from the barn that had traveled to Thermal. The second horse, a 16-year-old mare, had not gone to the show but was exposed to the group of horses upon their return. She developed neurological symptoms and was euthanized.
Nine more cases are suspected and 86 horses exposed at the barn, which has been put under quarantine, the Equine Disease Communication Center reported.
The barn joins at least five others outside of Thermal and Riverside County that have been quarantined after horses that returned to those barns from DIHP were confirmed with EHV-1.
No New Cases On DIHP Grounds   
No new cases were reported on grounds at DIHP on Thursday. However, EDCC reports five more cases are suspected there, and two more cases were confirmed in horses that had left the horse park and returned to their home stables, or were exposed to such horses, in Los Angeles and Riverside counties.
Officials now put the total number of confirmed cases at DIHP at 21—18 with fever only and three who developed EHM, one of which was euthanized. The fourth, most recent case of EHM in the Orange County mare is not included in the DIHP number due to the way CDFA keeps statistics; it instead will be counted with any other cases that develop at that home barn.
DIHP officials have cancelled showing for a second week, and Desert Circuit Week VI will not run. They plan to hold a town hall meeting on grounds at 11 a.m. PST today.
Case Confirmed From LA Show
A 20-year-old gelding who attended the LA February Horse Show in Los Angeles last week and later became neurological and was euthanized, also was confirmed late Thursday as EHM.
Show organizers previously said they learned that at least four horses that attended that show had been brought from Thermal without first completing a seven-day isolation and observation period, however the gelding was not among those horses.
"An investigation is pending to determine if this incident is epidemiologically linked to any other active EHM incidents," CFDA reported. "The exposed horses on the gelding's home premises have been isolated and will be quarantined."
"It is critical for competitors to follow best biosecurity practices at all times, even without known disease detection, as following biosecurity recommendations is one of the best ways to protect your horse's health," CDFA representative Dr. Katie Hatch said. "This includes isolating horses leaving a show from any other horses for at least seven days, and to further refrain from entering any large equine event or facility within 14 days if there has been any disease detection or suspect at an event."
For more on biosecurity practices, visit EDCC.