We've all heard the instructions: Sit back, stay up, lift your chest. We all know following those commands improves our balance, improves how our horses work underneath us, and helps us stay on should things go awry. That said, many of us are riding in compromised positions due to the weight or jiggle of our busts.  
About 15 years ago I noticed my neck aching before I even arrived at the barn, just 10 minutes from my house. I was riding a horse that would stop at jumps if you tipped forward with rounded shoulders. The pain—mental and physical—was starting to wear on me, and I set out to find a solution that would make me feel more comfortable and confident. That's how I discovered the world of specialty bra fitting.
I will never forget how much better I felt at that first lesson with my new bra; I apparently had not realized that I had been tipping forward to hold my full bust with my elbows from the age of 14. It was a game-changer. I could actually sit a trot, hold my shoulders back, and my show coat buttons lay differently. From that moment on, I really wanted to share this experience with all women I came across.
I opened my shop in 2012, in the heart of New Jersey's horse country. While I help women of all shapes and sizes, I have always had a special interest in helping riders ride better, just by putting on better foundations. Not a gimmick product that holds our bodies in an unnatural position, but a bra that fits and supports! Some of my favorite brands for riders are Anita, Panache and Wacoal.
We spend a small fortune fitting saddles, using shock-absorbing pads, anatomical bits and bridles, and we navigate the ever-expanding world of tall boots with ease. Yet somehow in all of this, hidden beneath the technical fabrics that have finally arrived in our show clothing, are the wrong foundations. If your bra does not support you, you are not going to feel or perform your best. Here are a few tips that I would like to share with riders, based on the mistakes I see often.
1. Tighter bands are better. Most mainstream stores do not offer much under a 34 band, but there is a wonderful selection of bras that start at 28 bands. The band is the most important part of getting better support. Your bra should feel tight on the loosest hook setting the first few times you wear it. This is critical. Like boots, they break in with wear.
2. Do not buy a smaller cup for better compression. This does not work; it just sends your breast tissue in multiple directions. The most common mistake in self-sizing is not going small enough in the band and too small in the cup.
3. Two bad bras do not make it right. If you're looking to prevent excess motion, there are many, many options from light control to extreme bounce control. Utilize the right size and shock absorption combination rather than layering on bras.
4. You do not need an underwire to get serious bounce control. A wire-free bra may shape you differently than a traditional underwire bra, but it can also help your buttons lay better on a show coat.  
5. Get fitted by a professional. There is no substitute for this type of service. Going off of a measurement from a tape isn't going to help you choose the best style for your bust. Shape, density and where your breasts exit your chest wall should all be considered when choosing a style. Also, brands come from all over the world and may have different sizing, so it's important to work with someone who is familiar with the options.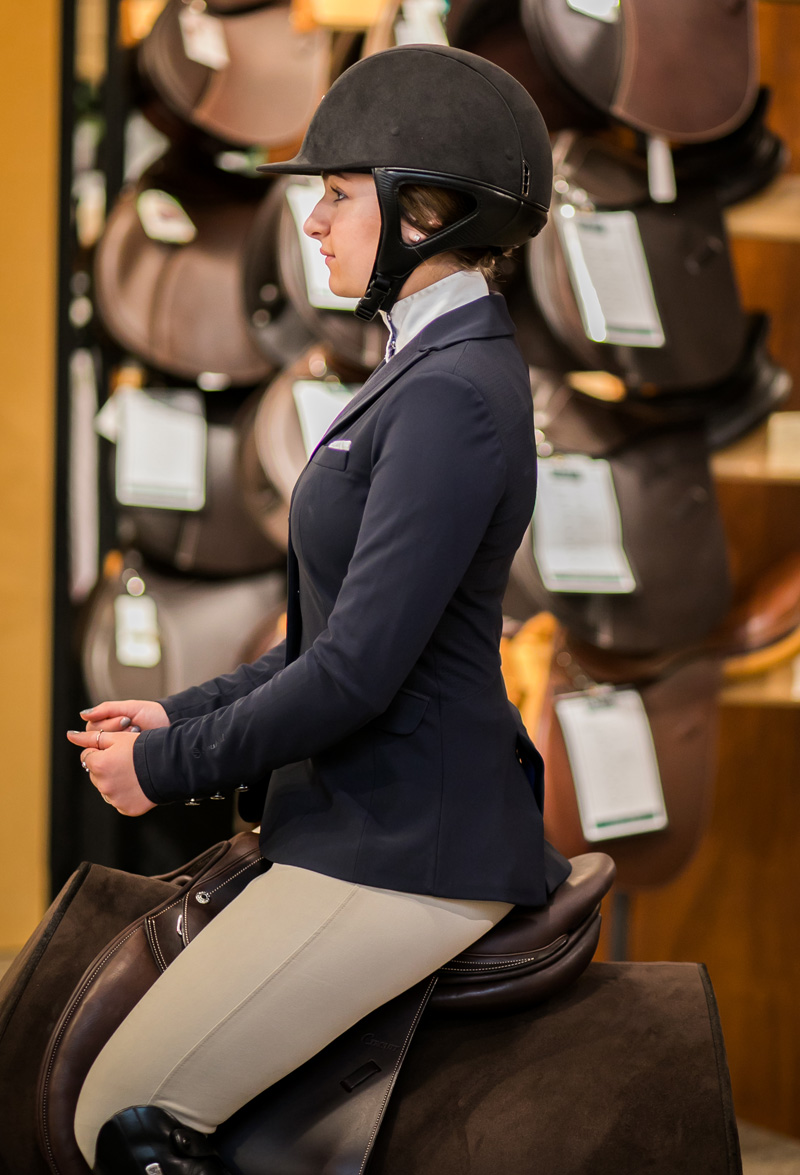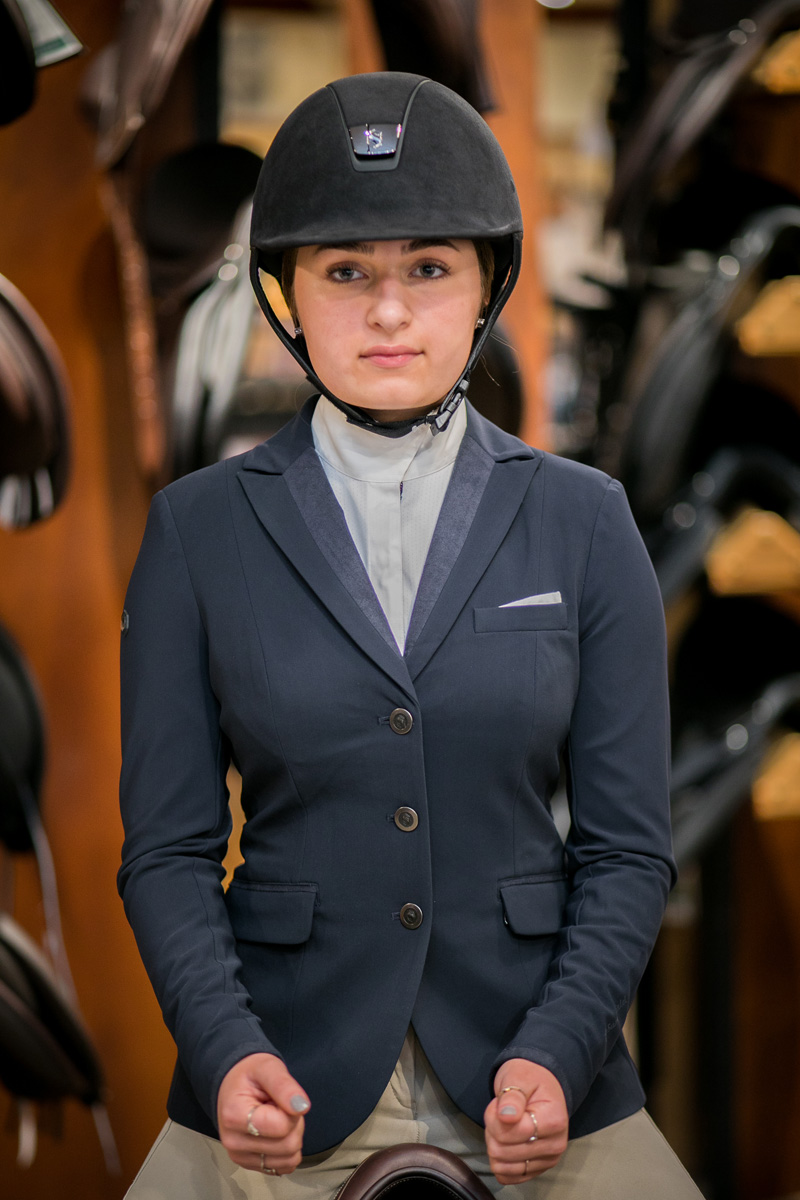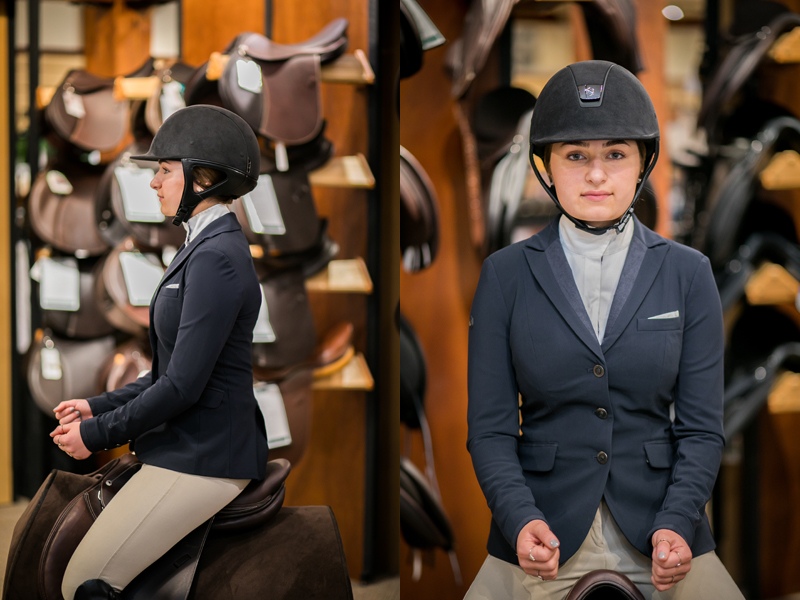 ---
This article originally appeared online Jan. 9, 2020, and contains photographs taken at the Branchburg, New Jersey, Dover Saddlery store using merchandise available there at the time.  
Alison O'Neill started riding 30 years ago, but presently she's a re-rider on a mission to get back in the show ring. She runs an undergarment shop called Beneath It All in Somerville, New Jersey, just minutes from the U.S. Equestrian Team headquarters, that stocks bras ranging from 28-50 bands and A-O cups. She currently is running a pop-up shop at World Equestrian Center—Ocala (Florida) through the end of February 2022 and doing private group fittings in the Ocala and Wellington, Florida, areas.