Karl Cook has been riding a hot streak this fall, picking up top-10 finishes and wins across the country from Tryon, North Carolina, and Lexington, Kentucky, to California, where he finished the year with wins in the inaugural $100,000 Riders Cup Grand Prix on Nov. 22 aboard veteran Caillou 24 and in the $100,000 Voltaire Grand Prix At Desert Holiday II (California) on Fecybelle on Dec. 13.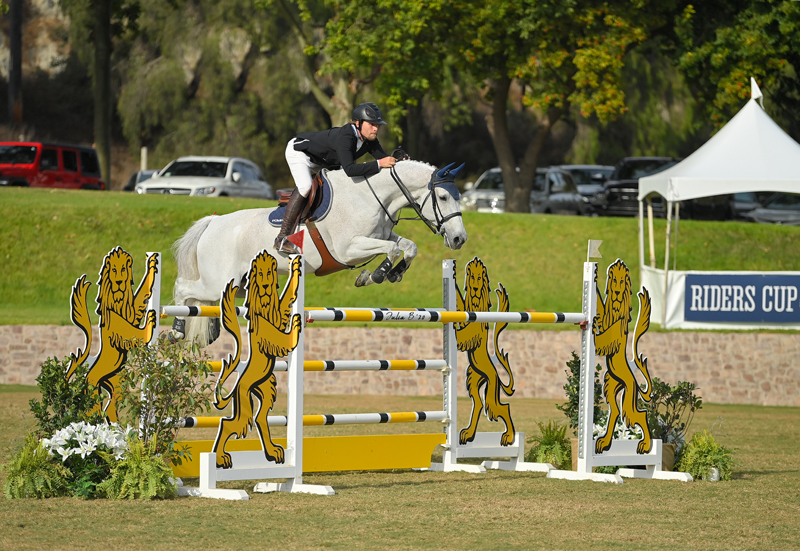 Cook, Rancho Santa Fe, California, paired up with Caillou, Signe Ostby's 13-year-old Holsteiner gelding (Casall—Carefree, San Patrignano Corrado) in 2014, and over the last six years they've earned plenty of wins. But Cook, 29, says there wasn't a specific turning point in their partnership.
"We work on everything at all times," he said. "There's no one thing. I think people like to boil things down to what one thing am I doing that's now making it all work. That never actually works because there's never just one thing. It's a combination of a bunch of things."
Cook's also been inspiring conversation with his "Walking and Talking" video series on Instagram, where he covers everything from his own round reviews and barn practices to his thoughts on industry topics like the U.S. Equestrian Federation mileage rule and competition sponsorship.
1. What inspired your "Walking and Talking" videos?
I had no forethought when I started it. I just started it one day literally walking back from a class to the barn, and that's where "Walking and Talking" came from. It just happened organically. It was helpful for me [because it was] almost an outlet that forced me to think about what I was doing because I had to explain it, whereas if you're just thinking about it in your own head you might not think about it the same way. I kept doing it because it was helping me, and I feel like it was helping other people.
I was just doing round recaps in the beginning, like here's my round, this is what I felt went well, this is what didn't go well, this is what I'm going to do in the future, super basic, and then it started to get into other stuff about how we do things at our barn. It just kind of is growing organically. This is just me talking into a camera, and I've thought about bringing in some people to help me, but it's the organic-ness that's interesting to me and interesting to me to watch.
2. What makes a topic worthy of a video?
If I talk about them they've been in my head long enough to not leave it. The videos that I did over the summer on show managers, riders and USEF, those two videos I think I'm proud of, and those kind of led to other stuff. I sat on the equitation one for a while [where he criticized the utility of the division as a steppingstone to the international jumper ring]. I wanted to do that for like a year, but I always had a reason why not to do it.
There was one early on when I had a big fall last year. I think that one was good for me to do, and at least from the comments at the time, maybe it was good for people to hear someone like me talk about it. One thing that I hope people see is that there's no one way to do it. That's just flatly wrong.



View this post on Instagram
3. How did you use your time during the COVID-19 lockdown this spring?
It was very useful. I felt I learned a lot. When you don't have a horse show that you're coming back from or you're about to go to, you think about what you're going to do on your horse differently. You're not thinking, "Oh, I need to work on my collecting on courses because I had issues with the last show, and I need to work on that before I go to this show." None of that is in play, so your approach has to change, and it's interesting to have the chance to do that. Normally you would never do that because other people would be showing. Where, this, we were all not showing, so it was easier to get into that home rhythm without feeling like you're missing anything.
4. Did you pick up any new hobbies during quarantine?
No new ones because I already have a large array of hobbies. They just got larger. I've done a lot more with my garden this year. I kind of joke with people that I borderline skipped gardening and went straight to farming. I have a workshop with woodworking and metalworking tools that I make a bunch of stuff with, and so that also continued and increased. The metalworking, I'm still teaching myself that, so I'm not very good at it, and it's also much easier to kill yourself with the metalworking tools than with the woodworking tools, so going slow is not a bad thing.
5. What's one thing people might not necessarily know about you?
The nerdiest thing is that I have a collection of antique dictionaries. I think words are interesting, and all we are as people are our words and our actions, so the more accurate you can be with your words, the clearer you are as a person to yourself and to other people. Also, words are kind of fascinating in a super nerdy way. They're super interesting how they came about or changed meanings over time or just weird and wacky words.
---
This article ran in the December 2020 issue of The Chronicle of the Horse in the Sport Horse Breeding Issue.
Subscribers may choose online access to a digital version or a print subscription or both, and they will also receive our lifestyle publication, Untacked. Or you can purchase a single issue or subscribe on a mobile device through our app The Chronicle of the Horse LLC.
If you're just following COTH online, you're missing so much great unique content. Each print issue of the Chronicle is full of in-depth competition news, fascinating features, probing looks at issues within the sports of hunter/jumper, eventing and dressage, and stunning photography.
What are you missing if you don't subscribe?