On Feb. 22, U.S. Equestrian Federation officials held (via Zoom) the first in what is to be a quarterly series of "community conversations" dedicated to diversity, equality and inclusion in equestrian sports. The conversations are intended to raise awareness about issues affecting equestrians from under-represented communities, lift traditionally marginalized voices, and build community across a broad network of equestrian enthusiasts. (If you missed watching the discussion live, you can view it on demand on the USEF Network.)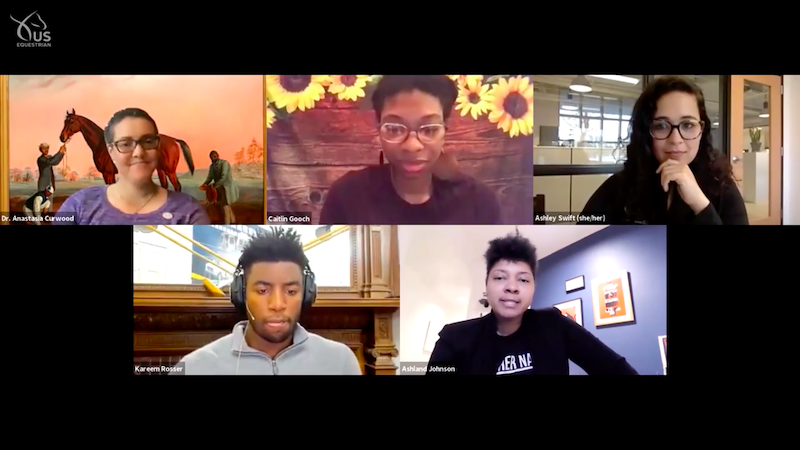 Titled "Horses in Black Communities" and held in conjunction with Black History Month, the first session examined key moments in U.S. history for Black Americans and explored the impact Black Americans have had on the equestrian industry. The three panelists were:
• Dr. Anastasia Curwood, an amateur dressage and event rider, associate professor of history and director of African American and Africana studies at the University of Kentucky; co-chair of the U.S. Eventing Association's Diversity, Equity, and Inclusion Committee; and a founder of Strides for Equality Equestrians.
• Caitlin Gooch, the founder of Saddle Up and Read, a nonprofit organization that uses interaction with horses to improve youth literacy, and the co-host of the Young Black Equestrians podcast.
• Kareem Rosser, a financial analyst and the executive director of Friends of Work to Ride, the fundraising arm of the Work to Ride equestrian program in Philadelphia. Rosser learned to ride and play polo through Work to Ride, was on the only all-Black team to win the National Interscholastic Polo Championship, and was on the 2011 national champion Colorado State University men's polo team and was named Intercollegiate Polo Player of the Year,
Here are four takeaways from the session:
1. There Have Always Been Accomplished Black Equestrians
Because they're often not included in the equestrian history we've all learned, it's often assumed that Black people were only involved with horses in supporting roles, Curwood explained.
"Enslaved people actually were incredibly skilled," she said. "We see that it's a little bit more complicated than Black people just being behind the scenes, cleaning stalls and hauling water."
Black Americans made huge contributions to the Thoroughbred racing industry and were involved in all aspects—breeding, training, riding races, foaling out mares. During the first three decades of the Kentucky Derby, half of the winning jockeys were Black.
There was also a prominent Black presence in the saddle seat discipline in the early part of the 20th century. The American Saddlebred was a product of the southern farms and plantations, with Kentucky at the epicenter of its development.
"Again, here we have enslaved labor and post-emancipation labor engaged in training, breaking, managing, breeding, taking care of all of these horses," said Curwood. "There was an amazing depth of Black expertise."
But the white riders were the ones to go to shows and win the ribbons, she added.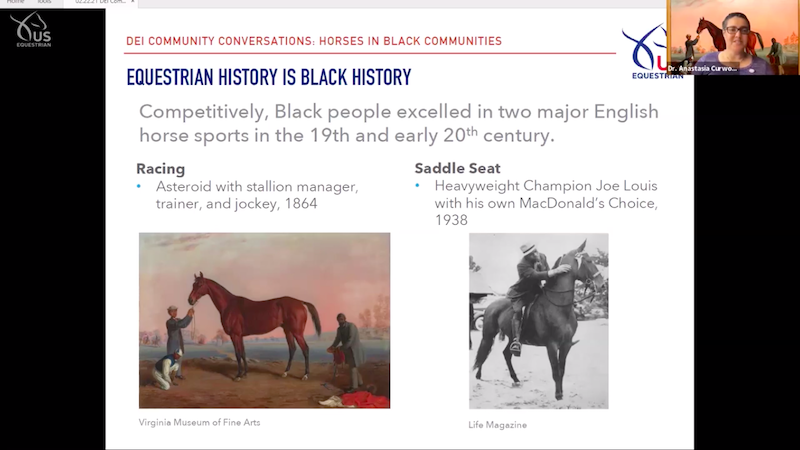 Joe Louis, the champion heavyweight boxer, was an avid saddle seat rider and created a series of horse shows in cities like Chicago, Detroit and Pittsburgh in the 1930s where Black riders were allowed to compete.
Jim Crow laws pushed Black horsemen out of the racing industry, and the Great Migration of Black Americans from the south to urban centers in the north separated them from their saddle seat roots. The increasing dominance of sports like hunter/jumpers, eventing and dressage (where there wasn't a tradition of Black participation) meant Black equestrians weren't prominent on the national stage of equestrianism for much of the latter part of the 20th century.
Much of their early history in the sport has been lost, Curwood said, but institutions like the International Museum of the Horse and the American Saddlebred Museum are working to reconstruct it.
"The history is there," she said. "We just have to find it and share it."
 2. Exposure To Horses Helps Everyone
Interaction with horses provides benefits beyond mastering the physical skills involved and taking part in competition. There are skills learned and doors opened that have little to do with horses but everything to do with finding success in other areas of life. Increasing the reach of equestrian sports means giving more people access to those benefits.
Gooch spoke about the "soft skills" that children learn through her Saddle Up and Read organization. Very little of the program is about riding; most of the kids may not ever even sit on a horse. But they learn about horsemanship and safety around the barn, gaining confidence while improving their communication and social skills. The horses facilitate all that.
"When new kids come out, they are so hands-on, and they want to help each other," Gooch said. "So that is building their people skills, helping them socialize and communicate with their peers."
Many participants are from low-income Black and Latino families, and may never have seen a horse before. The interactions center around the horses, but also allow people from many different walks of life to come together. "It breaks the ice—they don't want to know about me, they want to know about the horse," Gooch said. "It helps their imagination. When would they ever learn this stuff other than reading it in a book?"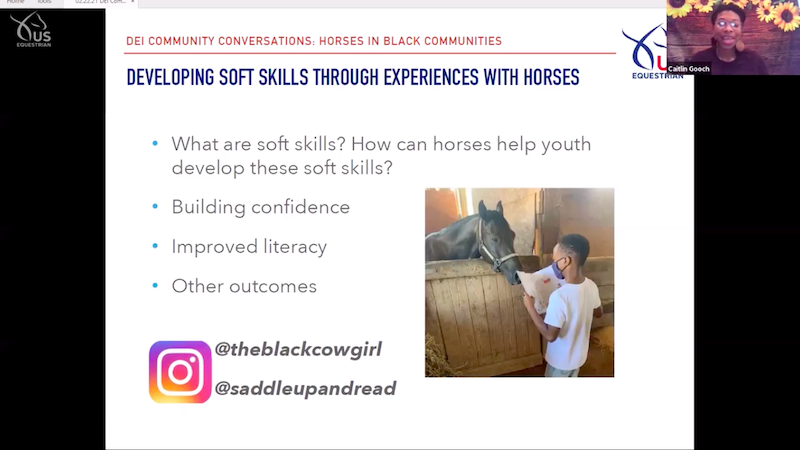 Rosser described his upbringing in West Philadelphia, where many members of the community live their whole lives hardly ever traveling outside city limits. His participation with Work to Ride helped him travel all over the country and even internationally and exposed him to opportunities he'd never have encountered in his urban neighborhood.
"Not only are we opening doors for other kids of color and people of color, we're being exposed to a world where we're breaking a cycle that keeps people back in the communities where we grew up," he said.
He also stressed the importance of urban riding centers, giving kids who live in cities opportunities to interact with horses just like their counterparts in the suburbs and rural areas. "The impact is huge," he said. "Introducing riding to those individuals [in cities], I look at it as we're opening doors and providing a number of opportunities for individuals."
 3. Practice "Radical Inclusion" And Offer An Outstretched Hand
Although there is a rich equestrian history in communities of color, recent generations are so far removed from that history that the horse world is completely foreign.
Although Gooch grew up with horses, "I've met other Black equestrians who have never ridden alongside another Black equestrian," she said. Rosser described the shock at seeing urban cowboys in his neighborhood and realizing that people kept horses in their backyards.
Curwood described Strides for Equality Equestrians' efforts to help people of color navigate their way back into the horse world, including a directory of barns that are particularly interested in welcoming riders from different backgrounds. She encourages practicing a "radical sense of inclusion," and seeking out groups like Work to Ride and Saddle Up and Read to support.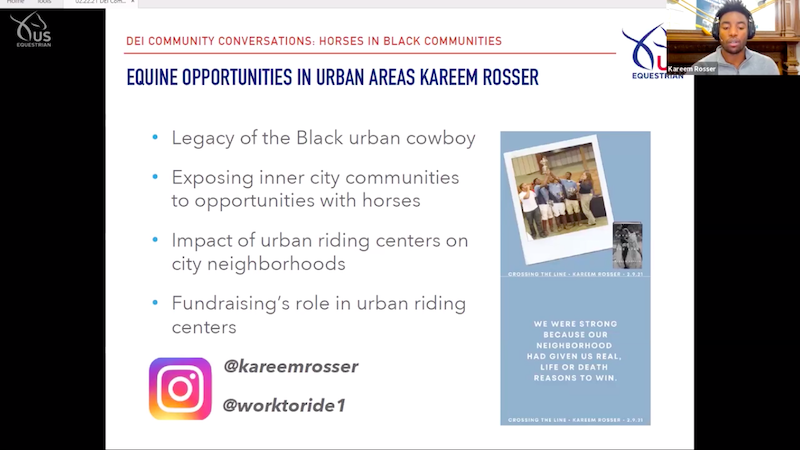 Rosser echoed that point. "If we want to be inclusive, it's putting your hand out and letting people know that they're welcome," he said. "Many Black people have a hard time walking up to a barn and asking for a riding lesson." He stressed the importance of connecting with groups like churches, schools, community groups and Boys and Girls Clubs, and encouraged equestrians to actually go out into their surrounding communities, including inner cities and low-income areas, to invite those people into the horse world.
4. Equestrian Organizations Are Improving, But They Need To Do More
Last year's social justice protests spilled over into the horse world, and equestrian organizations of all stripes found themselves confronting the sport's lack of diversity and what they could do to improve it.
"I found 2020 to be a little bit exhausting because everyone started asking me about racism," Curwood said. She encouraged people to listen to what people of color are saying about their community and what they experience.
The various equestrian organizations "are miles ahead of where they were last year," she said, adding that both the U.S. Eventing Association and U.S. Hunter Jumper Association have created diversity and inclusion committees.
But while the events of the past year showed that many in the equestrian industry want to be more inclusive, there's also been a lot of backlash and opposition, she said.
Gooch said that what organizations have done so far feels like "baby steps" and challenged all equestrian organizations and companies to police the racism in their social media comments. She also hopes to see people of color routinely represented in social media postings and in the equestrian media, not just during Black History Month.
Rosser echoed the sentiment that equestrian organizations need to do more. "Recently we've seen quite a few organizations acknowledge that they need to improve," he said, pointing to the many statements of support for diversity that came out in the wake of the police killing of George Floyd.
While he appreciates the statements of support, "I'm very big on people not just making statements," he said. "What are the actions behind the statements? What are organizations, what are corporations going to do to back up these words?"
The next in the series of DEI community conversations will take place in June in conjunction with Pride Month. You can find out more about USEF's diversity and inclusion initiatives and action plan here.