As a loyal fan of the Chronicle's online content, you're getting FREE access to our annual Show Jumping Issue. If you enjoy this issue, consider taking advantage of our latest subscription offer and 
subscribe today
! Click the cover below to read.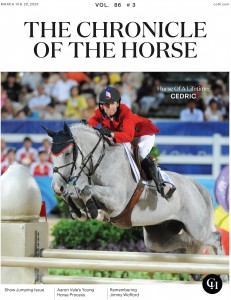 In this issue:
Horse Of A Lifetime: Cedric
Laura Kraut recalls the gray gelding with a big jump and even bigger personality.
Ask 3: What Makes A Championship Horse?
What is it that makes a championship horse versus "just" a grand prix winner? We asked three top riders.
Patience, A Diverse Portfolio, And Endless Possibilities
Aaron Vale shares his process and outlook for finding and developing good horses.
Free Rein With: Margie Engle
As a child, Margie Engle would sit ringside and watch riders like Rodney Jenkins, Katie Prudent, Leslie Howard and Joe Fargis. Now, she's joined those riders in the Hall of Fame herself.
Living Legend: Karen Golding
In her decades-long career as a top show jumping groom and then FEI steward, she always put horses first.
EVENTING
Remembering Jimmy Wofford
Until his death on Feb. 2, there was perhaps no human walking the earth who'd had a bigger impact on U.S. eventing than Jimmy Wofford. Here, J. Michael Plumb, Sara Kozumplik, Juliet Graham, Michael Page and Sharon White share some of their Wofford memories.
History, Adventures And Dry Wit: A Friendship With Wofford That Will Live Forever
"I think that was the essence of him. He made people feel special," writes Jim Wolf of his friend and mentor Jim Wofford. "And I guess the reason I wanted to talk to him so often was because every time I had a conversation with him, I felt a little more special. He had that gift."
HORSE SHOWS
What's At Stake With Social License?
Equine behavior expert Dr. Camie Heleski explains why we're talking about public perception of horse sports and why it matters.
French Finds Focus For Palm Beach Hunter Spectacular Victory
Though John French has been a consistent competitor in the $100,000 USHJA WCHR Peter Wetherill Palm Beach Hunter Spectacular, this year with Milagro was his first win.
Broz Beats The Big Guns In Thermal
With her mare Kardenta Van't Meerhof, the 18-year-old edged out Belgium's Gregory Wathelet to earn her first FEI grand prix win in the $145,100 Premier Equestrian CSI3* at Desert International Horse Park.
Ward's Newest Star Shines Bright In The CHF 406,000 Fidelity Investments Grand Prix CSI5*
McLain Ward has always had a way with mares. Many of his top international horses—HH Azur, Clinta and Sapphire, to name a few—have been mares, and he's always found just the right formula to bring out the best in them. His latest five-star winner, Callas, is looking to add her name to that list of championship mounts, and she's off to a good start.
DRESSAGE
Barbançon Brings Her A-Game To AGDF 5 
This French rider is making her first trip to the Adequan Global Dressage Festival count.
* Commentary, Feedback, In The Country, Victory Lap, Marketplace, Art Gallery, Finish Line and much, much more.
Enjoy!
The Chronicle of the Horse
If you're just following COTH online, you're missing so much great unique content. Each print issue of the Chronicle is full of in-depth competition news, fascinating features, probing looks at issues within the sports of hunter/jumper, eventing and dressage, and stunning photography. Visit COTH.com/subscribe to learn more.