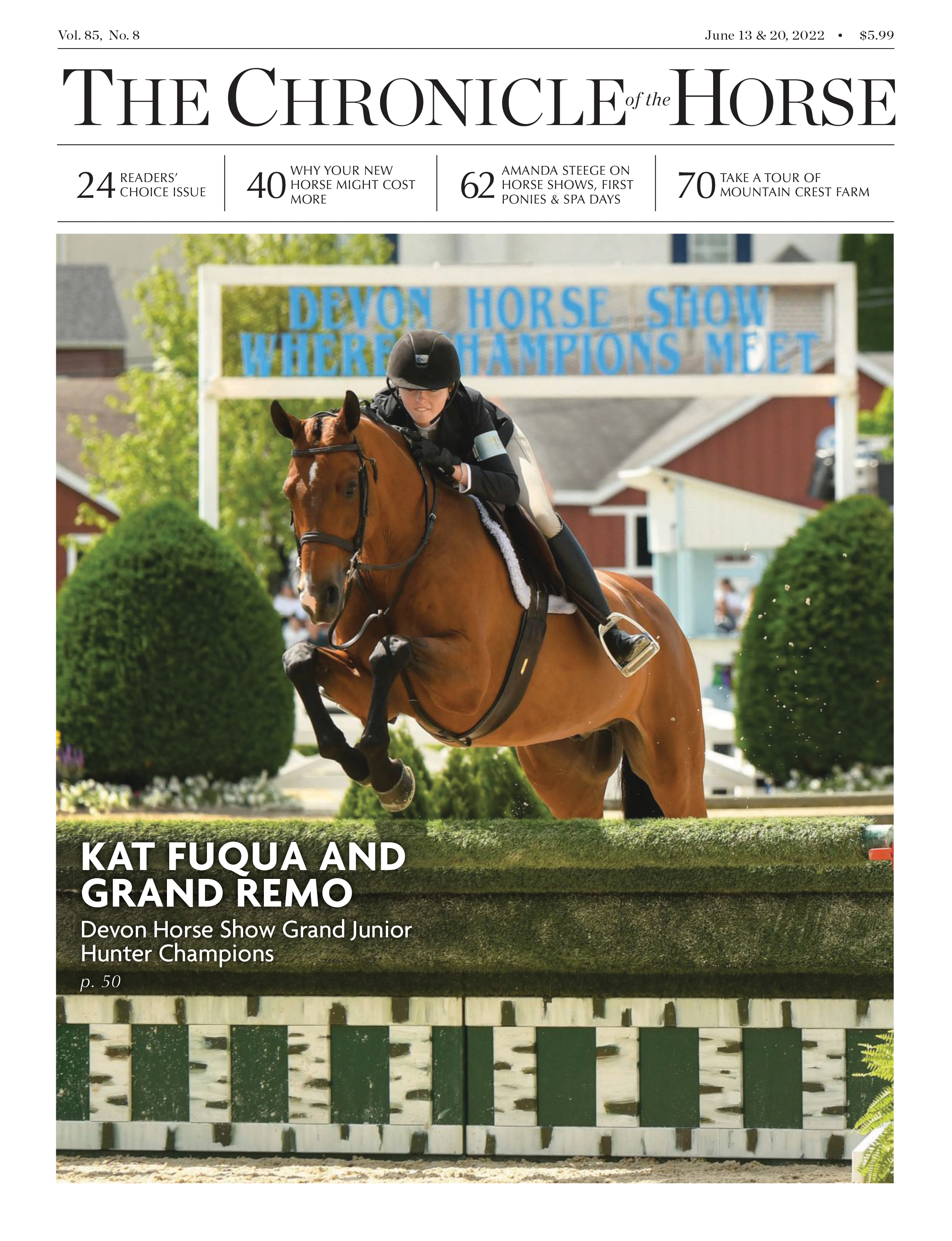 As a loyal fan of the Chronicle's online content, you're getting FREE access to our annual Readers' Choice Issue. If you enjoy this issue, consider taking advantage of our latest subscription offer and subscribe today! Click the cover above to read.
In this issue:
• Readers' Choice Survey
We asked, and you answered. Over 750 people told us about their horse world favorites in a questionnaire that was advertised across our platforms. (
read more
)
• My Kingdom (Literally) For A Horse
Horses are selling in a matter of days, with bidding wars and in some cases foregone vettings. Here's a look at how and why this seller's market has buyers in a frenzy. (
read more
)
• Fuqua Fulfills A Dream At Devon
Confidence in herself and her horse helps the 15-year-old earn her first Devon championship. (
read more
)
• Devon Horse Show Junior Weekend Photo Gallery
• Free Rein With: Amanda Steege
We talked to Steege following her win in the $25,000 RBD Classic Cup USHJA International Hunter Derby with Lafitte De Muze on May 14. (
read more
)
• Farmer Scores A Meaningful Win At Kentucky Spring
After her partner Larry Glefke suffered a stroke in 2020, she's had to adjust to her new normal. (
read more
)
• Behind Barn Doors: Mountain Crest Farm
In Northern Virginia, Olivia LaGoy-Weltz has found a welcoming and thriving dressage community. She spends six months a year at her Mountain Crest Farm in Virginia and six months in Wellington, Florida. (
read more and view photos
)
• Martin's Partnership With Fedarman B Matures At Tryon
He writes the next chapter of hopes and dreams in a "very human story" that started with broken pieces. (
read more
)
* Commentary, Feedback, In The Country, Victory Lap, Marketplace, Gone Away, Art Gallery, Finish Line and much, much more.
Enjoy!
The Chronicle of the Horse
If you're just following COTH online, you're missing so much great unique content. Each print issue of the Chronicle is full of in-depth competition news, fascinating features, probing looks at issues within the sports of hunter/jumper, eventing and dressage, and stunning photography. Visit COTH.com/subscribe to learn more.