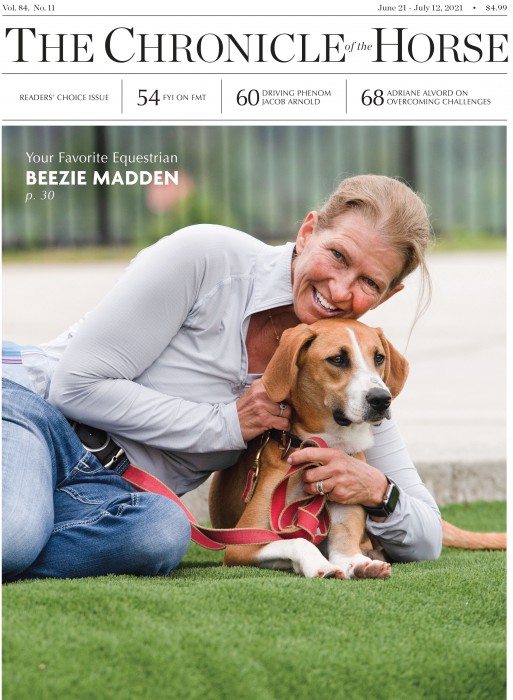 As a loyal fan and reader of the Chronicle's online content, you're getting FREE access to our annual Readers' Choice Issue!
In this issue:
• Readers' Choice Survey
We asked, and you answered. Readers told us about their horse world favorites in a questionnaire that was advertised across our platforms. (
read more
)
• Bond Continues Her Olympic Journey With Tryon Win
When the announcement came last year that the Tokyo Olympics would be postponed until 2021, the news was disappointing for thousands of athletes. For some equestrians, the delay had a negative impact: It meant their veteran partners might be retired before 2021. But for those with younger mounts, having more time was the postponement's silver lining. Ashlee Bond was one of those people.(
read more
)
• A Cure For Chronic Diarrhea?
Imagine a treatment that's highly effective against one of the worst equine afflictions that exists—one that can kill up to 30 percent of affected horses—and it's safe and inexpensive. Some believe fecal microbiota transplantation, or FMT, has the potential to be that treatment. (
read more
)
• Free Rein With: Jacob Arnold
Since his competition debut as a young teen, Jacob Arnold has been working his way to the top of combined driving. This year, he earned his second consecutive pairs championship at the Kentucky Classic CDE, held May 28-30. In April, he won the USEF National Advanced Pair Pony Championship.(
read more
)
• Virginia Horse Trials International And U.S. Eventing Association Intercollegiate Eventing Championships Photo Gallery
• Adriane Alvord Keeps Moving Forward
Whether dealing with an autoimmune disease or overcoming domestic abuse, this young professional doesn't let challenges stop her. (
read more
)
* Commentary, In The Country, Gone Away, Marketplace, Art Gallery, Finish Line and much, much more.
If you're just following COTH online, you're missing so much great unique content. Each print issue of the Chronicle is full of in-depth competition news, fascinating features, probing looks at issues within the sports of hunter/jumper, eventing and dressage, and stunning photography.
You can subscribe and get online access to a digital version and then enjoy a year of The Chronicle of the Horse and our lifestyle publication, Untacked. Or you can purchase a single issue or subscribe on a mobile device through our app The Chronicle of the Horse LLC.