Horse trials come and—more often—go over the years, usually becoming casualties of encroaching urbanization or the sale of a farm. In New England's Area I, Huntington Farm's annual horse trials, held since the 1970s on the picturesque 205-acre farm in Strafford, Vermont, has been a mainstay even as other competitions have disappeared. So, when longtime farm owner Ann Kitchel decided she was ready to move on, area eventers were concerned not only about the future of the horse trials, but the future of the farm itself.
"I had had a lot of hardships over the years, and I am getting old now, and I felt it was time to pass the farm along," Kitchel said. "I had the farm on the market several times over the years. I would put it on and then change my mind and take it off. I just couldn't find a buyer or situation that felt right. After the last time, I thought, 'Well, maybe I'll just die here.' "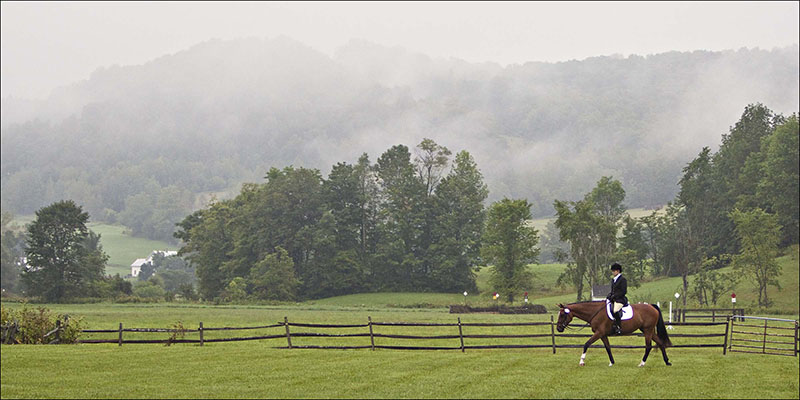 Kitchel, who purchased the farm in 1983 from the Perkins family, whose two daughters Bea di Grazia (née Perkins) and Beth went on to become nationally and internationally successful event riders, eventually found her potential buyer in a rather surprising demographic: 18-year-old Pennsylvania native Skylar Clemens.
"When I met Skylar, he was 15, and I was so impressed with him, just his natural horsemanship and how talented he was in driving horses," Kitchel recalled. "His interest in horses and farming really fascinated me."
Clemens grew up in eastern Pennsylvania. When he was 5, his family had the opportunity to purchase a 100-acre property adjacent to their small farm, saving it from being developed. Growing up as his parents transformed the property into productive farm land inspired Clemens' love of farming and land preservation.
"My grandfather was big into land preservation and making sure that we had open space and farms and that people really knew where everything started and where their food came from," Clemens said. "Because of my parents' purchase of that land, I was able to grow up on 110 acres of farmland that otherwise would have become 240 homes. One generation can't solve the world's problems alone, and I was able to see what my parents and my grandparents had done in their time, and I wanted to do what I could to curb some of the effects of past centuries of increased industrialization."
Due to suburban sprawl creeping near their farm and some familial issues, the family decided that the then-15-year-old Clemens should move up to Vermont and live with some family friends while attending high school at the Sharon Academy in Sharon, Vermont. Clemens' mother Sloane Six was interested in possibly relocating to the area and wanted to get Clemens settled in before a potential full-scale move.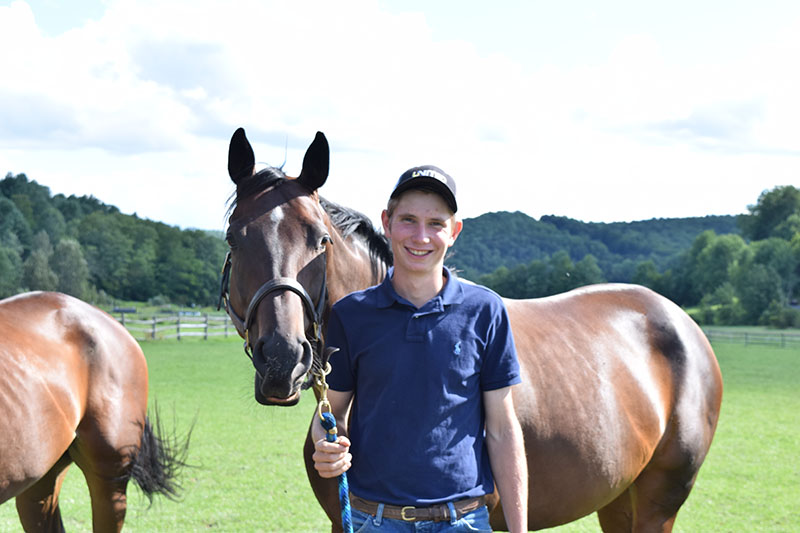 "In Pennsylvania we had an organic, sustainable farm. Knowing that Vermont, in general,  is a state that really cares about the environment and is supportive of agriculture, really drew us here," Clemens said. "Plus, there is a big sense of community here, which was really nice to see."
It was through family friends that Clemens met Kitchel at a Christmas party in 2019. Having grown up constantly helping on his family's farm, Clemens was a bit bored at school, and the family friends he was staying with suggested he help Kitchel with some of the never-ending chores and upkeep at Huntington.
"After that Christmas party, I started coming and working for Ann, mending and fixing fences, weed whacking, everything that always needs to be done on a farm," Clemens said.
It was through this hands-on experience that Clemens got to know the property and, in the process, fell in love with the 180-year-old farm.
"We have all these hills, a wonderful oxbow river, meadows, great woodlands—it is all the best of Vermont in one property," Clemens said. "To have all of that diversity in one property is just so cool. I fell in love with the property and then with the farm. Eventually, a couple of people suggested I look at buying Huntington, and it kind of became really apparent to me that this could be something really cool. To work on the farm and through that, to learn its history and the history of eventing and the importance of both to the valley, and to discover that it is such a special place to so many people, I really felt like it needed to be carried forward in some way—just knowing how many lives have been impacted by the farm. There is something special about it, and I can't explain it, but there is just this energy here."
Clemens closed on the purchase of the farm in March 2021, barely two months after his 18th birthday.
"I had to get a little creative in pulling the funds together for a down payment," he said. "I have worked a lot of odd jobs over the years and had savings from those. I also had a small share of a family business that sold, so some of it came from that, and I also sold off some personal belongings and items I had acquired over the years. It was a bit of a stretch, but I made it work."
Along with pulling together funds for a down payment, he had to convince the bank to give him a mortgage.
"The people helping the financing were definitely a bit skeptical," Clemens said. "The man came out here because he wanted to meet 'this kid,' and he said, 'Do you really believe in this, and do you think you are going to make this happen because if you really believe in it then I'll believe in it.' Of course I believed in it, and it wasn't like I was putting in all this effort for nothing, but once he had that reassurance from me, he gave us the go-ahead, which was huge."
For her part, Six is proud of her son for financially taking on responsibility for the farm all by himself.
"Skylar has done this completely on his own," Six said. "He has a mortgage that he is responsible for each month; we aren't funding him. Through this transaction, I supported him whatever way I could, but he took charge of this, and he has done such as incredible job. As a parent, you hope to do a few things right with you kids, and I couldn't be prouder."
While Kitchel admitted it was bittersweet to leave the farm behind, she has no regrets.
"Skylar was my rock for two years," said Kitchel, who now lives in Ocala, Florida. "He would come before school and then after school to help me. It took a long time to get here, but it was such a smooth process. I just feel blessed that I had 37 years at the most beautiful place on earth and now I've passed it on to people that are really going to care about it. That's kind of the best part."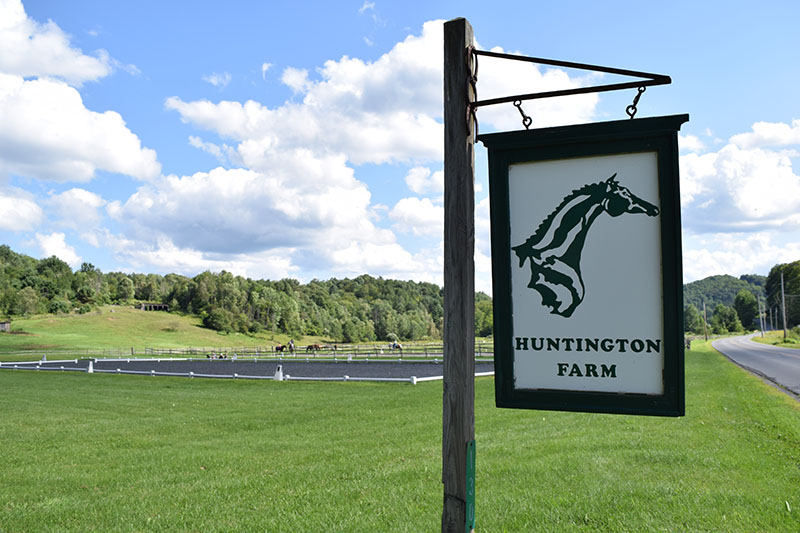 Although Clemens did not grow up eventing, he did know about the sport through members of his extended family who participated, and he knew he wanted to continue the long tradition of hosting horse trials at the farm.
"My family lived really close to some wonderful equestrian centers including Radnor and Devon," he said. "My grandparents went to the Devon Horse Show for their first date in 1942, so horses have always been a big part of my family."
Running a recognized horse trial, however, is quite the undertaking for someone relatively new to the sport, but  Clemens is not alone in that endeavor. Kitchel's niece, Carole Ann "Pinky" Tullar, who grew up spending summers and school breaks working and living at Huntington Farm, has become the farm's resident trainer and event manager.
"I can tell you exactly where I knelt down over by the house and begged to live here all summer and on any school breaks I had," Tullar said with a smile. "The last couple of years, I have helped Ann a lot with the license renewals for the horse trials, the website and things like that, and I had grown up volunteering at the events, so I had a general idea of what to expect, but it was a lot of work."
One of the first tasks the pair undertook was to tackle the property's aging cross-country course in advance of the five horse trials—three schooling and two recognized—that they ran over the summer.
"I keep joking that we did probably 400 hours of work on the cross-country course for a four-minute ride, but if it is the best four-minute ride that person has this season, then that is what matters to us," Clemens said with a laugh. "Going into this summer we knew our goals was to make some really big improvements that people would see: new jumps, fresh paint, clearing overgrown areas."
Clemens and Tullar turned to Jamie Gornall and Janine McClain to help refurbish the cross-country course. In order to widen some of the galloping lanes, they cleared out large swaths of overgrowth, which Clemens said was full of invasive plants. They also updated it by adding several frangible fences and getting rid of an oft-maligned bank that took up a massive amount of space in the middle of the show jumping field. ("Everyone was so excited to see that gone," Clemens said with a laugh.)
"It has been an immense amount of work, a huge undertaking," Tullar said. "It has been all systems go, and it was phenomenal to see the outpouring of support. Our neighbor was out painting his house, and he saw us out on the cross-country course trying to clear off jumps and move them around, and he grabbed a chainsaw and started helping us clear the brush. Laurie Hudson over at Hitching Post Farm [in South Royalton, Vermont] has loaned us jumps and has also been an invaluable resource."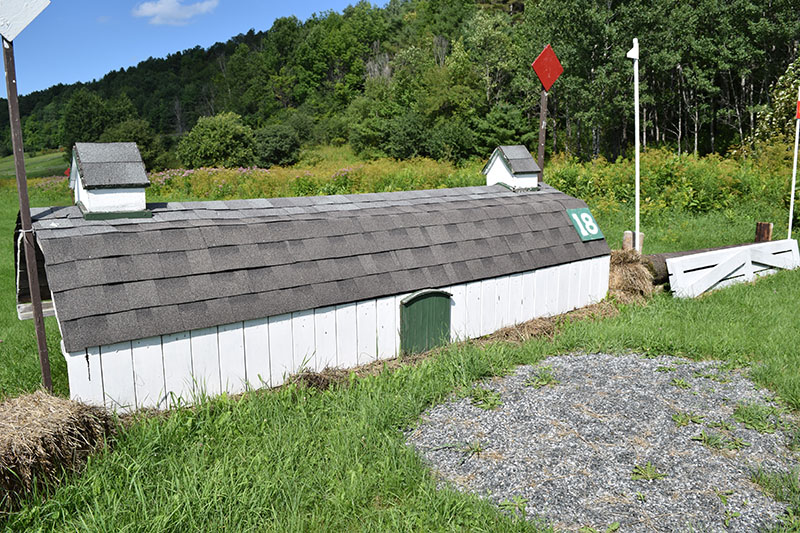 While the horse trials were successes, Tullar said they are still in a "data-collection phase" as organizers regarding what to do next with the competition facilities on the property.
"What do the people want to see? What do they want to get behind and support?" she asked. "There has been talk of running an intermediate-level event and some jumper and driving shows and even sheepdog trials, but we are just trying to see what there is the most support for and go from there. We do this all ourselves, and we can't do it without having a community behind us."
The idea and sense of community is something that comes up a lot with both Tullar and Clemens, and they credit their neighbors and the town of Strafford as a whole for helping them get through the first few months of running the farm.
"We had a great team come together, and we have a great community here that wants to see this farm continue as it's been for the past 50-plus years," Clemens said. "So whether it was local people coming together saying, 'I have a tractor and a brush hog and some tools. What can I do?' Or someone just asking if they could help with paperwork or a license agreement. It's just a lot of support, and that kind of fueled us every day—knowing that we were working really hard, but we had people right behind us that wanted to see it succeed just as much as we did."
In purchasing the farm, Clemens has run up against a few skeptics who have questioned his ability to revitalize Huntington, but he is eager to prove them wrong.
"I think part of being young is this desire to prove yourself," he said. "I had a different childhood than a lot of kids. I was given a lot of responsibilities, and my parents really instilled in me that if you work hard enough, you can do anything you want. In taking this project on, I knew it was going to be a challenge, but I'd been there before on a farm with no fencing, no barns, nothing, and I knew that I had the skill set and the work ethic to tackle it all."
To learn more about ensuring the farm's long-term viability, Clemens has enrolled at Vermont Tech and is in the agribusiness program.
"I am able to commute to school and continue to make sure everything keeps going here," Clemens explains. "Furthering my education will give me more tools and skills I can use to carry the farm forward. I certainly don't know everything, and there are so many different levels of knowledge that are needed to run this place."
Clemens acknowledges that not much will compare to the excitement of this past year, but he is happy to finally be settling in to some sort of rhythm at the farm.
"Not every day is going to be the same, there are going to be hiccups and bumps, and there is no use getting worked up about it," Clemens said. "But it is great being able to just feel good about what you do every day and go to bed knowing that you did all you could for the day. This was the Perkins' farm for years, and then it was Ann's farm for so long, and sometimes I feel like I'm just a placeholder. It is such a monumental, historic place, and sometimes I feel like just temporary 'keeper of the farm,' but I'm not. I plan to be here for my entire life, and I can't wait to see where I can take it."