Sept. 30—Devon, Pa.
Nine years ago Katherine Abrams was on the hunt for another mount after her dressage horse retired.
She wanted to take a break from the sport, so when she came across Zans Blue Frost, a 5-year-old Quarter Horse gelding (JM Blue Diamond—Zan Parr Quick, Joe Go Quick), she bought him for $1,500 thinking he might become a lesson horse at her family's Harmony Hills Equestrian Center in Pembroke, Va.
Abrams started taking reining lessons on "Blue," but the pair eventually found their way to dressage.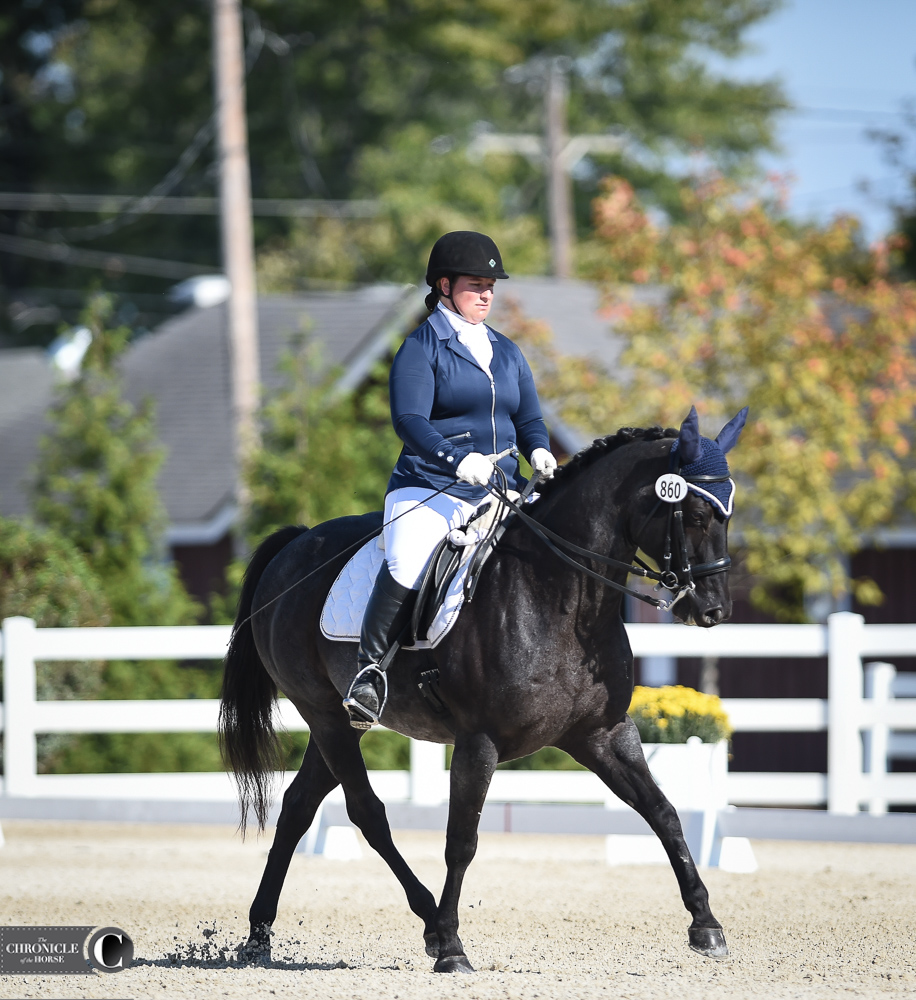 "I needed to qualify him for a state parade show because I was under 18, and I had to take him to a qualifying clinic, and the only thing in our area was a dressage clinic, so I took him there and rode him English for the first time. The clinician said he was a nice horse and thought I should pursue dressage," said Abrams.
And this weekend the pair cantered down centerline in two fourth level classes, Abrams' debut at Dressage At Devon.
"I thought it would be fun because I figured he would be the only Quarter Horse or one of a few. I'm proud of him because I trained him from the beginning. I like to get him out. He loves to show," the 26-year-old said.
Abrams and Blue scored a 59.59 percent in fourth level, test 1, and a 61.66 percent in fourth level, test 2, below their average for the level, but Abrams acknowledged that Blue got tense in the ring.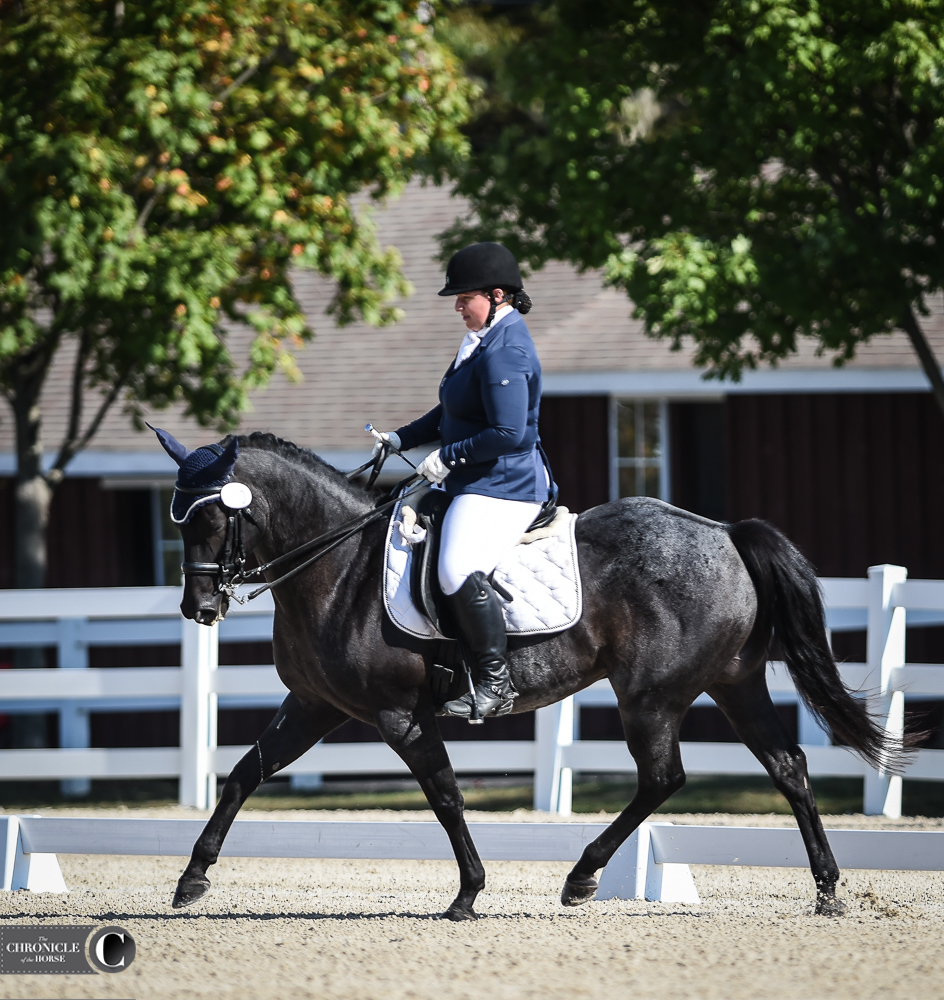 "I thought he was a little nervous, but he did a good job. He's actually pretty explosive even though he's a Quarter Horse. He's really spooky and sensitive, so he had some trouble with the construction [across the street]. Every time we went the crane was back there knocking trees down," she said. "During his test today there was the crane, then a car alarm went off, then they were dragging the arena beside us, so considering all that I thought he did pretty good, but that's why he was screaming the whole time [today]! He can either be really good or really bad. I was impressed he was still functional because sometimes he just can't continue because he gets so crazy.
"He wasn't last—I was expecting him to be, but even if they end up last, it's great that you've got here! He really is very proficient; he's just not a huge mover," she added.
Abrams is a professional at Harmony Hills where she teaches adults and children in eventing and dressage.
She used to event to training level and earned her Pony Club A rating, but she mostly focuses on dressage these days. She also competed the Lusitano Zodiaco Dos Pinhais at fourth level this weekend.
"I've always wanted to ride here. It's really fun; we're having a good time," she said. "We're here for experience. Hopefully in the future we'll do the CDI, me and whatever horse."
Blue comes from cutting horse lines, which Abrams believes explains his excitable nature under saddle, but she describes him as athletic and handy. When she was in Pony Club she took him to a polocrosse rally that he enjoyed, but he's not into eventing, jumping very high or trail riding.
"He doesn't like trails. He finds them too unpredictable! He's really a dressage horse at heart," she said with a laugh.
At 14.3 hands, Blue's conformation is fairly level, so Abrams said he's been easy to teach the upper-level movements; it's just always about his mind.
"He does passage and piaffe and ones, so I hope to show him Grand Prix one day. I would say the biggest challenge is his brain because he is not super mentally sound!" she said. "He does get scared. He once had to take a break for almost two years because he had a meltdown. I couldn't catch him or brush him. Once he got going again he was like, 'OK I'm ready to work again.' A few months later he was doing third level. I just have to listen to him. If he doesn't want to be ridden we just have to do something fun."
Abrams rode her first Prix St. Georges with her Lusitano last year, followed closely by Blue, and they've been working at the level this year.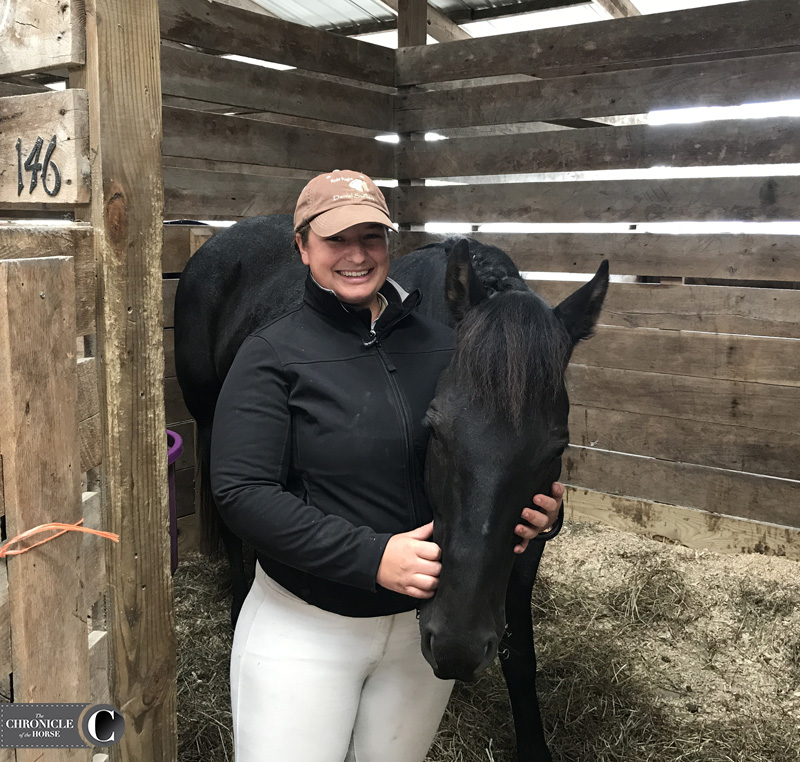 She enjoys riding different types of horses but appreciates a good warmblood too. At the barn currently she has a variety of Arabian crosses, Quarter Horses and a Friesian cross.
"We have a whole conglomerate of strange horses. We've just always had to buy horses on a budget, and we like them to be smart and have personalities. I've had a couple of warmbloods, and I've liked them, but I just like them to be a little hotter, and I like them to think," she said. "I liked Appaloosas as a kid because they were smart, and we have Quarter Horses, and I like Spanish horses now because they have so much personality. Around us there's a lot of weird stuff, so we just say, 'Well that horse is a nice mover, and it's smart, and it's willing to learn,' so we just buy it and train it, and if it does lessons that's great; if it shows for us that's great."
Abrams is looking to solidify her Prix St. Georges work with Blue next year.
"My goal for him is personal achievements with himself, so each time I go to a show if he gets a higher score that's great. I think they're really good horses, and they're smart, and they're much more athletic than people give them credit if you get the right one," she said.
Save