Oct. 16 – Elkton, Md.
The Dutta Corp Fair Hill International kicked off competition today with a full day of CCI** dressage and a handful of CCI*** rides.
With 54 riders in the three-star and 110 in the two-star, this year's Fair Hill is shaping up to be its biggest ever.
Matt Brown traveled all the way from Petaluma, Calif., with Happenstance to take the lead in the two-star (40.1), while Lauren Kieffer and Landmark's Monte Carlo (43.0) and Boyd Martin on SBF Cortez (43.8) lie close behind.
Only eight riders did their dressage in the three-star and Buck Davidson and The Apprentice currently hold the lead (44.0), while Jonathan Holling rode Proper Timing to second (50.4) and Boyd Martin rode Steady Eddie to third (51.4).
Here are some highlights from the first day of dressage.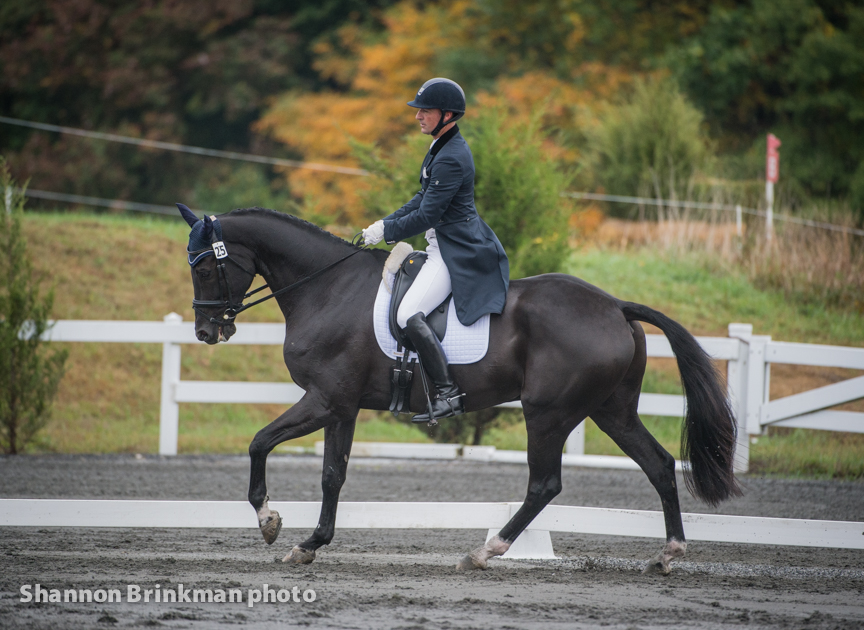 Matt Brown and Mary McKee's U.S.-bred Holsteiner Happenstance (Hunter–S'Brina, Ramirado) made a splash in their East Coast debut. Photo by Shannon Brinkman Photography.
"I was just really happy with him," said Brown. "When you've traveled such a long distance, especially because it's been over three weeks since we left California [Brown competed at the Nutrena/USEA American Eventing Championships in Texas], you never really know how things are going to go. You're away from home, you're away from where you and your horse are comfortable, but that was sort of the reason for us to bring both the horses [Brown is riding Super Socks BCF in the CCI***]. They've been feeling really confident at home and it's important for us when the horses are confident to get out and feel something different. It's been a great trip, and for him to put in such a nice test today was just the icing on the cake. He and I are just starting to finalize our partnership and get together and I think it came through today. He was really there for me."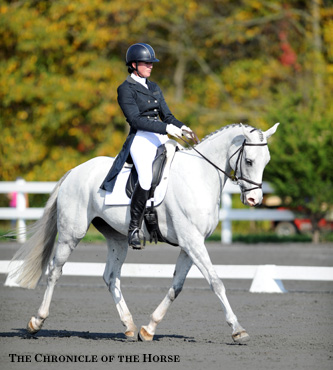 Lauren Kieffer rode Jacqueline Mars' homebred Irish Thoroughbred Landmark's Monte Carlo (Formula One–Glamour) to second in the CCI**. Photo by Lindsay Berreth.
Kieffer was proud to be riding all American-bred horses at Fair Hill.
"I have the four horses here and Lucky Devil in the three-star is a homebred of Shannon O'Roark's and the other three are all homebreds of Ms. Mars," said Kieffer.
"[Landmark's Monte Carlo is] always a workman in the ring. He's very broke and he goes in and rides the same as he does at home. The test is suitable for him because he's very accurate—he's not the hugest mover but he's very accurate. He went in and just kind of nailed anything and didn't really throw any points away."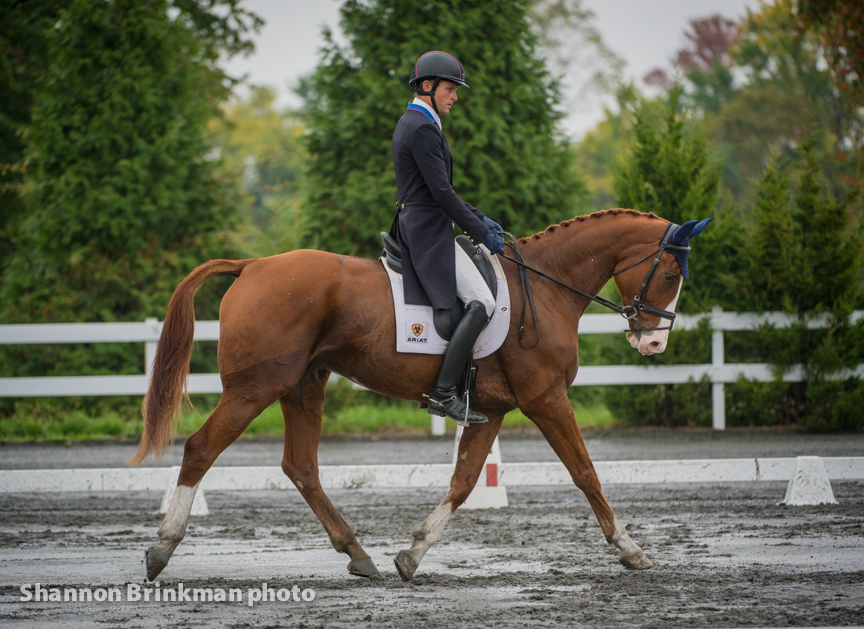 Boyd Martin rode Denise Lahey's U.S.-bred Dutch Warmblood SBF Cortez (Contango–Jer's Princess, Killer Jer) to third in the CCI**. Photo by Shannon Brinkman Photography.
"He's by an American-bred horse from Iron Spring Farm just up the road. [He's by] Contango, and he's out of a Thoroughbred mare, a polo mare," said Martin.
"He's a green horse, so I've done that test a couple of times. It's all the half pass and walk pirouettes. The horse has got a ton of quality, but all the stuff is very new to him, but in the last couple of months he's really learned and is putting in good results."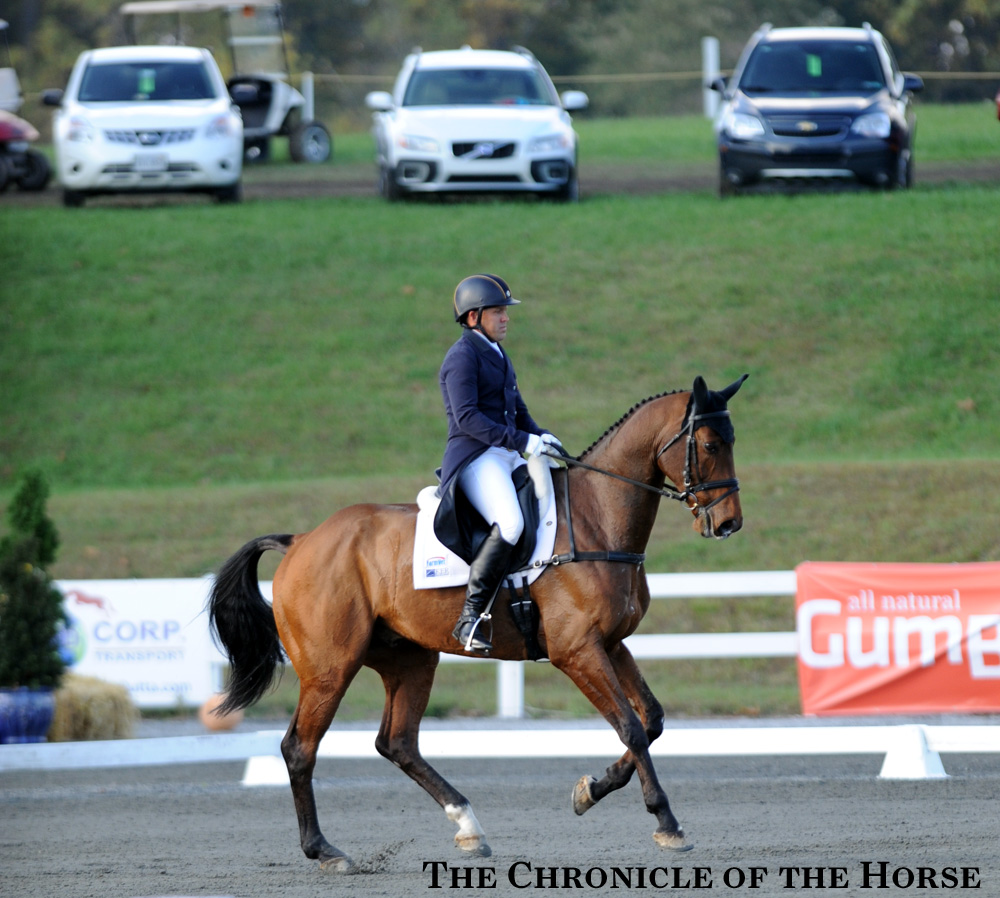 Buck Davidson rode The Apprentice into first place in the CCI***.
Photo by Lindsay Berreth.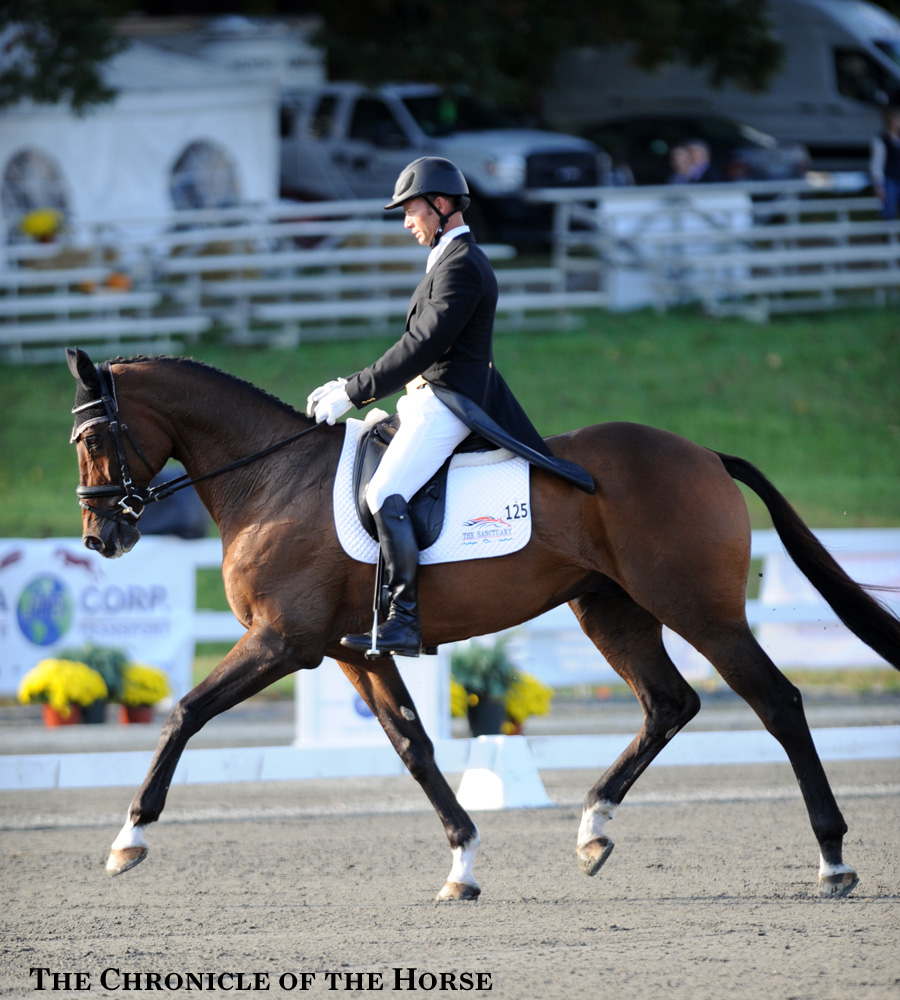 Jonathan Holling rode his first of two in the CCI***, Proper Timing, to second place.
Photo by Lindsay Berreth.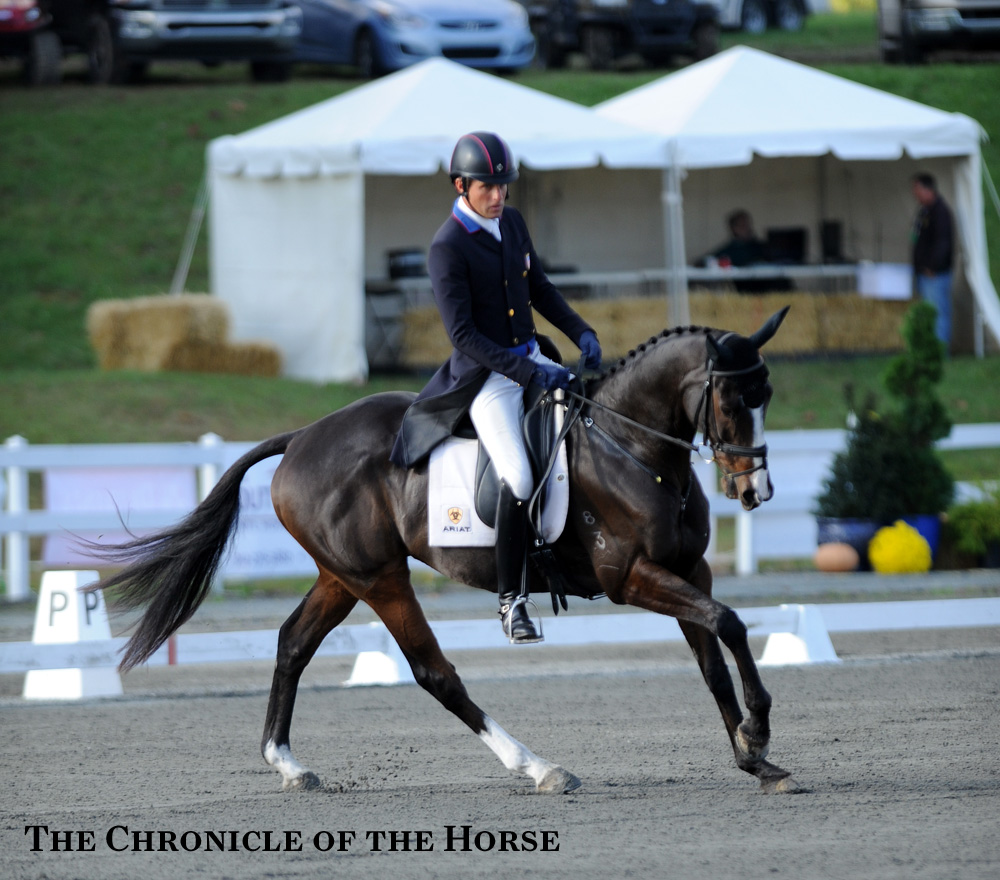 Boyd Martin and Steady Eddie currently hold third place in the CCI***.
Photo by Lindsay Berreth.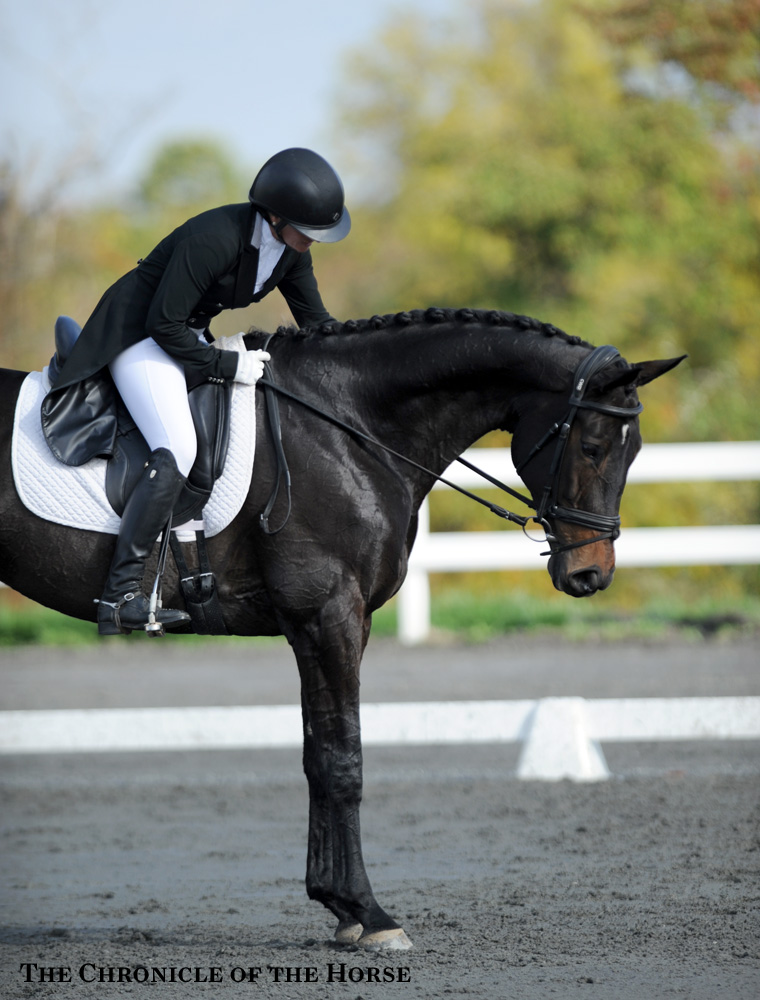 Erin Sylvester gave Mettraise some reassurance after his CCI** test.
Photo by Lindsay Berreth.
Philippa Humphreys rode the flashy Rich N Famous in the CCI***.
Photo by Lindsay Berreth.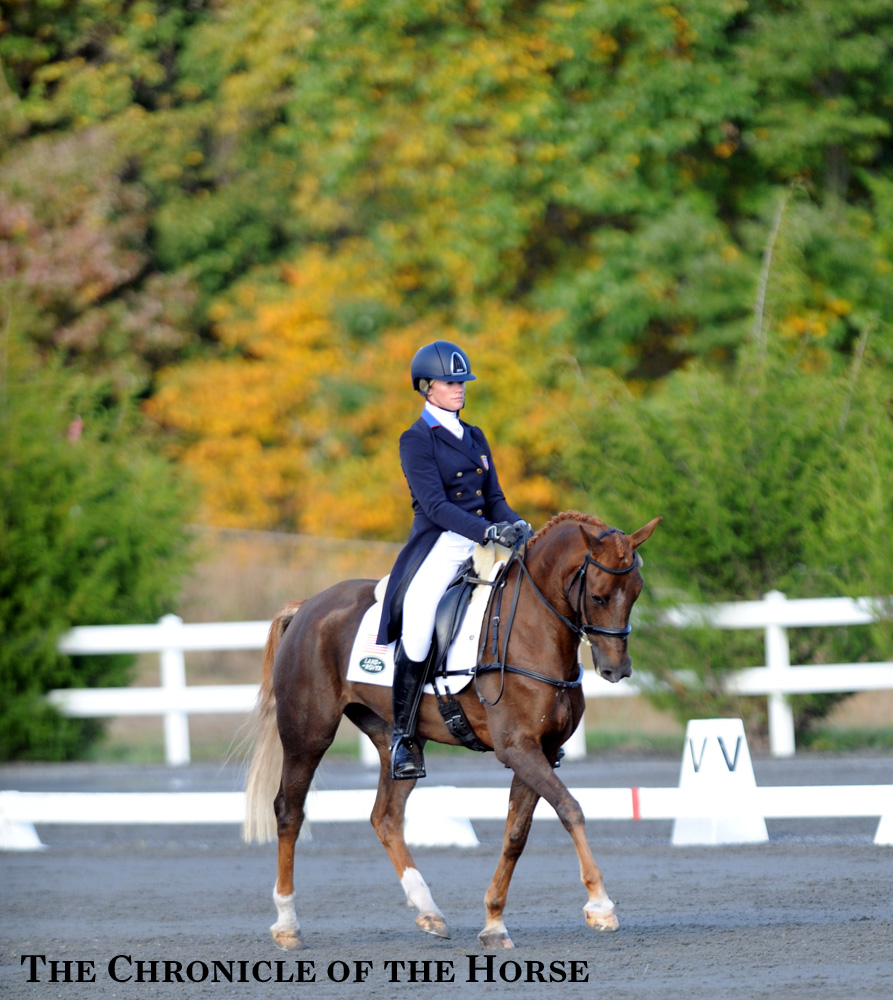 Sinead Halpin rode the 14.2 hand New Forest Pony Forrest Nymph in the CCI**.
Photo by Lindsay Berreth.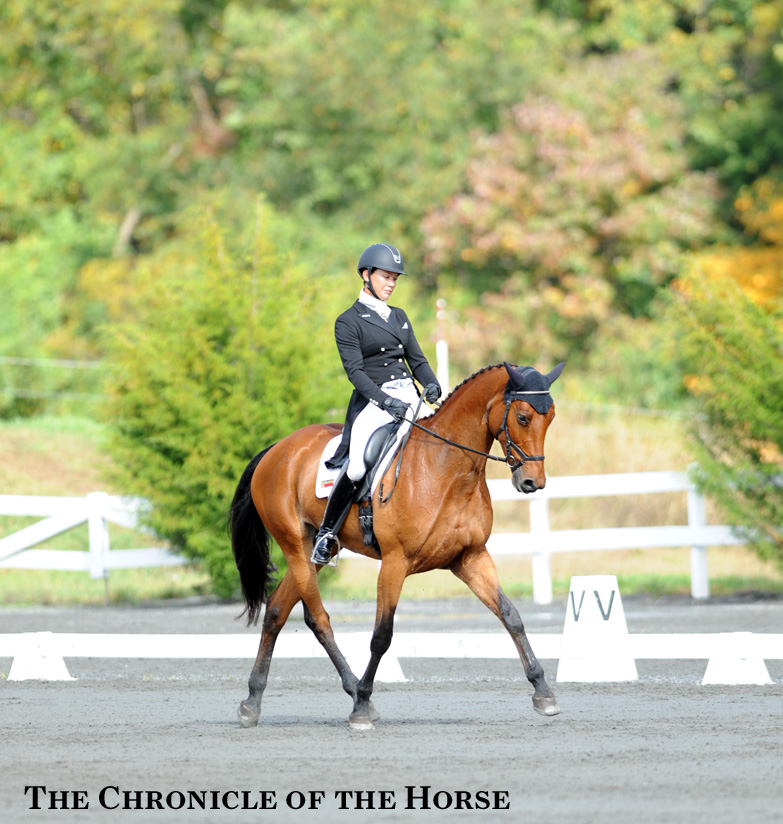 AEC intermediate champions Tamra Smith and Twizted Syster came from California via Texas to compete in the CCI**.
Photo by Lindsay Berreth.
Don't miss a minute of the Dutta Corp. Fair Hill CCIs—stay informed on all the news, behind-the-scenes stories and stunning photos with the Chronicle's dedicated Fair Hill CCI page of online coverage. And make sure to read even more details in the Nov. 3 issue of the print magazine The Chronicle of the Horse. You might know who won, but we tell you why and how they won.