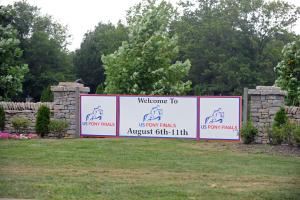 Follow along as the best ponies in the country go head-to-head at the Kentucky Horse Park.

Quick: You're in the work-off of a major equitation final, and the judge asks you to turn on the haunches. What do you do?

Glancing down the list of entries from USEF Pony Finals, there are lots of recurring themes. Some are sweet, some are funny and some are just surprising. Here are some of our favorite pony names popping up on the jumbotrons in Lexington, Ky., by theme.

Emma Kurtz rides the chestnut to the large title, earning her third championship of the competition.

Take a peak at the spooky, pony-sized jumps Patricia Griffith had constructed for her riders in preparation for Pony Finals.

It's a nail biting jump-off for gold but the Zone 4 rider and the aptly-named American Hero comes through.

She hasn't seen him since earlier this spring, but Hana Bieling and Canterbrook Prince Charming had a winning reuinion in Kentucky.

Daisy Farish makes her last trip to Pony Finals count with a pair of championship ribbons.

None of the four riders touches a rail on the way to gold.

She's quirky, she's moody, she hates to practice, and at 17, none of that is changing any time soon. But Stone McCormick learned her buttons, and that's paid off big time this season.

Catch up on last year's champion, including the tale of a four-time winner.