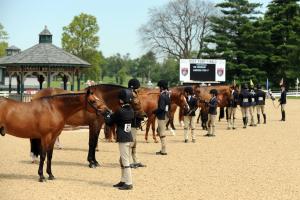 Follow the Chronicle to the USEF Pony Finals, held Aug. 7-12 in Lexington, Ky.
Lucy Deslauriers made her last trip to USEF Pony Finals count with a big win.

Maddie Darst found the perfect way to wrap up her USEF Pony Finals career: winning the large pony hunter title on Betsee Parker's For The Laughter. This marks the fourth year in a row that For The Laughter earned the championship, and the second time that Darst has had the ride.

Maddie Schaefer has been a Pony Finals regular for as long as she can remember. Even though she's only 11, this marked her fifth year competing at the event. This year, found the perfect way to commemorate the occasion: by winning the medium pony hunter championship aboard Hi Lite.
Keely Laughlin might have been anxious before the first round of tonight's USEF Pony Finals individual jumper championship, but Laughlin was all business when she went back for the jump-off. Guaranteed at least silver, she'd already accomplished her main goal.

It's a dream come true for Holland Nievergelt when she makes her first trip to Pony Finals on a pony she trained herself.

By the end of the night, the four riders from Zone 4 had given themselves an apt new group nickname: "We're the clean team!" joked Lindsey Toothman.

Yasmin Rizvi skips out on a trip to the London Olympics to ride at USEF Pony Finals—and scores the first major championship of her career aboard Roxbury.

Relive the memories of the 2011 USEF Pony Finals by reading all of our archived coverage.