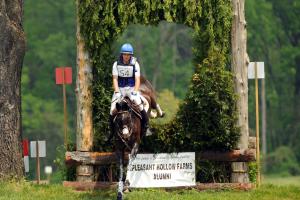 Follow along as Lindsay Berreth and Taylor Joyce bring you all the action from the Jersey Fresh International Three-Day Event!

Watching High Finance romp to second place in the CCI** at the Jersey Fresh International Three-Day Event with Melissa Miller aboard, you'd never know that three years ago the off-the-track Thoroughbred was fighting for his life.

Buck Davidson is known for his signature socks in his cross-country colors of red and yellow that he wears at every horse inspection. But earlier in the week, Davidson thought his luck had run out when he misplaced them in his camper at Jersey Fresh.

Every horse presented in the final horse inspection passed this morning at Jersey Fresh.

Doug Payne was looking for the perfect prep event before heading overseas to the Saumur CCI*** in May, and that's just what he got at Jersey Fresh, leading the CIC*** from start to finish on Crown Talisman.

Phillip Dutton came to this year's Jersey Fresh CCI*** with Fernhill Fugitive with something to prove.

Three years ago, Canada's David Ziegler wouldn't have believed competing in a CIC** at the Jersey Fresh International Horse Trials (N.J.) would be in his cards, especially not on a four-star veteran like Critical Decision.

Photos from the CIC*** division.

Who won in 2013? Check out our coverage from last year's event.