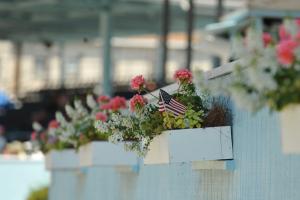 Join us for all the fantastic hunters, fast jumpers and, of course, the famous Devon fudge. Stay tuned here for all the news, behind-the-scenes stories, inspiring competitors and lovely photos from the magical 11 days that is Devon.
Just a month after she loses a famous horse to colic, she dominates the amateur-owner ring at Devon.

Todd Minikus recovers from some bad luck to ride this mare to the top of the historic class.

How is showing at Devon like meeting a celebrity? Find out as blogger Christiane Campbell talks about competing at Devon as a working amateur and mother.

"Todd is one of the fastest riders in the world, and Paul kicked his butt," said McLain Ward. Catch up with the Irishman who topped the $100,000 Grand Prix of Devon on his first try.

Kelley Farmer's hot streak continues on derby day.

The Chronicle's newest blogger is headed back to the Dixon Oval for the first time since she was a junior.

She clinches her second consecutive leading hunter rider title with multiple talented rides.

The two riders trade off open hunter championships.
When her daughter went off to college, leaving Corianos Boy in the barn and jobless, Nancy Hooker saw an opportunity.

The WIHS Shetland Pony Steeplechase came to the Dixon Oval with all the cute competition it entails!

Bernadette Chungunco's wraps up her last trip to Devon on ponies in style, with the grand pony hunter and Best Child Rider titles.

Moving up from the pony to the junior jumpers paid off for this 14-year-old.

Tori Colvin and Hunter Holloway each pick up two tricolors, but Colvin earns even more honors.
Leadline at Devon is a time-honored tradition, but for this pony mom it's a celebration of a treasured relationship.

Adorable ponies, elegant junior hunters and fast junior jumpers—check out photos of them all from Friday of Devon Junior Weekend.

This former junior star is starting her business from the ground up, and it's paying off.

Want to relive last year's Devon? See all of the Chronicle's coverage from the 2013 edition.