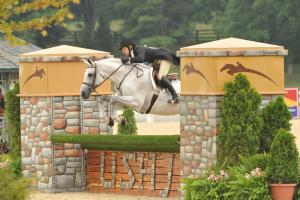 Follow along as the best derby riders in the country go head-to-head at the Kentucky Horse Park.

Heading into the Tier I Handy Round of the USHJA International Hunter Derby Championships, Liza Boyd knew she had some ground to make up as she trailed Scott Stewart and Garfield by 10 points. But when she was warming up for the class her father and trainer Jack Towell tried to get her to put that out of her head.

Scott Stewart, Liza Boyd and Jen Alfano sit one, two, three heading into tomorrow's Championship.

Confused about what this Tier I, Tier II business is all about? You're not alone. Editorial Staffer Mollie Bailey breaks it down.

Need to pick someone to cheer for at Derby Championships? Editorial staffer Mollie Bailey weighs in on some special combinations to look out for.

She and Mythical top the $15,000 USHJA International Hunter Derby leaderboard at Traders Point Hunt Charity (Ind.) to make history.

Derby poster child Jersey Boy and Jen Alfano finally get their due.