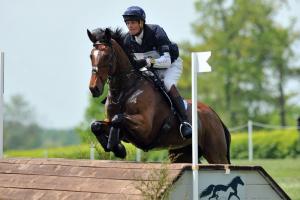 Follow all the action at the Rolex Kentucky CCI****, from course walks and exclusive stories to photo galleries. Brought to you by Omega Alpha.

His victory in Kentucky sets up a clash of the titans between him and longtime rival William Fox-Pitt for the $350,000 Rolex Grand Slam at the Mitsubishi Motors Badminton CCI**** in England next weekend.

Three horses are held and one is spun by the ground jury at this morning's final horse inspection.
He stands in first and second place with a rail in hand.

Find out what happened where to every horse and rider on cross-country.

The British rider found himself in a familiar position at the conclusion of dressage, as he took over the lead with Chilli Morning ahead of Andrew Nicholson.

Jennie Brannigan announced the withdrawal of Cambalda from competition despite a delayed dressage ride time after the horse slipped on concrete.

Andrew Nicholson rides to the top of the leaderboard on Day 1 while Jennie Brannigan gets a rare ground jury exception to delay her test.

Jennie Brannigan's first appearance at Rolex Kentucky has just barely gotten underway, and she's already endured a competitor's nightmare.

Jordan Linstedt did not start the event with her Tullibard's Hawkwind.

This young rider and Houston, the U.S.-bred Anglo-Arab he's had since it was a foal, are tackling their first four-star together.

The 46 horses presented were all excepted by the ground jury, but a last-minute injury forced the withdrawal of Emily Beshear's Here's To You.

Just as he has every year since the Rolex Kentucky CCI**** began in 1998, James C. Wofford, who won Kentucky in 1981 and 1986, evaluates the competition and the starters.

It's the nature of a three-day to have last-minute glitches! See who's run into trouble on their road to Rolex...

Since William Fox-Pitt is in contention to win the Rolex Grand Slam of Eventing should he claim the Badminton CCI**** the week after Rolex Kentucky, it's only fitting to catch up and see what his year has been like since his last visit to Kentucky.

How to survive a trip to Rolex Kentucky with a non-horsey husband in tow.

Revisit all the stories from William Fox-Pitt's thrilling win in 2012.