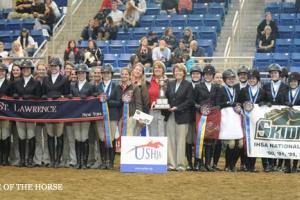 Centenary College's Cori Reich won the USEF/Cacchione Cup in her second trip to Nationals, and St. Lawrence and Skidmore tied for the Collegiate Cup

St. Lawrence University (N.Y.) increased their lead in the second day of team competition at the Intercollegiate Horse Show Association National Championships. With a current lead of seven points over Skidmore College (N.Y.), St. Lawrence will end the competition as either champion or reserve for the Collegiate Cup.

St. Lawrence, winners of the 2012 Collegiate Cup, took an early lead at this year's IHSA National Championship.
St. Lawrence finally got their Collegiate Cup at nationals in 2012.