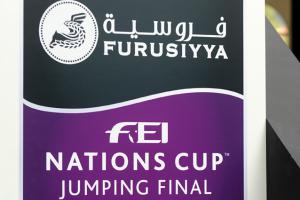 Follow the Chronicle to Barcelona for the debut Furusiyya Nations Cup Final.

They edge out Brazil by 1 time fault, and Ireland takes third.
The Barcelona CSIO has been around for over 100 years, and there are lovely historical posters from many of the older editions in the press room.

The top eight teams will compete today, Sept. 29, in Round 2 of the inaugural Furusiyya FEI Nations Cup Final.

It came down to a jump-off with Switzerland, but the U.S. won't go home empty handed.

Check out what happened when Angelica Augustsson finessed Mic Mac du Tillard through a tense few minutes.

U.S. goes tenth in today's Consolation Round.

Brazil wins the day with only three riders finishing the course. And the U.S. misses an invitation to the second round by the skin of their teeth. Hear how they've planned to recoup.

What's it like in the draw for order of go in the Furusiyya FEI Nations Cup Final? Mollie Bailey takes you there...

Katie Dinan got a last-minute call to take a few days off from her studies at Harvard to fly to Spain to join the U.S. team effort at the Furusiyya FEI Nations Cup Final.

Get caught up with a preview of all the action at the debut Nations Cup Final.
The Nations Cup series has been reorganized, with more teams than ever participating.