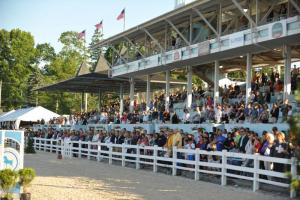 Follow all of the action from the 2013 Devon Horse Show and Country Fair from articles to photo galleries.

After a successful junior weekend at the Devon Horse Show, Tori Colvin returned to take top honors on Betsee Parker's Inclusive in the $25,000 U.S. Hunter Jumper Association International Hunter Derby.

In her first year as a professional, Kaitlin Campbell piloted her Rocky W to a win in the $50,000 Idle Dice Open Jumper Stake class at the Devon Horse Show, and she did it against some of the top riders in the world.

Some riders have a special show, one where the stars align, and for McLain Ward, that show is Devon. With Rothchild, he picked up top check in the $100,000 Wells Fargo Grand Prix Of Devon, making it his eighth win.

RF Amber Eyes evented through the two-star level with Karen O'Connor. She's joined the Lane Change Farm lineup and on the start list for the $25,000 USHJA International Hunter Derby.

It may have taken a couple of years and a friendly rivalry, but Kelley Farmer finally got what she'd hoped for at the Devon Horse Show- the leading hunter rider award.
This off-the-track Thoroughbred doesn't know that only warmbloods are supposed to win ribbons in the rated hunter divisions.

Tori Colvin and Lillie Keenan are no longer in the same age division, which means these two junior superstars achieved total domination in the junior hunters.

Revisit the news and excitement from 2012.