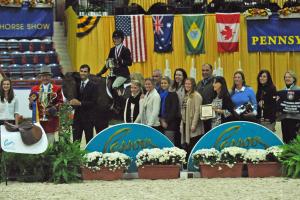 All the information you need--course maps and descriptions, interviews with Medal riders, a running commentary on all the action, and more!
The New Jersey teenager prevails over her nerves and 256 other riders to take the prestigious win.

Here you can find a link to the order of go, a course map, and a description of the course and its challenges.

Molly Sorge comments on how the course is riding, what riders have really excelled, and what problems some riders run into.

As 265 riders compete in the 2012 Pessoa/USEF Hunter Seat Equitation Medal Finals, see all the behind-the-scenes action, including an interview with the rider who drew to jump first.