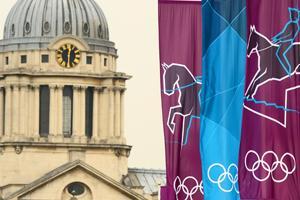 Go back to the Chronicle's Olympic Games homepage.

Switzerland's Steve Guerdat took full advantage of a fresh start with Nino des Buissonnets. He was the only rider to go clean and within the time over both of Bob Ellis' enormous tracks, earning him Switzerland's first gold medal in equestrian in 88 years.

The British show jumpers aren't known for wild displays of emotion, but when Peter Charles jumped a clear round to secure the gold medal as the last rider to go in a thrilling jump-off against the Netherlands, Nick Skelton literally leaped into the air with joy.

Victor, ridden by Tiffany Foster of Canada, was disqualified from the Olympic show jumping competition today under the Fédération Equestre Interationale's hypersensitivity protocol.

After one round of team show jumping at the Olympic Games, the biggest news isn't who will be going forward to the medal round, but rather who won't. Heavy hitters Germany, France and Belgium were all knocked out of the running, as well as the teams from Australia, Ukraine, Chile and Mexico.

Anything can happen in show jumping, and just as it appeared that Team USA was going to post four clean rounds on the first day of Olympic competition, disaster struck for Beezie Madden.

Beezie Madden is blogging from the Olympic Games.
Philipp Weishaupt, 27, will have to wait a bit longer to ride in his first Olympic Games for Germany.
The Dutch website horses.nl is reporting that Saudi rider Khaled Al Eid's mount Presley Boy will have to miss the London Olympic Games due to colic. And subsequently, Horse & Hound is reporting that Presely Boy is now battling laminitis.
Irish show jumper Denis Lynch had a rollercoaster week at the Aachen CHIO in Germany, and he started this week with very bad news.

It's hard to come up with adjectives adequate to describe Rich Fellers and Flexible's performances this spring. Words like "phenomenal," "incredible" and "unbelievable" are trite and cliché, and honestly don't convey the true magnitude of his accomplishments.
The U.S. Equestrian Federation has approved the show jumping nominated entries for the 2012 Olympic Games. A team of four and a traveling reserve will be entered on the definite entry on July 6.

Enjoying the Chronicle's Olympic coverage? Consider subscribing and enjoy coverage of equestrian events as only the Chronicle can bring you.
Activate your subscription today and receive access to our Olympic Preview issue, as well as three more Olympic issues to come: Eventing Results, Dressage & Show Jumping Results, and Olympic Analysis.
Receive 4 free issues and access to all our online premium content: Subscribe Now!