Aug. 22 – Wayne, Ill.
With the nation's top young horses on display at the Markel/U.S. Equestrian Federation Developing and Young Horse Dressage Championships at the Lamplight Equestrian Center, The Chronicle took the opportunity to track down some top riders and ask them about their general thoughts on working with their future stars. Here are five riders who competed in the 6-year-old preliminary test and the Prix St. Georges test as part of the developing Prix St. Georges division.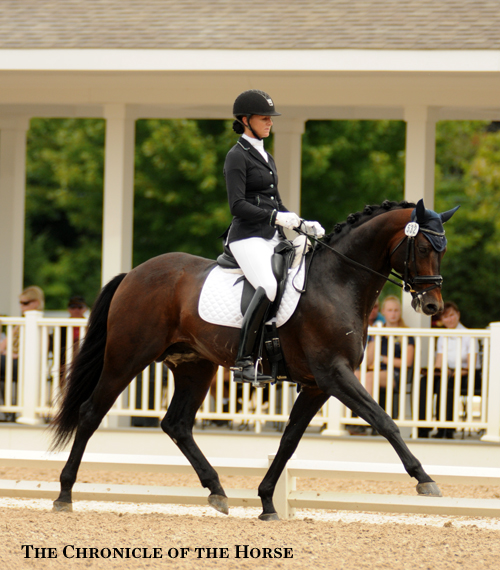 Heather Blitz- second in the 6-year-old preliminary test with Ripline (83.0)
Variety At Home
"I do four solid days in the ring, but within the week, I might hack out. We have really great hacking, we have trails through the trees where they really have to figure out their footing over rocks and roots and different ground that isn't flat and level and perfect, so they really have to think about their balance and their coordination and where their feet are. [We do] a lot of galloping up and down hills and in big grass fields. I like to let them completely just do their own thing—of course they're the kind of horses that aren't going to kill me when I do that! I like to get my horses used to the great outdoors—being alone in the woods and a lot of hillwork.
"I try to cover all the bases [using long lining and in-hand work regularly] and just read the horse and make sure he's getting what he needs to get a good education."
Petra Warlimont – third in the Developing Horse Prix St. Georges with Highschool MCF (70.13%)
Stick To A Routine To Build Mental and Physical Strength
"I think that in general with young horses, it's important that you work them as much as possible so that you have the same routine everyday. We work our horses six days a week. Not for an hour every day. Maybe the 4-year-olds go 20 minutes, sometimes a half an hour, and I usually put them in the hot walker or they go for walks in the afternoon. The more routine you give the horse, the more confident they get. Of course you kind of have to watch if you have a monster horse that's like 16.3 when they're 2 ½, you have to figure out when you can catch them in their growth spurt, but I think the key is that you keep working them so that you build up the muscle correctly, then you will support everything else and you'll make it to something like [this]."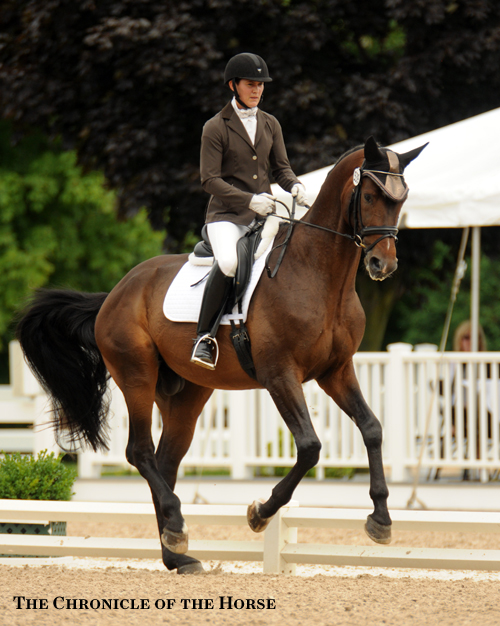 Angela Jackson – second in the Developing Horse Prix St. Georges with Allure S (71.31%) and first in the 6-year-old preliminary test with Hemmingway (83.8)
Keep The Individual In Mind
"They all need to be ridden the best possible way for them. I have to keep in consideration age, strength, balance and suppleness in their own body. Each horse has a different way of 'supple'.
"[Hemmingway, pictured, winner of the 6-year-old preliminary test] is a big, impressive mover with swinging gaits, but he just took a long time to mature. He's finally now finding his balance and finding his strength. You have to be patient. Even though you feel it in there, it's frustrating sometimes when you cannot tap into it. He's finally coming together.
"I think the biggest mistake with young horses, which I have been doing a long time, jumpers and in dressage, is [that you need to be] patient enough to let the horse tell you when they're ready. I'm not saying you don't have to push them—they're like kids, you have to push them a little bit. But just because this program worked for one horse, doesn't mean that it works for the next horse. Some horses are more mature at 4-year-old and some are just not quite ready for it yet. Be patient and monitor your horse. He'll communicate to you when he's ready to do more."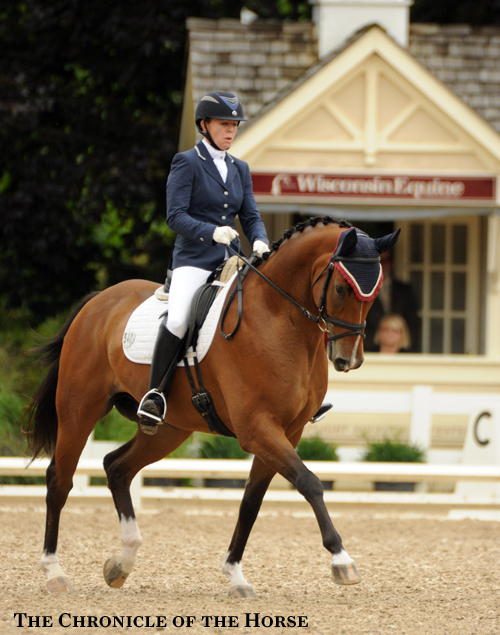 Gwen Poulin – ninth in the 6-year-old preliminary test with Fleury's Fanfare (76.2)
Remember The Brain
"The biggest tip I try to remember is that they come along in their own way, meaning some progress fast at four and then slow at five and six. Some slow at four, fast at five and not-so-fast at six. I really let my horses tell me how fast they can progress. My horse [Fleury's Fanfare] as a 4-year-old didn't make it here. I could feel as a 5-year-old that he couldn't do this—he wasn't ready, so I waited and I gave him time and stayed at first level. I stayed and stayed and then all of a sudden at the end of his 5-year-old year, he just started to blossom and I could feel things were ready for him. He pushed right through second level and went to third. If I hadn't waited and listened to him, I could have damaged him mentally and physically. I think a lot of people don't think about the mental aspect of the horse. You don't want to push them and make them feel not confident because they physically can't do something."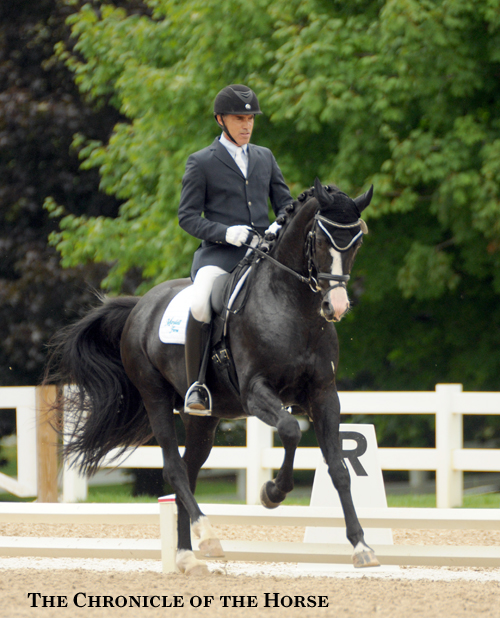 Jim Koford – fourth in the 6-year-old preliminary test with Doctor Wendell MF (80.6)
Don't Get Caught Up In Big Gaits and Scores
"As tempting as it is, you see all these flashy moving horses that are scoring high—but really, the essence of what they're saying is they want correct training. [The judges in the developing and young horse classes] want to see that there's a solid connection, your transitions are good, there's good harmony between horse and rider. It's not all about big gaits. It really is about correct training. It's wonderful to get their feedback. You certainly want to put in a good performance and it's certainly great to get ribbons, but it's more of a sense of 'this is where you're at and this is what we'd like to see.'"