Years of good manners, hard work and persistence paid off with the leading jockey title.
Luckily, Xavier Aizpuru was a bit of an overactive youngster growing up in the Cotswolds of England.

"My parents owned a pub, and David Nicholson—who was one of the top trainers in the country—would come in for meals all of the time," Aizpuru recalled. "I guess I was being a pain in the butt to my parents, who were just trying to get on with their jobs, and David said, 'Why don't you send him up to me in the mornings, and I'll keep him busy for you.'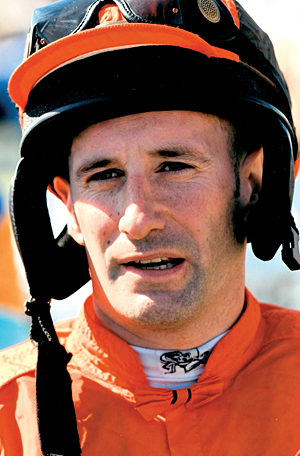 "I'm pretty sure he actually told them he'd just tire me out. I was 9, and the lads at the yard would teach me how to ride at the end of the mornings," he continued. "It just went from there. Every weekend, every school holiday, I would spend at his yard. I worked and learned how to ride, and then obviously the race riding came along. It just all snowballed from there."
That snowball has kept rolling right along, as Aizpuru, 33, made a move to the United States in 2004, and it paid off with the 2007 National Steeplechase Association jockey championship in both the races-won category, with 22 wins, and in the money-won category, with $669,492.
"I didn't ever dream that I would have as good a year as I ended up having. But I knew I was going to be riding for Jack [Fisher], and when you ride for him, you ride nice horses," Aizpuru said.
Two of Aizpuru's biggest winners—Paradise's Boss and Rum Squall—are Fisher trainees. Paradise's Boss won multiple stakes races in 2005 with Aizpuru aboard, then in 2007, he claimed the Marcellus Frost Grade III hurdle stakes at the Iroquois Steeplechase (Tenn.) and the Southern Bank & Trust Bank Imperial Cup hurdle stakes at the Aiken (S.C.) spring meet.
"The older he's gotten, the more relaxed he's gotten about racing and he's such a fun horse to ride. I've never ridden a horse who jumped so well so consistently. He's one that you spring out of bed in the morning when you know you're going to the races to ride him," Aizpuru said of Paradise's Boss.
But it was Rum Squall, who won three of his six starts, who pleasantly surprised them.
"We always liked him, but we weren't too sure what he was going to be," Aizpuru said.
Rum Squall won the maiden claiming hurdle at the Queens Cup Steeplechase (N.C.), the Morris H. Dixon allowance hurdle at the Radnor Hunt Races (Pa.) and the Jonathan Kiser novice hurdle stakes at Saratoga (N.Y.).
The mare Footlights followed an allowance hurdle win at Saratoga with a thrilling victory in the $150,000 Grade I New York Turf Writers there in August. Roger Horgan stepped in for Fisher to train the mare at Saratoga.
"I was relishing the chance to ride her, and I had so much fun on her this year. She certainly doesn't owe anyone anything after what she did this year. She was fantastic," said Aizpuru.
Footlights finished fourth in the NSA Horse of the Year standings with $159,215.
Shav Always Goes For It
Of all the wins this year, it was Paradise's Boss' score in the Marcellus Frost at Iroquois that Aizpuru remembers most fondly.
"It was such a huge battle with Preemptive Strike, who really brought everything he had to the race. And Paradise's Boss gave everything he had. It was just such a fun race to be in, and to win the race was the icing on the cake," he said.
Fisher recalled that the race was a vintage example of Aizpuru's strength as a jockey.
Did You Know?
Xavier Aizpuru's name is pronounced "Shav-iare."
"I was born in England, but I have a Basque father and a Spanish mother," explained Aizpuru, who answers to the nickname "Shav."
"My father was adamant that he wanted me to have a truly Basque name. [Basque is a region of north central Spain on the border between Spain and France.] That's why it's pronounced 'Shav-iare.' Some of the commentators still find it a bit of a tongue twister. It's actually quite amusing to listen to the different pronunciations."
"Especially at the last fence, 'Shav' always goes for it," said Fisher. "He never just sits there, which a lot of the time makes the difference between winning and losing. On Paradise's Boss [at Iroquois], he was on the inside and there really wasn't a whole lot of room there, and he just said 'Go!' A lot of riders would have said, 'Oh, I might want to wait here,' and been second. He wouldn't have won if he hadn't done that."
Confidence is what makes timing and decisiveness like that possible, and while Aizpuru might be brimming with confidence now, it wasn't always so. When he arrived in the United States four years ago, Aizpuru had a bit of a crisis in confidence.
"In England, I'd gotten to the point where I was riding bad horses and bad races, and I had started questioning whether it was the horses or if it was me," he said. "I couldn't have bought a winner. I came over here, and the first ride I had won, and it made me realize that it wasn't me. It had been the quality of horses I'd been riding. It was a pure confidence thing. It gave me my belief in the sport back again."
In England, Aizpuru hadn't ridden in his first race until 1995. "I was 21. I was a late bloomer. I wasn't sure it was what I wanted to do, and I'd seen so many talented riders come and go through David's yard and not really make the grade. So, I stayed on and got myself an education just in case," Aizpuru said. "But the
opportunity came, and he gave me my first ride. I got a taste for it and really enjoyed it. But 21 was quite a late age to start, especially in England."
Aizpuru had only 10 rides that first year for Nicholson, but in 1998 trainer Robin Dickin offered him the opportunity for many more, and Aizpuru rode 21 winners for him in the first of their five years working together.
In 2003, Aizpuru decided to ride on a freelance basis, but his career began to stagnate. "It didn't go very well for me. There were always plenty of horses to ride; it was just finding the right ones to ride," he said.
Aizpuru's good friend Rob Massey had made the move to the United States and quickly earned the 2002 NSA Leading Jockey Title and urged Aizpuru to follow in his footsteps. In 2004, he traveled to the States to explore his options.
Honing His Skills
Massey put Aizpuru together with trainer Janet Elliot, and he made an immediate impression.
"He's an ornery little booger. When he first came over, he had fairly short hair," she recalled. "Then he went home for a bit to get his visa, and he came back with colored hair—I think it was green! And I thought, 'What in the name of God have I gotten myself into?' And now he shaves off what he has left. But he's fun to be around and he's got good manners, which takes you a long way."
"Janet's been a huge influence on my career. She pushed me forward with everyone she thought I should be riding for and really backed every decision I made," Aizpuru said.
He spent a year riding for Elliot and then went to work for Neil Morris at Kinross Farm for a year.
"Neil really helped me improve my riding over an obstacle. He got me doing a lot of grids and show jumping, and that taught me an awful lot about presenting your horse to an obstacle. It gave me a lot more confidence in trusting the horses to know what they're doing," Aizpuru said.
At the end of 2005, Aizpuru and Leigh Hogben, who he married in the summer of 2005, decided they were tired of cold weather. They traveled to Florida and began working for flat trainer Graham Motion. They spend the winters galloping for him in Palm Meadows, Fla., and at Fair Hill, Md., in the summer.
"Graham is very understanding about my racing," Aizpuru said. "I'm a free agent, but I've always been a fairly loyal person, and Jack's been the backbone of everything I've done. He's given me so many winners and nice horses to ride, so he has first call on me."
Riding winners for Fisher has put the finishing touches on the confidence Aizpuru worked to rebuild.
"I think he's taught me to have more confidence in the horses I'm riding. At the same time, I do need to make decisions during the race; sometimes you go out with Plan A and need to switch to Plan B. It's about making the right decisions at the right time," Aizpuru said.
"But I think that the biggest thing I've learned while I've ridden for Jack is that I can have the trust in the horse that it has the ability to carry through whatever decision I make. It's a comforting confidence to fall back on."
But What About The Title?
After winning three races at the 2007 Saratoga summer meets, Aizpuru suddenly realized that the leading jockey title might be a possibility.
"But I was adamant that I wouldn't let it bother me while I was at the races. I could think about it all week long, but once I was out there and riding, I was only thinking about that horse, that race," he said.
Fisher threw a wrench into his plans, however. "He was getting nervous about it because I told him in the fall that I'd turned half my horses out because the ground was so hard," Fisher said. "I just quit, and he said, 'You can't do that—I need the title.' I said, 'You're on your own, buddy.' "
Aizpuru hustled and rode two winners for Voss at the Aiken Fall meet and clinched the title with a win each for Voss and Fisher at the Colonial Cup (S.C.) in November.
With 22 wins from 71 starts, Aizpuru had a 31 percent winning percentage. He was the only jockey in the top four with fewer than 75 starts.
"Shav is a very aggressive rider; he gives 110 percent on every horse," Fisher said. "Shav was a good rider when he got here, and he's a better rider now because he's figured out the way we race here. Most riders when they come over and start racing, they make a move too soon. Shav has gotten more and more patient."
Elliot agreed, "He adapted very well to our way of riding races. And the horses seem to respond to him. He's reasonably quiet on a horse, not always pushing and pulling. He doesn't bother them or get in their way. You can achieve a lot by not doing much.
"The thing that surprised me the most was how he was able to hold tough horses. He rode a horse for me, Rate Base, who was very tough. He did a really good job. A lot of people wouldn't have persevered. But if it was something you wanted, he did his best to do it. Shav always listened, and when he came back off a horse he'd be able to give you some good information about the horse."
Aizpuru achieved a major personal goal with the jockey title, and he'll be gunning to repeat this year.
"But I just turned 33, so I'm not sure how much longer I'm going to be riding," he said. "Once I finish racing, I'm not sure whether I'll continue to work in racing or not. I haven't got any firm plans at the moment, but it's something that I've had to start thinking about.
"Leigh is being very supportive of my career right now, and when I'm finished with my race riding, I think the boot might be on the other foot then," he added with a smile. "I'll have to follow her around with her career. She's happy to do the racing scene right now, but she's also got her own ideas of what she wants to do in the future."

Molly Sorge