"A show jumper, a foxhunter and a jockey walk into a barn…"
There's surely a joke to be found somewhere in that set-up, but the scene also unfolded in reality on May 26 at Fitch's Corner in Millbrook, N.Y. The punch line of sorts was that these three professionals were all suiting up for an eventing clinic with Olympian Boyd Martin.
For the past six years, Fernanda Kellogg and Kirk Henckels have organized a three-day Memorial Day weekend clinic with Boyd and Silva Martin at their farm, Fitch's Corner. The 2013 edition of the clinic happened to coincide with show jumping Olympic gold medalist Peter Wylde's return to the area after living in Europe for more than a decade.
"[Last summer he was setting] up his northern residence at Winley Farm, which is down the road from Fitch's Corner, so to welcome him back I invited him to lunch during the Boyd Martin clinic," Kellogg explained. "After that meeting it was a crazy idea that Boyd could introduce him to the sport; a casual remark turned into finding an accommodating horse for the final session this year."
Wylde saddled up Tawny, a lower-level horse owned by Barbara and Donald Tober, and was joined in the introductory session (which included jumps at about training-level height) by jockey Alex Leventhal on his steeplechase mare, Irish foxhunter Tom Duggan on a recently imported mare from Ireland, and adult amateur Cindy Welch, who is a student of Mark Weissbecker.
"I started the lesson thinking to myself, 'Now how does the sport of cross-country riding relate to show jumping, foxhunting and race riding?' " said Boyd. "The first challenge was getting Alex to lengthen his stirrups a couple of holes. Then I explained to Peter that I felt the biggest difference between cross-country and show jumping was the rider's position; it's pretty much the same balance, but if you lengthen your reins 5 or 6 inches, it allows your upper body to come more behind the motion, which is especially important over coffins and drops, and so on. With Tom Duggan, Millbrook's foxhunting expert, there weren't too many changes, since the two sports interact quite a lot. But the big thing was getting him in a true galloping position between fences."
Martin guided the group through the lesson as a group of 60 auditors, including riders and enthusiasts from all walks of equestrian sport, cheered the participants on with glee.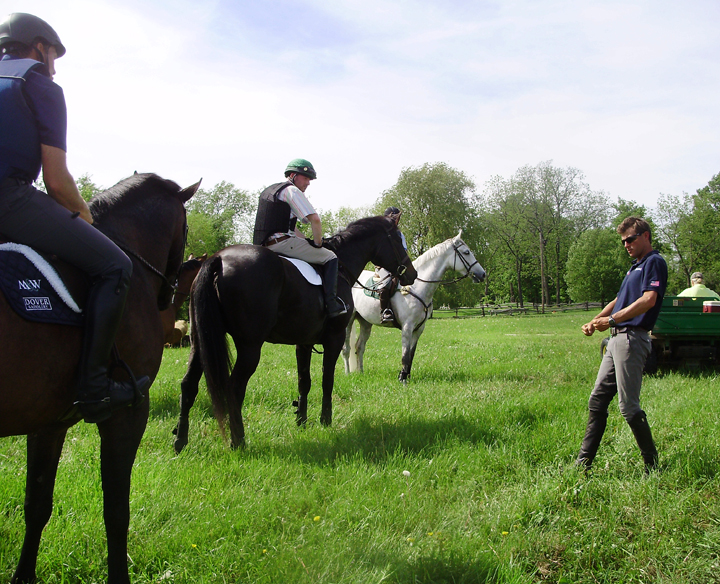 Boyd Martin demonstrated upper body positioning
for (from left) show jumper Peter Wylde, jockey
Alex Leventhal and foxhunter Tom Duggan.
Photo courtesy Fernanda Kellogg.
"It was fun and exciting," said Wylde, who grew up in Massachusetts near the Norfolk Hunt Steeplechase Course and spent time as a child galloping cross-country on ponies and even his junior jumper. Though he's known for his prowess in the show jumping arena, he's more than adept at riding across open land.
"You're always learning something, and listening to someone who's an expert at riding cross-country gives you insight into how to address the drop into water, or the trakehner," Wylde continued. "I've ridden in derbies, so I've seen some ditches and banks, but it was all educational."
In the heat of the moment, Wylde said he'd love to compete in the horse trials at Fitch's Corner this summer.
"Of course it falls on one of the weekends we're at HITS [Saugerties (N.Y.)], but I love the idea of living in Millbrook and having an event horse, even if I just did the two events each year, Millbrook and Fitch's," he said. "I think it would be a lot of fun. I'm certainly not changing my career, but watching Michael Jung or William Fox-Pitt ride is so great you can really appreciate it, and listening to the comments of someone so good and successful as Boyd is really insightful."
Wylde and his husband Eduard Mullenders have a winter residence in Wellington, Fla., but Millbrook is their summer retreat. Wylde spent five years in the area during the 1990s when he worked at Chestnut Ridge Farm.
"They have a wonderful vibe here; it's a very active horse community for all disciplines, and there are a lot of horses and beautiful horse farms," he said. "It's very country but has a great sophistication to it. I really enjoy being here, because it feels like home."
Clinic participants, auditors and Boyd himself are already looking forward to their next annual meeting of the minds in Millbrook.
"It was a fascinating education for me!" Boyd said. "I think as a professional three-day event rider, I can learn a lot from watching the foxhunter, show jumper and race rider go cross-country. I need to learn to gallop out of a rhythm like Alex, need to learn the style, class and quality of position over a fence like Peter, and from Tom the brilliance of seat-of-your-pants riding when cross-country jumps don't work out perfectly; foxhunters are masterful at getting to the other side. They're all top riders, and I really enjoyed the lesson."