Germany, winners of the last three FEI European Eventing Championships, have risen to new heights with a record team score of 87.7 penalties after dressage in Strzegom, Poland. The defending champions have an incredible 24.1-penalty lead over France, with Great Britain breathing down their necks just 0.1 behind the French in bronze medal position.
Germany's Bettina Hoy, riding Seigneur Medicott, is still out in front with a 5.7-penalty lead over her team mate Ingrid Klimke, who scored 30.3 on Horseware Hale Bob. Jung is third on 32.8 with fischerRocana FST, the mare visibly relaxing after a slightly nervous start.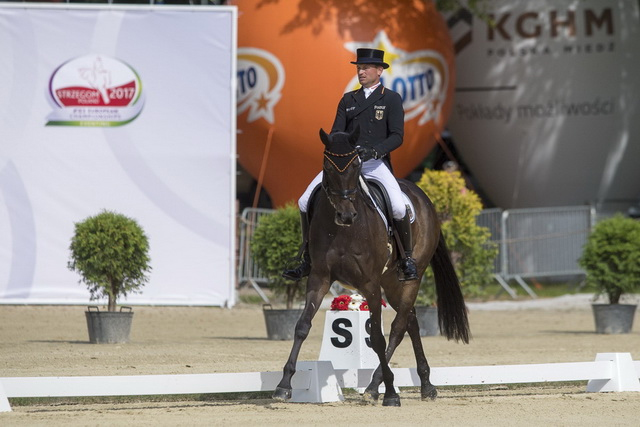 "It's an unbelievable start for the team, but [cross-country] is a strong day, and we'll have to concentrate," said Jung. "You've got to focus on yourself and not worry too much what's happening to other people because it'll be a long day."
British individual rider Gemma Tattersall interrupts German domination with a personal best score of 33.1 on the attractive gray mare Quicklook V for fourth place ahead of Sara Algotsson-Ostholt (Sweden) on Reality 39 with 34.2, which puts the Swedish team into fourth place at this stage.
Fifteen riders have scored below the 40-penalty mark. Thomas Carlile is still the highest-placed French team member in sixth place on Upsilon, with teammate Lt Thibaut Vallette in eighth on Qing du Briot, members of the French gold medal team at the Rio Olympics last year.
"Team Great Britain wanted me to ride as an individual so I could fight for myself and get a medal, which is my dream," said Tattersall. "It's incredible pressure, but I'll be trying my absolute best."
Nicola Wilson heads the British team in seventh place on another mare, Bulana, with Kristina Cook 12th on Billy the Red and Ros Canter 15th on Allstar B.
Attention now turns to Rüdiger Schwarz's cross-country track for tomorrow's action and, although the Germans have the luxury of such a strong lead, riders predict that his course will be influential with a tight time and a number of accuracy questions which will require full focus from both horse and rider.
"Riders like Ingrid and Michi will make it look easy, but I think it's a clever course in that the time will be difficult but many riders will complete," said Hoy. "We're all very much looking forward to it."
See live scores, and follow tomorrow's cross-country action on FEI TV.