Long-time Chronicle subscriber Debbie Goldstein sent in her story about a childhood Christmas wish come true.
The most dazzling white winter turned the red barns on our farm into a gingerbread landscape. It was only several months after my 10th birthday, and I was excited that Santa's reindeer would playfully leave their cloven tracks on our brown shingled rooftop.
Animals who could fly, and even talk, didn't really seem far fetched to a little blond girl who was in love with all the pretty little horses in town. Especially believable was a white one wearing wings named Pegasus.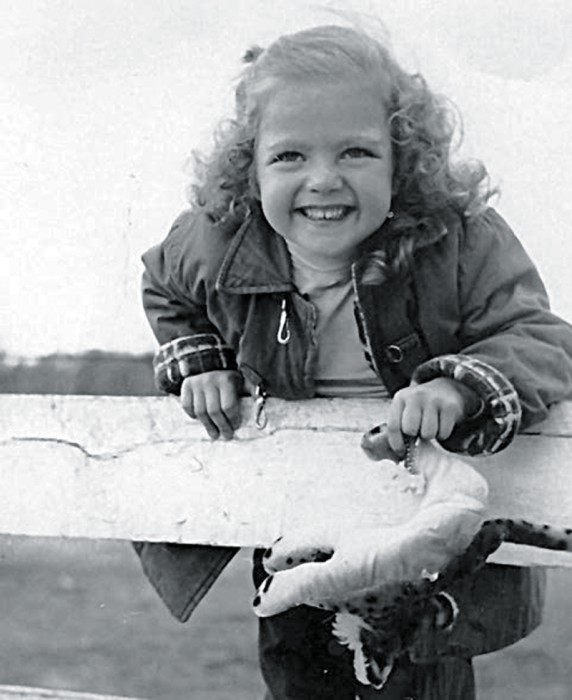 Sugarplum visions were far from a figment of my imagination. Every night before I climbed into bed, I folded my little hands in prayer. It was so I could make a very special wish for Christmas.
"Dear Santa," I said in my sweetest voice, "I've been a good girl. When you come to visit please bring me a horse that's snow white, a real one wearing a suit of red, one I can ride. I promise to take care of him and I will always love him with all my heart."
Then I would fall asleep with ponies galloping across my pillow and into my dreams. I hoped the pasture just down the hill wouldn't still be empty by the time I awoke. That very night, as I snuggled among a toy herd of pintos and buckskins, we had a snowstorm, the kind that stopped trucks along the tobacco roads and fulfilled the ice skaters' hope of a deep glaze on the water lily ponds.
It was still very cold that next day. The windowpanes around my room were damp and frozen. I used my finger to paint a horse's head across the frame of frosted glass so I could see the white grass below.
There, the pine and cedar trees all around the farm field sparkled brightly as if draped in sequins and tinsel. If only I could see a horse. The stillness of the picture brought tears to my eyes. Had Santa forgotten to hook my horse's reins to the back of his sleigh? I looked and listened again.
Suddenly I heard the unmistakable clickety clack of golden horse shoes crunching across the glittering field of white! Could I be dreaming? The hoofbeats didn't belong to a pale ghost horse. They were vivid. They were real!
As the snowflakes whirled into an angel's halo of glitter, there cantered a very tall white horse. He was so beautiful he took my breath away. He trotted and twirled. He neighed and nickered. He danced and pranced. Up and down the snow bank he went, fascinated by the stream of aerial ice flakes that floated out of the heavens.
He was a happy horse. He had ice on his whiskers and snowflakes were drizzled along his grey ears. As he made a circle around the big post and rail enclosure, I could see that he was wearing a ribbon of candy apple red. There was even a small string of bells.
He jingled when he walked and by now I was sure he wasn't a windup toy. He was a real big white horse with four legs that moved and a long mane and tail. What was I waiting for? I pulled my plaid coat over my red pajamas, tugged on my white galoshes, grabbed a big carrot and some sugar lumps from the kitchen, and climbed the fence.
I blinked my eye again and there he was, a very big white horse who looked like a snowman with two brown eyes! Staring at me through the fluttering white snowflakes, he blinked back. Slowly I walked over to him as he stood beside the rail fence. He was motionless as I straddled the top rail and managed to get onto his broad back. I could see it was a long way down to the ground. He stood 6 feet at the top of his shoulder. I felt as though I was a ballerina riding a circus horse!
The snow was still falling softly to the ground. I jumped off as he put his head down against my neck. He nuzzled me in a wrap-around horse hug, then he just stood there. I felt the glow of his warm breath that radiated from his soft nose. He looked like he was smiling at me. I will never forget him. I looked up at the skies above and beamed my biggest thank-you.
Yes, there is a Santa Claus. I know he has always loved horses—almost as much as reindeer and caribou—and he always makes the wishes of little girls come true.