Taegan Long could not have had a better weekend at the Mid-Atlantic Equitation Festival. She walked away from the Nov. 11-13 show in Upper Marlboro, Md., with not only five blue ribbons in equitation classes, but also the tricolor from the Mid-Atlantic Equitation Young Rider Championship.
"The [Mid-Atlantic] Final has always been one that's been on the top of my list. It meant a lot to me," she said. "It was a big goal for me to win there. I've been going to that show for three or four years, and I've always wanted to win. I've been so close, but something has happened. One year my horse colicked, and I had to ride another horse. It was always something that came up like that. This year was finally my year!"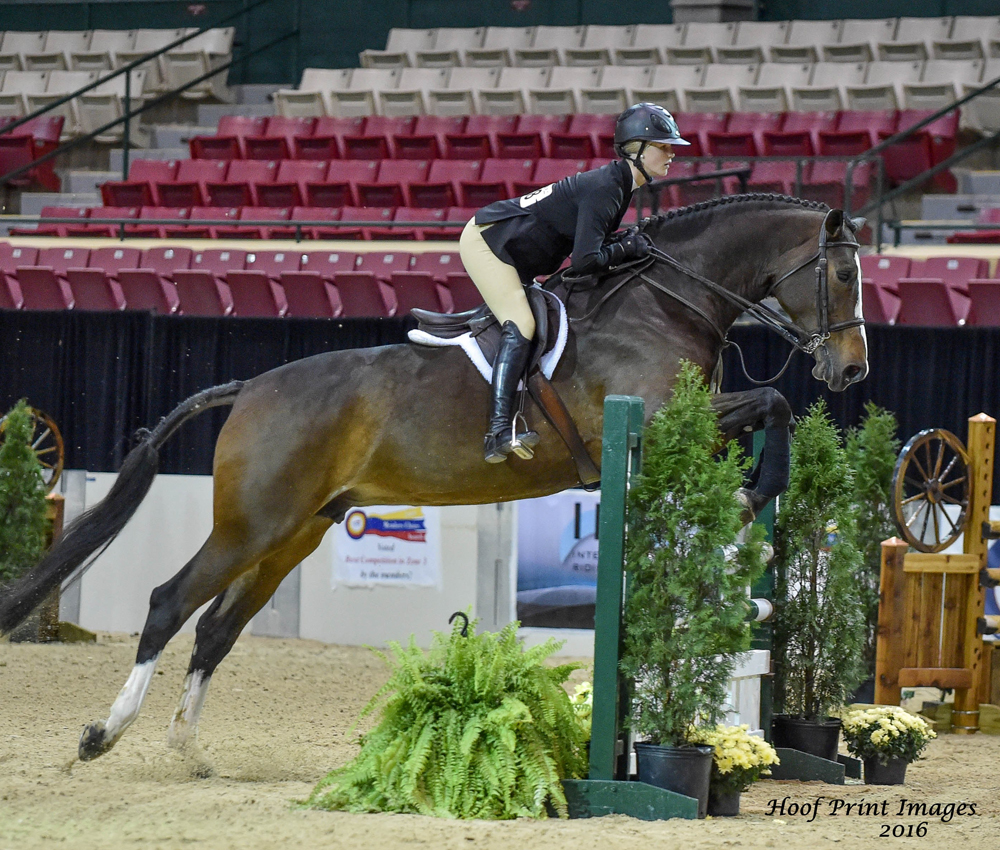 Taegan Long on Angelique. Photo by Hoof Print Images
But even the championship and blues in the ASPCA Maclay, Pessoa/U.S. Hunter Seat Medal, the VHSA Hunter Seat Medal and two equitation 16-17 classes weren't the best part of Long's weekend. Her true highlight was her horse, Angelique, coming into her own after starting out as a green horse with some quirks.
"Winning it with a horse that I know I brought along was very rewarding. It proved to me that I could do it and that time and love and care can mean the world to a horse," Long said. "It was special winning it with her because it was my first big equitation win, and it was rewarding seeing that my hard work did pay off."
Long, 16, is used to riding less-than-perfect horses since she's a trainer's kid. Her mother, Maria Long, trains out of the family's farm at Longview Stables in Shamong, N.J. "I've grown up at the barn. I feed in the morning and at night, I ride all my mom's sales horses, I ride my own horses," Taegan said.
"I don't have grooms at home, so I do all the work," she added. "I feel like I have a really good bond with my horses, and it's been a good program for me. I think I've grown up a lot because of it. I'd consider myself a good horseperson, not just a rider. I can tell when something's wrong with my horse, and I can take care of them."
When she first started riding, Long took lessons with her mother, but once she started showing ponies at bigger shows, she started riding with other trainers. She now rides with Carolyn Desfor of Desfor Stables. "She's gotten me in to the big eq and the jumpers. I've really grown up with her," she said.
When Taegan first started working with Angelique, an 8-year-old Baden-Wurttemberg mare (Amadehus—Carina), in the summer of 2015, the mare only had experience in the jumper ring. "When I first got her, she was really quick, and she didn't understand the concept of going slow. Our biggest struggle was that when she'd hit a jump, she'd worry and bolt afterward. So we had to work on that this year," Taegan said.
"She's gotten so much better," Taegan continued. "She actually hit a jump in the ring this weekend, and she just settled and didn't mind, so that was great for her. Seeing the difference in her between last year and this year is so much fun."
Taegan had shown in the 2014 Pessoa/U.S. Hunter Seat Medal Final (Pa.) with her former equitation horse, and she returned there this year with Angelique. "We had a really good day and had a good course. I had a lot of people telling me I should have been called back, but it is what it is," she said. "She was perfect and marched right around. I was very proud of how she handled herself. It's her first indoor season. She was perfect, and there wasn't much more I could have asked. We'll get 'em next year!"
Taegan originally thought she'd work with Angelique and then sell her, but now she's thinking the mare might stay in the barn for her last junior year next year. "After this final when she did so well, I think we might keep her," Taegan said. "She does cross over and do the junior hunters and the derbies, too, and does very well in those, too."
Taegan, who home-schools and is on track to graduate from high school in January, plans to take a year off from school and focus on showing for her last junior year. In addition to Angelique, she has two jumpers and wants to compete in the under-25 grand prix classes. In January of 2018, she plans to start college at Florida Atlantic University. "My goals are kind of undecided if I want to go pro or stay an amateur," she said. But she has grand prix goals and wants to jump for the U.S. Equestrian Team.
Like this story? We're always on the lookout for ideas for fun Winners Of The Week! Do you have a great story, and you had a fantastic weekend? Do you know someone with a brand-new blue ribbon and a neat background or unusual horse? EMAIL US and tell us all about it!