Most college sophomores spend their weekends partying. Not Mattie Worsham.
This 20-year-old took the weekend of Feb. 4-5 to show at the Country Heir at the World Equestrian Center show in Wilmington, Ohio. And she traveled back to her dorm room at Emory University in Atlanta with two championships and two big blue ribbons.
Worsham got the ride on Cathy Coffey's Camera Ready, who she rode to the adult amateur jumper tricolor and the win in the children's/adult jumper prix, and Coffey's Homepage, who she rode to the adult amateur hunter championship and blue in the adult hunter classic. She's been riding the two horses for about the last 1½ years.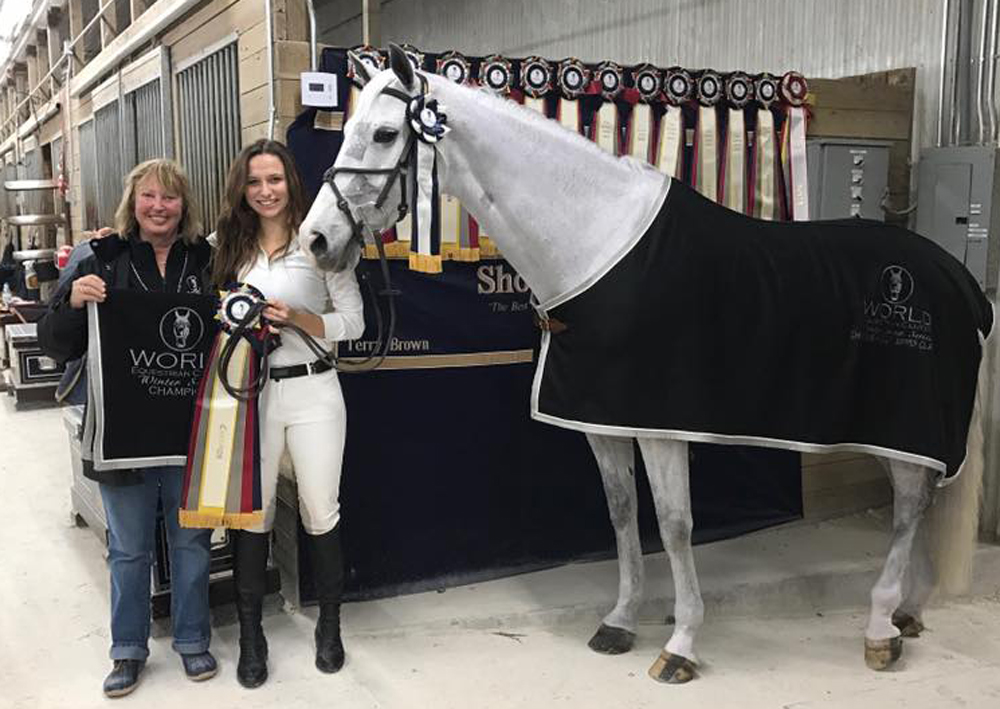 Mattie Worsham (right) with Cathy Coffey and Camera Ready. Photo courtesy of Patty Worsham
"It was such an incredible opportunity that I never thought I'd have. She's so generous and kind. I feel luck to be one of the people she's helped—she's helped a lot of different riders over the years," Worsham said.
Worsham's father, Hugh, is an equine veterinarian and her mother, Penny, is an amateur rider. "It was an immediate lifestyle for me. People ask me when I started riding and I don't know what to tell them because I can't remember not riding. It feels like I've always done it," she said.
The Worshams have a farm in Cumming, Ga., about 30 minutes from Terry Brown's Showcase Ltd., where Mattie and Patty ride. Brown also trains Coffey's horses. At home, the Worshams keep their retired horses and the occasional rehabilitation project. "I was very grateful growing up that I had the opportunity to take care of horses in that hands-on of a situation, living on the property with them," Mattie said. "When you're just driving out for an afternoon at the barn, you don't really get the nitty gritty of what it's like to wake up at 6 a.m. to feed and walking a colicking horse in the middle of the night."
Mattie spent her junior years home-schooling and showing on the road with Brown. "It was such an incredible experience to be able to do that—to really delve into the horse life as much as possible." But when she started college, her show schedule slowed down a bit. She does have a horse of her own, Cabal, who she shows in the adult amateur jumpers. "He's an angel; he's much nicer than I deserve. I feel very privileged that get to ride him," she said.
Mattie was one of a few riders from Showcase showing Coffey's horses last year, and she was thrilled to have the opportunity. "If I had a soulmate in a horse, it would be [Camera Ready]. She's unlike any other horse I've ridden. She has so much heart and bravery. She's incredibly honest. I often feel like she's doing the course and I'm just up there for show," Mattie said.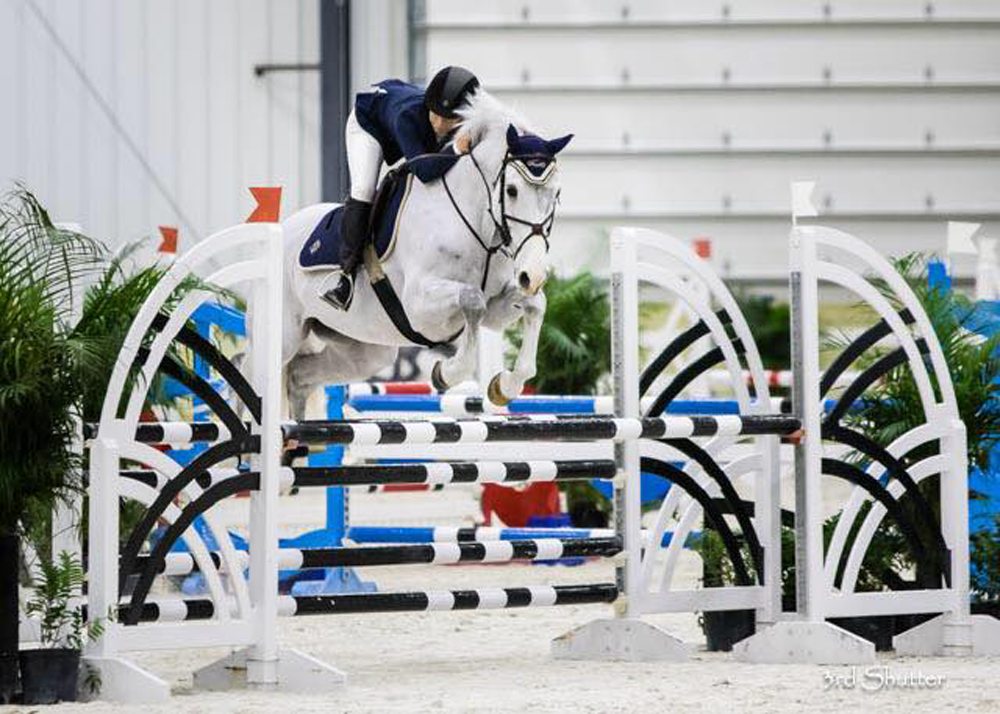 Mattie Worsham and Camera Ready claimed the adult amateur jumper championship and topped the children's/adult jumper classic at the Country Heir at the World Equestrian Center show. Photo by Third Shutter From The Sun
"And Hompage, or 'Puff,' is lovely. She's very sweet and kind and a favorite in the barn. She's definitely one of the nicest horses I've had the privilege of riding in terms of temperament and gait and everything. She's one I look forward to riding every day."
Mattie tries to get out to Showcase a few times a week to ride and show on the weekends as she works toward her degree in creative writing. "I try to arrange my schedule so I can go out and ride. It's a decision I have to think about, how much time I want to spend at the barn. I wouldn't say I'm totally getting the full college experience. But I'd rather have these other experiences with the horses," she said.
Mattie took advantage of Showcase Ltd., choosing to spend four weeks at the World Equestrian Center in January and February before heading to the Gulfport, Miss., circuit, since she won't be able to show in Florida and balance school. "We saw the new Ohio venue and thought we'd check it out this year. School won't allow me to do [Florida] this time, but I was lucky to take off these couple of weeks to go to the show—the start of the semester is the easiest time to do it," Mattie said.
Like this story? We're always on the lookout for ideas for fun Winners Of The Week! Do you have a great story, and you had a fantastic weekend? If on Sunday night you know someone with a brand-new blue ribbon and a neat background or unusual horse, EMAIL US and tell us all about it!