Carmen Schatte started her 2017 season by riding Lady Elvira to the top of the training rider division at Ocala Winter I Horse Trials (Fla.) on Jan. 7-8. But a few years ago, Schatte wasn't even sure if she wanted to keep riding.
She'd worked hard to achieve her goals with her off-the-track Thoroughbred The Flying Tomato—bringing him up to be consistent at the preliminary level and jumping around their first intermediate cross-country.
"My plan was to take him up the levels as far as he could go, and he had a lot of potential. But things changed," Schatte said. The Flying Tomato colicked, and Schatte lost him. "You never think it's going to happen to you, but those things happen. It was so sudden, and we weren't able to save him.
"It was tough mentally. I had had him for three years. When I'd gotten him, he'd done a little bit of hunter/jumper stuff, but never any eventing. At first he didn't catch on to eventing very well, but I just kept my hopes up and stayed patient, and things started to work out well. We finished fifth [in the amateur training level] at the American Eventing Championships [Ga.] in 2012.
"After he was gone, I was going back and forth about whether I wanted to get another horse and continue riding or just focus on my future without horses," Schatte said. "I spent about three or four months without a horse, and it just wasn't happening for me. I'd come home from work and not know what to do with myself because I didn't have a horse to ride."
So Schatte went shopping, and she found Lady Elvira at breeder Cynthia McCall's farm in Alabama in the fall of 2013. The Dutch Warmblood mare (Farrington—Winona) was then 4 and hadn't done much. "She was bred for dressage, so when I first got her, I wasn't sure if she was going to be the horse I wanted her to be, but as she's grown up and gotten stronger, she loves jumping," said Schatte. "She has scope, and she's building the muscle for it. She scores really well in the dressage; that comes naturally to her."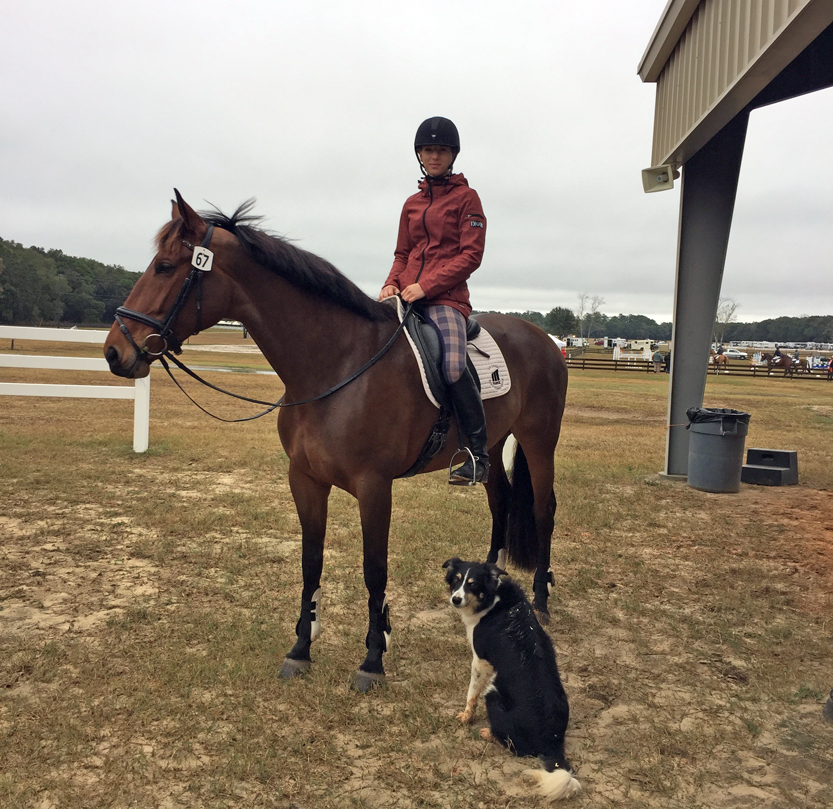 Carmen Schatte and Lady Elvira in the warm-up at Ocala Winter I Horse Trials. Photo courtesy of Carmen Schatte
"I've tried to bring her up nice and slow, letting her grow up. I think that's been the most important thing to do—to let her mature. It's really paid off for me," said Schatte. She spent all of 2014 at beginner novice, taking Lady Elvira to four events. Then in 2015 they jumped around two novice events before moving up to training in 2016.
Lady Elvira and Schatte scored a 29.1 at Ocala Winter I and finished on that for the blue. It was an even sweeter result as Schatte's last event in 2016 ended with a fall. In their second outing at training level, she and Lady Elvira had a miscommunication on the approach to a trakehner. "She slammed on the brakes at the last second, and I didn't see it coming, and I wasn't prepared for it," Schatte said. "We had a semi-bad fall at it. Since then, she's had a few issues with trakehners, but after a few good schools, she got her confidence back and is ready to hit the road again."
Schatte, from Peachtree City, Ga., balances training and competing Lady Elvira with running her own business—the Wet Paws Mobile Spa dog grooming business. She started out working for another mobile dog groomer but saw the opportunity for her own business venture and set out on her own in January 2016.
"It's been great; it's just me, and it's a lot of work keeping things together on my own, but my parents also have their own business, so if I need help they give me some pointers," she said. "I love animals, so it works out well to be around dogs all day!
"Thankfully since I set my own schedule, it's easy for me to work around riding and competing," she added. "During the winter, I'll see clients in the morning and get done early afternoon before it gets dark. And in the summer, I try to do an early morning ride before it gets hot and then see clients."
Schatte keeps Lady Elvira at a small boarding barn near her home and does most of the training on the mare herself. When she feels the need for guidance, she trailers to Werner Geven for lessons.
"My goal is to move up the levels. It's just a matter of taking the time to get there," she said. "She's proven to be more than I thought she could be. I didn't ever doubt her, but I'm happy with the way she's coming along. I can't get out to take very many lessons, so I'm bringing her along mostly by myself, and I'm proud of that. It really honestly has me totally speechless."
Like this story? We're always on the lookout for ideas for fun Winners Of The Week! Do you have a great story, and you had a fantastic weekend? Do you know someone with a brand-new blue ribbon and a neat background or unusual horse? EMAIL US and tell us all about it!