Amateur rider Julie Anne Boyer was looking to improve her dressage score and make time on cross-country at her first CCI** with High Decorum, but she got a lot more than that when she took home the win at the Twin Rivers Three-Day Event, held April 13-16 in Paso Robles, Calif.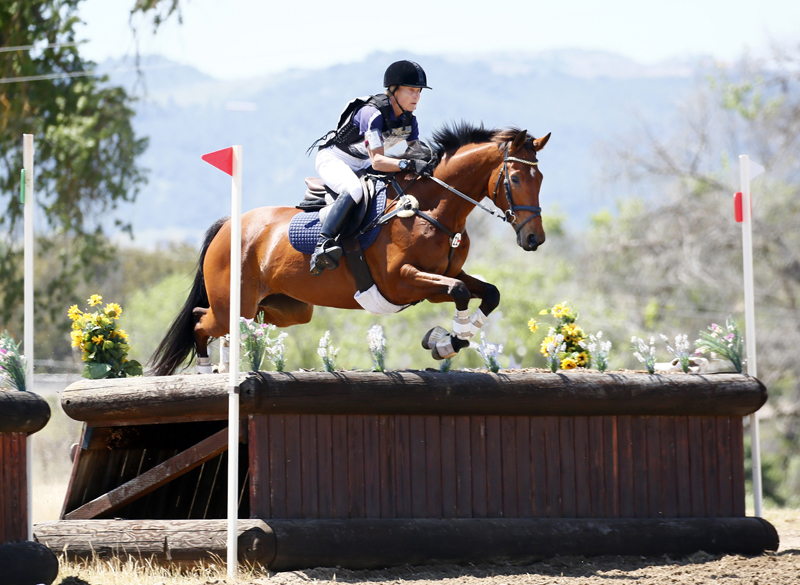 Boyer and her 8-year-old off-the-track Thoroughbred gelding High Decorum (Silic—Ruby J, Houston) were in fifth after dressage and got the double-clear cross-country round she'd hoped for. Adding one rail to their final score (64.0) still gave them the win over Sandra Donnelly and Belshazzar (69.7).
"I'm just hoping this is a peek at what's to come. I hope I keep on improving from here. I'm just thrilled. I'm still on Cloud 9," she said.
"Declan is not any easy ride as far as dressage—he likes to gallop. He's a Thoroughbred. He has a tremendous gallop, and I knew I'd make the time if I let him gallop on the long stretches. This weekend I finally got to let him gallop on the cross-country without feeling like I was getting run away with, and he was very brave," said Boyer, Santa Clarita, Calif. "It was very challenging. James Atkinson did the cross-country course, and he used every bit of terrain that he could at Twin, which has a tendency to be kind of flat. I just wanted to improve from my last two CIC**s."
Boyer found "Declan" at a local track. Formerly named Lonestar J, he wasn't doing well with track life and had only raced four times unsuccessfully.
Boyer finds her horses on the backstretch because its what she can afford. At the time she found Declan as a 4-year-old, she was a police officer in the Hollywood division of the Los Angeles Police Department but has since retired after 33 years.
"I was looking in a lay-up/race barn, and I was looking at another horse and saw him walk by, and he had this panther-type walk with a big overstep, and said, 'Well what about that one?' " she remembered. "He's just the sleek greyhound type of horse, which I really like. When I first got him I couldn't get on. Every time I'd put my foot in the stirrup and start to put my leg over him, off he'd go. I ended up in the dirt so many times."
Declan took to eventing, but it wasn't without challenges.
"He's been a difficult horse. He has a great attitude, but he's just so forward that trying to get him to slow down and come underneath himself has been really hard. Just putting your leg on, you were already in the next county," said Boyer, 58.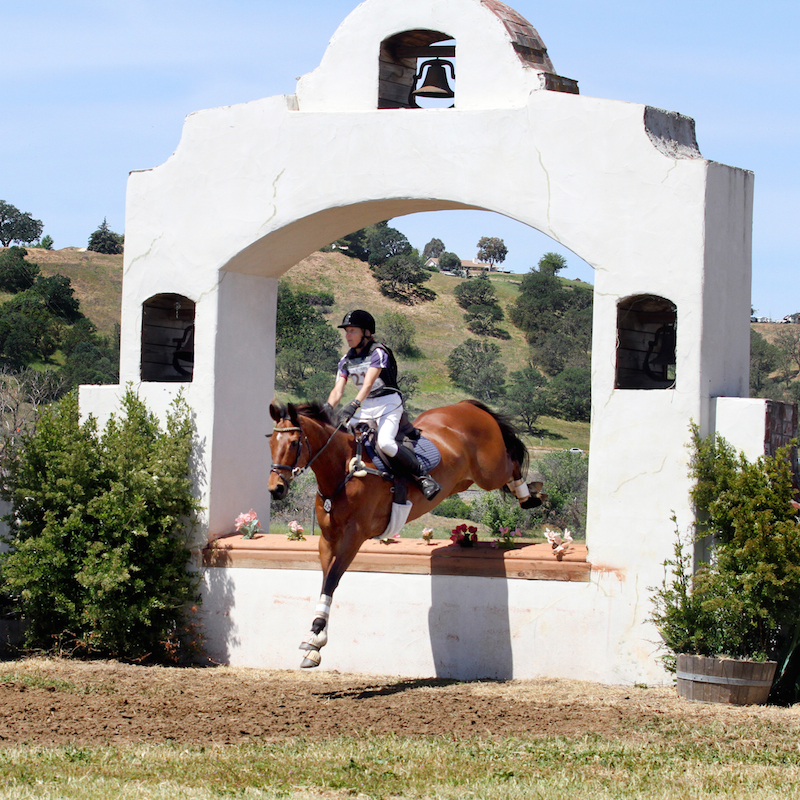 Boyer trailers three hours to train with Tamra Smith and Heather Morris, sleeping in her trailer to be able to do two days worth of lessons. They moved up to intermediate last year and completed two CIC**s this spring finishing with clear cross-country jumping rounds.
"The larger fences make him sit up and take notice cross-country," said Boyer, who added that a bit change to a gag helped too.
Boyer's hoping to try an advanced horse trial later this year with Declan. She'd completed one CIC*** with Rumor Haz It, a Thoroughbred mare with whom she had much success at the two-star level. She was retired several years ago due to a tendon injury but has since had a foal that was sold.
"I'm an amateur, so sometimes I get a little nervous when the fences in the stadium get a little big. Once I get started I'm OK, but sometimes in the warm-up when they jack the fences up really high I kind of go, 'Ah!' When I feel more confident that I'm not going to take his confidence away I'll move up to advanced. Hopefully maybe in the fall," said Boyer.
Since she retired two years ago, Boyer's enjoyed the time she's able to devote to her own riding and to Declan. She likes to have two horses going at a time, and is currently bringing up another off-the-track Thoroughbred who's decided he might like to be a hunter, so she may sell him.
She keeps Declan at home and has a small arena to work in on her own.
When she was working full-time, Boyer worked the night shift, so she would come home in the morning, get a little bit of sleep, then ride. She saved her days off for horse shows.
"I was on the street. It was a great job—very exciting. I think eventing is a good addition to that because it's very exciting and you get that adrenaline rush coming out of the start box," she said. "It was tough. I didn't get out to get as many lessons, and there were many times when I would get back from a horse show, put the horses away, get a couple hours of sleep and then have to go to court the next day. It was a tough deal to do, but I managed to ride almost every day.
"I'm hoping I'm improving. I'm trailering out to more lessons and taking more clinics. I've been able to work and concentrate on my riding," she continued. "I realized I didn't progress as well when I was working because I was going on not much sleep most of the time. Now that I can get eight hours of sleep, I just have boundless energy!"