Ashlyn Hayworth hardly had a chance to breathe all weekend at the inaugural Texas Rose Horse Park CCI*.
As a working student for her trainer Kadi Eykamp, she had horses to feed, feet to polish, coats to shine and stalls to clean, and that was before she hopped on Borasco to compete in the one-star.
But according to Eykamp, the distractions were all part of an elaborate plan to seal the win.
The 20-year-old led the pack from the start, scoring a 48.1 in dressage and adding nothing to that score over Mark Phillips' cross-country course, but she had no rails in hand in show jumping.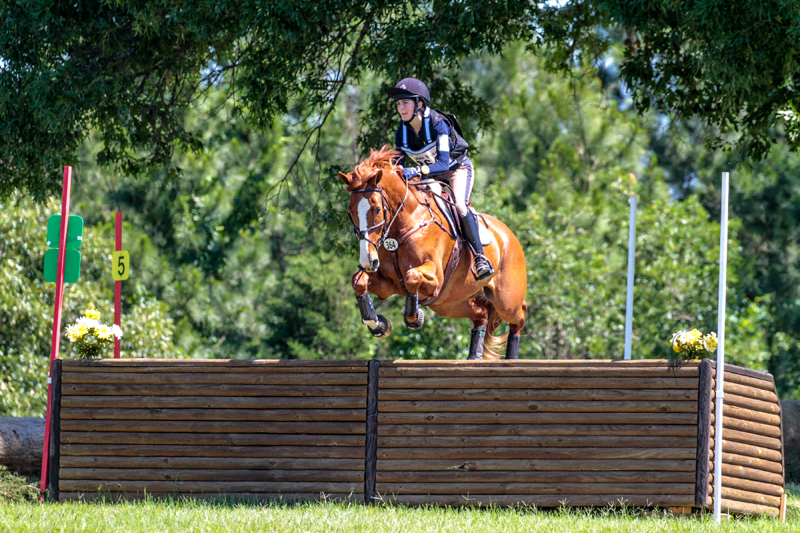 "I told all of my team around her that they weren't allowed to talk about how she was leading by .5 and that she had to jump clear," said Eykamp. "I tried to keep the atmosphere and that side of things really average. I kept her busy so she would never have a moment to think, which she might not have realized! From my experience with competing, when you're winning from the start you've really got to try to keep yourself like a turtle with your head in your shell—you can't ever think you're winning. She really did rise to the occasion."
Thankfully, "Reilly" is a talented show jumper, and he kept the poles up to bring home the win.
Hayworth, from Grapevine, Texas, had one-star experience with her former ride Oliver, but she only recently partnered up with Reilly, an 8-year-old U.S.-bred Irish Sport Horse gelding (Curraheen Gold—Mariah, Chardonnay) bred by Southern Illinois University's Equine Science College.
After competing to the training level with his former owner Rosa Lehning, he sat in a field while she went through family issues. Hayworth leased him last fall and got him back into shape, then put together enough money to buy him.
Hayworth wasn't sure about trying preliminary so soon this spring, but they tested the waters at the Three Lakes Horse Trials (Fla.) in January, and the gelding made it seem easy.
"He's surprised us every time. We've set an original goal and realized he could be so much more than that, so we altered our plans," she said. "It's a lot different than my last horse, who was a Thoroughbred off the track. He's definitely heavier, and I've had to focus more on fitness. My Thoroughbred had endless energy, but we really had to focus on strengthening him so he can handle the upper levels. He's still Irish, but this weekend he didn't feel tired at all. He just keeps surprising us."
At Texas Rose, once Eykamp told her the cross-country time was achievable, Hayworth decided to go for it.
"I did end up pushing him, and he so easily galloped along and jumped everything. There were some fancy horses I was competing against, and when I did end up coming on top of them in dressage, I didn't see a reason why I couldn't push him to make time on cross-country. He's the cleanest jumper in the world in stadium, and that's always a nice feeling," she said.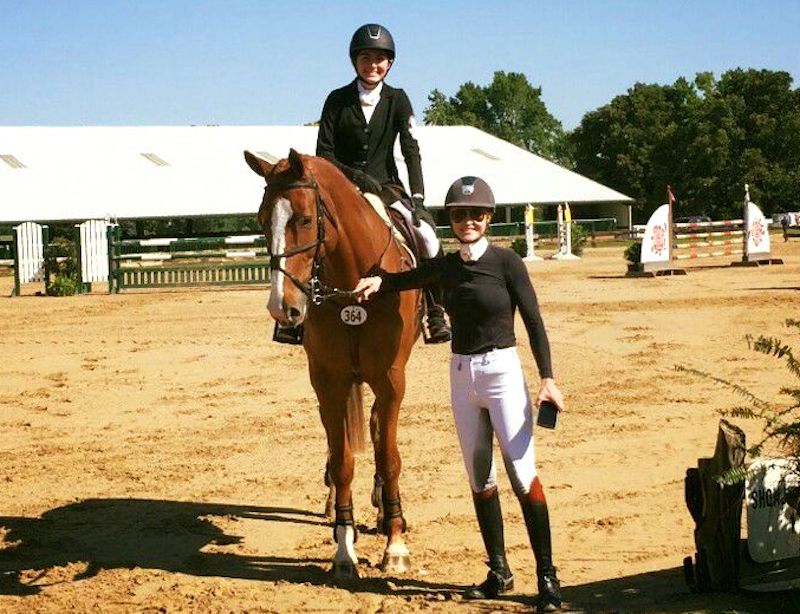 Both Hayworth and Eykamp described Reilly as food-motivated. "He has a big personality, and definitely food is always the first thing on his mind. He thinks we're constantly starving him, which is unfortunate since he doesn't have the fastest metabolism," said Hayworth. "He definitely has to be on a diet most of the time, but he'll beg nonetheless. Lots of people always say they wouldn't even know what he looked like with his ears back."
Hayworth picked up eventing when she started working with Eykamp in 2012.
"She completely changed the way I think about dressage and jumping as well. Her basics of dressage, and everything I've learned from her has been incredible," she said.
She's heading into her senior year at Texas Christian University where she's studying English and business. She'll graduate next year—a year early—and plans to take a year to be a working student for a top rider on the East Coast.
Hayworth narrowly missed a shot at the Area 5 team for the FEI North American Junior and Young Rider Championships a couple of years ago, but Eykamp thinks she has the talent to make it onto the U.S. Equestrian Federation's Under 25 training list.
They're targeting the Ocala Jockey Club CCI* (Fla.) in the fall as the next big goal.
"After a lot of wins in her attempt to make Young Riders, they didn't take her. I think it was such a humiliating experience, as it can be for them, that she's a hardened competitor, even at the tender age of 20 that she is now," said Eykamp.
"I felt like she was ready for the whole thing, and the honesty of my coaching. I don't try to make the girls feel they're better than they are. I wanted her to feel like she was slightly coming from behind. She's got a great head on her shoulders—easy to work with, and she's going to be fabulous if she ever makes a team one day. He's just a super sound, honest horse, and it was the first time he was really noticed by a lot of people in our area."