Without a hunter of her own, Emma Jolly doesn't usually make big hunter derbies a goal. But on June 30 at the Tryon International Equestrian Center (N.C.), the 15-year-old rider scored a big win in the $10,000 USHJA Pony Hunter Derby aboard Mischief Managed.
And, it's not often that a pony rider gets to join in the awards festivities for an evening grand prix, but the evening of the $86,000 Adequan Grand Prix CSI** at Tryon saw Jolly and Mischief Managed in center ring alongside grand prix riders Todd Minikus, Darragh Kerins and Kristen Vanderveen to celebrate their win.
"That was so much fun. 'Finn' was kind of scared though," Jolly said. "They had the live band playing, and he was next to all the big FEI horses, and the weather was challenging—but it was an awesome experience and a huge honor."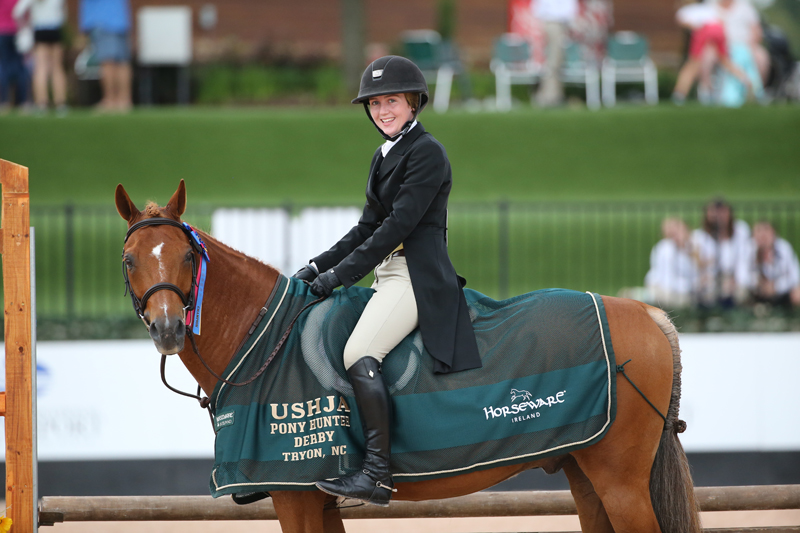 The $10,000 USHJA Pony Hunter Derby was the highlight of the USHJA Foundation Pony Spectacular week at Tryon. Most pony classes throughout the week ran in the George H. Morris arena to prepare riders for the upcoming USEF Pony Finals (Ky.), and there were evening activities such as a pizza and pool party, a movie screening, and an ice cream social.
The U.S. Hunter Jumper Association debuted the Pony Hunter Derby for the 2017 competition year to offer juniors the chance to compete in classes modeled after International and National Hunter Derbies. Each class has two rounds, with a classic round to start followed by a handy round. Jolly scored 167 in her classic round and returned for the second phase with consistency in mind.
"She was actually more nervous after getting the score in the first round and knowing she'd done well, so we just tried to stay calm and stay focused," said Brooke Kemper, who trains Jolly.
Jolly and Finn scored 168 on their second trip for a total of 335. The courses featured a long bending line that challenged several riders. Jolly's strategy was to trust her instincts and her mount.
"People were doing it in different numbers [of strides], so I didn't really know until I got there," she said. "I just played it by ear and then the second round I mimicked what I did the first time."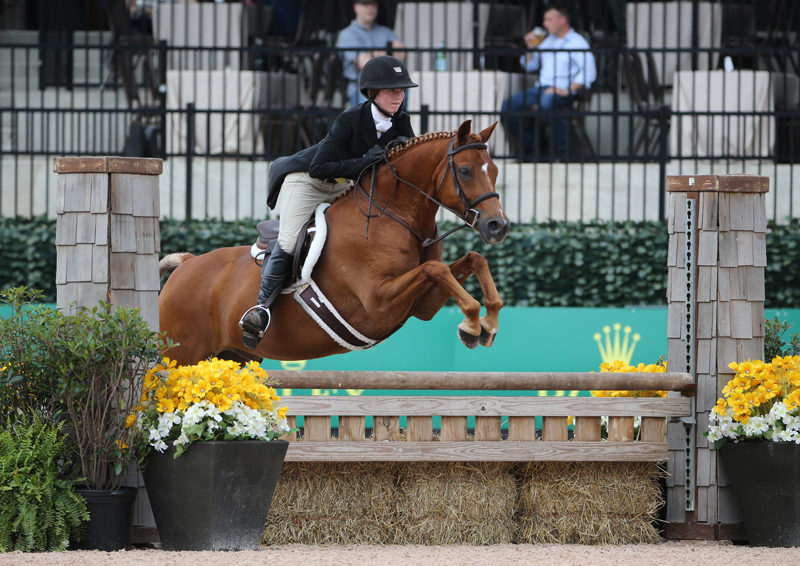 Jolly, of Keswick, Va., had actually only ridden Finn a few times before the class. The chestnut lives at Kemper's Shadow Pond Stables in Culpeper, Va., so she was familiar with him, though.
Finn's owner, Rhiana Hughes, bought him as a 3-year-old with six months under saddle and started him over fences. She rode him in local shows, gradually working up the rated classes until she aged out. She has been leasing him to younger riders since then. He's a veteran of the show ring with a long list of accomplishments; he's qualified for Pony Finals every year since 2014 and placed 17th and 15th overall in 2014 and 2015.
"He's a great pony," Hughes said, "I get a little nervous watching the kids sometimes, but it's fun to see him do well and see the kids enjoying him so much. He knows his job so well, he walks into the show ring like it's his ring at home."
Kemper trains Jolly on her usual ride, a leased children's jumper named Well Played, but paired her with Finn because they work well together. "He's a very straightforward pony," said Kemper. "He offers great experience for her and really gave her the opportunity to have fun and take a shot at winning."
"He is a large pony, but he's completely a horse ride," Jolly said. "His movement is really loose and flowing so it's easy to make it look good."
Jolly owned a pony when she was younger, but hasn't had a horse of her own since she started riding with Kemper in 2014. Her budget hasn't had room for purchasing a horse, so she's leased. But she's hoping to buy Well Played by the end of the year.
This summer, though, she's focused on USEF Pony Finals on Mischief Managed, and Tryon was a good prep for that goal.