When AB Amelie was first starting her competitive career, no one ever thought she'd be a successful eventer.
"She used to be scared, and everyone was like 'That horse will never go cross-country,' " said owner Christine Appling. "She wouldn't even get near water. She wouldn't get near cross-country jumps. She is still terrified of her own shadow, but she's not afraid of cross-country jumps anymore. She's awesome. No matter how much I mess up, she is always on her feet and thinking two steps ahead of me. She's an awesome horse to jump."
Nine years later the pair have proved the naysayers wrong, winning the intermediate rider division at Rocking Horse Winter 2 Horse Trials held Feb. 16-19 in Ocala, Fla., on their dressage score of 29 their first time competing at the level.
"She's difficult on the flat normally," said Appling. "This weekend was weird; she had an epiphany clearly. I expected her to be really good at the show jumping, but I didn't expect the dressage to go as well as it did. Granted, she's better at the busier tests. There's no such thing as walking in this horse's vocabulary, so the fact that there's only a very short, brief extended walk in the intermediate test definitely helped and it's so busy that keeps her mind after spooking and getting distracted and getting tense. So I definitely think that she's going to do well—maybe even better—at this level than she did at preliminary, just because the test keeps her brain more activated, but we will see how it goes as the year progresses."
Appling, 23, tried a little bit of everything from hunters to dressage when she first got into horses, but she knew one thing for sure.
"I wanted to jump from the day I started riding. I didn't care what kind of jumping it was. My first horse was a Tennessee Walking Horse and she wouldn't jump anything and it was really awful. She wouldn't even canter. I stole my dad's horse from him because it jumped out of the pasture and I started jumping it. It was naughty; it was horrible; it was such a bad horse," she joked.
Nine years ago, she purchased "Emily" a 15-year-old Zweibrucker (Welt Marke—April Fest, Festive) from her breeder Pat Belskie in Southern Pines, N.C. The mare was young and uneducated, which made for an interesting few years. Appling had the mare at a dressage barn and they didn't leave the property for two years because the mare refused to get on a trailer. The pair then moved to work with Amy Nichols at Smiling Horse Farm in Pendleton, S.C., and began their journey up the levels in eventing together.
"It was really hard to teach a horse and learn yourself. It would have been nice to have a horse that knew what was going on, so at least one of us did, but it worked out well and it's made our partnership stronger than any horse I've ever had a partnership with," said Appling. "Just going through all the ups and downs and her not wanting to do anything with cross-country. But now she's amazing; we really have a strong bond since because we went through so much."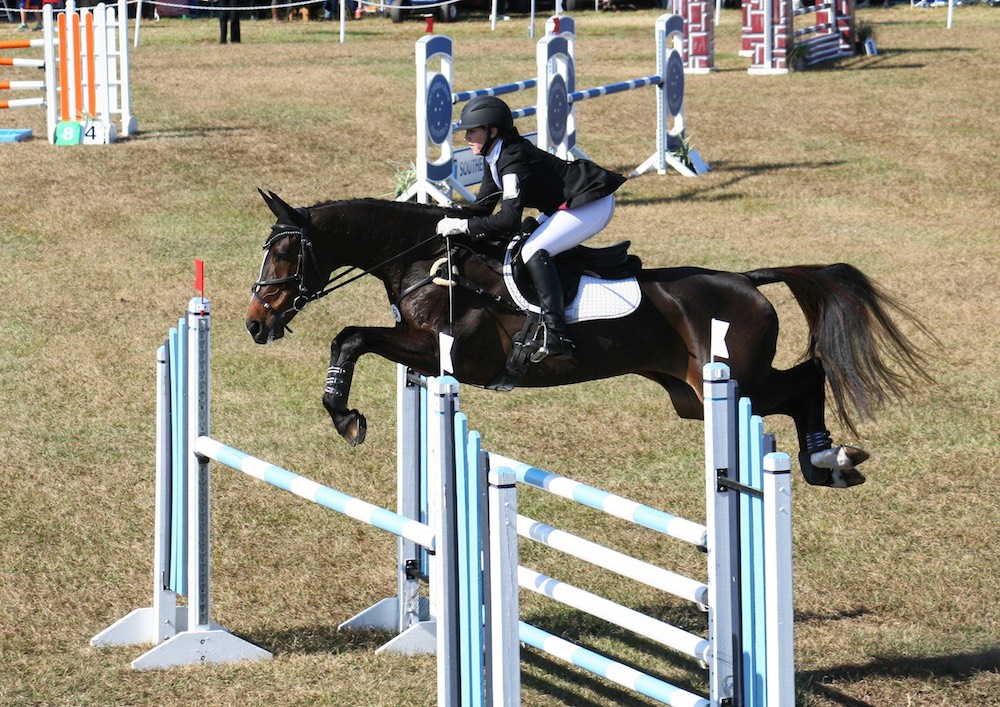 They moved up to preliminary just as Appling started studying at Georgia Southern in Statesboro. Since it wasn't an eventing dense area, Appling spent most of her college years working on her own with only a couple events per season due to the expense of traveling to events.
She'd gone to school with the intention of studying pre-vet, but when biology proved not to be her forte she made the switch to a major in psychology with a minor in entrepreneurship and small business management. When she graduated last May she moved to Ocala for a working student position with Leslie Law.
"It was definitely a bit of shell shock," said Appling. "I realized how out of shape I was from just riding by myself every day. Going from not having any lessons at all or having two a year maybe, to having three lessons a week was shell shock. I think it's made me better faster than I ever have progressed. I've never been able to afford three lessons a week or even really a lesson a week. It's really been amazing being down here and being surrounded by such a horse community. I've never really had that either. I've definitely really liked it here and the lessons are awesome and Leslie is awesome. I'm really enjoying my time here."