Wellington, Fla.—Jan. 16
"I feel a little heavier, but I think that works in the half-halts."
Leah Wilson Wilkins is seven months pregnant, and not only is she still riding competitively, but on Saturday afternoon the Canadian native captured the second CDI victory of her career in the ADGF CDI-W Grand Prix Special in Wellington at the Adequan Global Dressage Festival.
Riding Maria Simpson's Fabian JS, a 17-year-old Hanoverian gelding (Feiner Graf—Daloa, Denberg), Wilson Wilkins, last to compete in the class of 15, rode a career-best test (72.83%) to claim the victory over Denmark's Lars Petersen and Mariett (72.09%) and the USA's Beatrice Marienau and Stefano 8 (70.17%).
"It felt really amazing in some spots, but I felt a few little bobbles in others," Wilson Wilkins said. "Obviously it was my best mark to date but I don't know if it was necessarily my cleanest test. Everything we've been working on was there and was clean, so that I was really happy about. Some of the things I take for granted, like the passage to canter transition, didn't happen, but going forward now I can tune up those areas and then hopefully bring together a super clean ride."

Leah Wilson Wilkins and Fabian JS
It was the second straight event in which Wilson Wilkins posted a top three finish in the CDI-W competition, as the 29-year-old finished third in Thursday's Grand Prix, also with a personal best score. Wilson Wilkins said she was "flabbergasted" with that result, but it left her feeling confident heading into what she considered to be her strongest test.
"I figured there was a good chance for score to be a little higher, but to have a personal best was really exciting," she said. "The weekend had two personal bests, which was just really pleasing.
"I certainly surpassed all my expectations," she continued. "That's definitely fair to say. I would have honestly been happy with a top 10 finish in the Grand Prix and a top three finish here. I think it's been a bit of a whirlwind. It's exciting to see finally what this horse is really capable of. He's a bit of a late bloomer, and so am I, I guess. Hopefully in two weeks we can come back and pull off equally good marks and show our consistency."
Petersen and Mariett moved up two positions after checking in fourth in the Grand Prix to Tinne Vilhemson-Silfven, and the 18-year-old veteran mare showed him that she can still surprise her rider with new challenges.
"I had a really good ride and I was very, very happy, but I was just not happy about her pinching her tongue out on right side," Petersen said. "I can't tell you why that happened. She's 18 and has done a million Grand Prixs.
"I think she was just really good to ride, and I don't think I had any mistakes, but it's expensive when they do that with their tongue," he continued. "Back to the drawing board."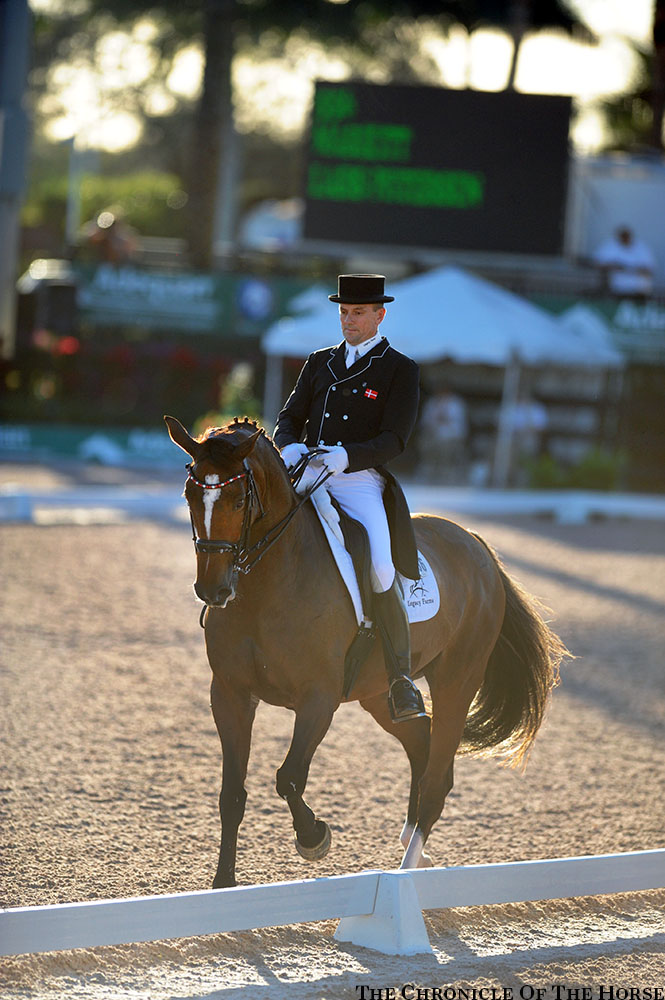 Lars Petersen and Mariett
Both Petersen and Wilson Wilkins will be back for the next CDI-W competition in Wellington, set to take place Jan. 27-31. Having a child remains Wilson Wilkins' first priority—she is due on April 18 and is expecting a baby boy, and after her press conference, she was most concerned about the fact that she had removed the supportive elastic band from her tailcoat before a group photo—but after posting such high marks, she still has qualifying for an individual spot in the Rio Olympics on her radar.
"It puts the taste in your mouth a little it," she said, "but at the end of the day it's not my decision for who gets to go. All I can do is just try to put out solid marks and then have a baby. Then maybe I can get back into the ring before [the Olympics], and hopefully [Fabian JS] still is performing as well as he is here."