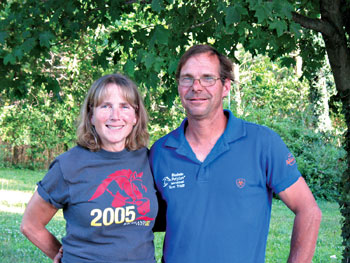 Richland Park Horse Trials hosts Bob and Kay Willmarth have shown what's possible when you dream big. In 2001, Olympic course designer Michael Etherington-Smith walked the Willmarth's empty, 340-acre property, staking out its first cross-country course. By 2007, they were hosting divisions from novice through advanced, plus CIC** and CIC*** divisions.
Located in western Michigan, 45 miles south of Grand Rapids, Richland is the small farming community where Bob and Kay settled in 1975 after finishing at Western Michigan University in nearby Kalamazoo. Bob was a freshman at WMU when his roommate introduced him to Kay, then a high school senior. Bob, now 54, and Kay, 53, hit it off, started dating—and the rest of this story begins there.
The Willmarths spent the next 25 years sharpening their prodigious work ethic, top-notch customer service, savvy business acumen, community ties and love for horses—in particular, eventing. Since 2001, they have worked relentlessly to realize their dream of building a premier event.
"A lot of our philosophy [in] all our businesses is you do [things] right," said Kay. "What we do well is cater to the customer, and the riders are our customers. It was Bob's idea, his dream to do it. Once he sets his sight on something he does it to the nines."
Eventer Robin Walker met Bob and Kay when he came from England in the mid-1990s and credited them for his start in the United States.
"When he was first starting to talk about this," said Walker, who also rides their advanced horse Loughnatousa Spot, "Bob wanted Richland Park to be rider-friendly and horse-friendly. We'd been to so many events where things weren't right; it was a real motivator to make sure riders were top priority and that the horses were looked after."
Kay's sister, Nancy Robidoux, scores and serves as a greeter at the horse trials. "What sets their event apart is that they ran retail outlets," she said. "In retail the only reason you're in business is because the customers come—and the only reason their event works is because the riders want to come. That's a philosophy that puts them ahead and makes them unique."
Just Good Business
The retail business they built started with a place called "Bob & Kay's Car Wash." Bob, who came to WMU from his hometown of Ann Arbor to study engineering or medicine, switched to a petroleum distribution major because of his college job of managing a gas station and car wash. They purchased it after graduation in 1975—and then came the 60- to 70-hour work weeks.
"We were the only employees, back when you did full serve," said Kay, "so we got to know the customers. They liked having us young kids pumping gas, and we established a loyal base of customers."
Hard work never fazes either Bob or Kay. A wiry, energetic man, Bob "is focused, but he's also a good business guy and can sleep well at night," said close friend and eventer, Bruno Unzens. "He treats people the way he wants to be treated. He doesn't pull any punches, and what you see is what you get." He can reportedly fix anything and sticks to a job until it's done.

Kay is the more muted partner, but she's no shrinking violet according to her sister, Pat Bangs. "Kay gets easily overshadowed unless you're smart enough to shut up and listen. Make no mistake, she's pretty powerful. She's not your extrovert, but if you push her, you'll get it. She has a quiet strength, and she knows what she wants."
"Kay keeps to herself," agreed Walker, "but as the saying goes, behind every good man there's a good woman. She's understated, but she's organized. She runs the business thing like a machine. They're great foils for each other."
As their business grew, Bob applied his love of engineering to building better car washes. With the assistance of his father, an aeronautical engineering professor at the University of Michigan, the Willmarths built several in the Kalamazoo area.
"Dad and I designed a lot of my equipment," said Bob. "A hundred percent of our blowers are superchargers, spinning at 200,000 rpm. It's technology off the PT-109 boats and World War II aircraft."
Bob and Kay have applied much of their business acumen to building Richland Park, with a focused and well-organized game plan.
"Bob's mind whizzes at that kind of stuff," said Unzens. "He's unbelievable. The kinds of things you see at Richland, that's Bob daydreaming, making it happen. He's smarter than most people think; he's as dumb as a fox."
Likewise, said Bangs, "Kay can organize and get people to do stuff for her because she's in the trenches. [In July], she was out there painting rails in the ninety-degree heat. She doesn't outsource that, even though she could. She wants to get her hands dirty. She loves it. They are the real deal."
Learning To Ride
Bob and Kay's only free time in the early years were Friday nights. Kay, who grew up horse-crazy in Jackson, Mich., indulged a lifelong dream of learning to ride. (Bob promised when they were dating that he'd buy her a horse someday.) At 26, she started riding lessons at nearby Battle Creek Hunt Club. There, Bob met Unzens, whose ex-wife was also learning to ride.
"We were always watching them ride. We got tired of that, so we decided to go play golf," he recalled. But in the early '80s, with the onset of winter, "golf went away, and we decided to give riding a try."
By all reports, what became the Friday Night Boy's Club was a notoriously wild affair. "They didn't want to learn the basics," said Kay. "They just wanted to have fun."
"There were four or five of us, and all we wanted to do was learn how to jump," said Unzens. "So the trainer started putting up cross poles."
Bob, a natural athlete with a background in gymnastics, got as hooked as Kay, and they started foxhunting in 1982. For about 15 years, the Willmarths and Unzens rode first with Battle Creek Hunt (where Bob became a whipper-in and Kay served as field master), and later, Waterloo Hunt in Grass Lake, Mich.
"It would be a matter of honor about who—Bob or Bruno—could follow the hounds the quickest," recalled Walker.
The leap to eventing came when Bob fretted that the horses would get out of shape in the summer. "We went to Rolex," he said. "I saw it and said, 'By god, I'm gonna do this!' So I bought a book and read it and got my horse so fit he was like a race horse." His first event was in the novice division at Waterloo Hunt in 1986.
"We loved [eventing] so much, we started hosting our own event at Battle Creek [Hunt Club]," said Bob. He, Unzens, and a third friend, eventer Craig Barsuhn, and their wives built jumps and ran unrecognized events for seven years before deciding to seek U.S. Eventing Association sanctioning.
"[Technical delegate] Gretchen [Butts] came out, looked at the course and had a heart attack. But when she came back, she was pleasantly surprised," said Bob. The group ran a USEA event there for three years.
Although both Kay and Bob rode to the training level, everyone concedes that Kay is the better rider. According to Robidoux, "Kay is very focused and wants to do well. In fact, we were never allowed to see her in competition, because it made her nervous. She has high expectations, and she does not like to be less than first place."
Making The Commitment
After about 20 years of competing and visiting every major U.S. competition as well as Badminton (England), the Willmarths began yielding to the urge to build an event of their own.
"Bob made noises about wanting to have an event at Richland Park," said Walker, "and he asked me if I'd help him do it. I knew Bob well enough by then to know that he'd want to do it properly, and I didn't feel qualified. I knew Mike Etherington-Smith in England a long time ago. I said to Bob I'd be comfortable calling Mike, so we met Mike and made a plan."
They built the initial novice through preliminary courses in 2001 and let them sit a year so the footing could settle. "Part of the reason we don't have clinics," said Bob, "is to maintain the footing. Fifty people over a jump is 100 take offs and landings. Also, we come from the old school where you never saw the course you were going to ride."
Regarding the caliber of the Richland Park course, Walker said, "It's as good as it gets. It's a great confidence-giving track. Horses jump well there, no matter what. The horses have always improved through the fall after that."
Preparing for the one weekend, said Kay, is a big job. "The whole process is time-consuming, basically year round, and gets very tense about three months before. There's always something [to do]. Bob's out working 'till 11 every night."
This year, in July, Kay discovered there was a shavings shortage, but she was able to secure a semi-truck load. They had to store the 1,200 bags (twice what they needed) onsite, transferring the load themselves with the help of a few friends.
"It's insane; let's be honest," she said. "But it's very satisfying when the show starts. When the first horse goes in the ring, I can sit back and watch and enjoy it."
This year, the bar was raised with the introduction of the FEI divisions. "Once you have the FEI turn up, the pressure goes up," said Walker. "You're on the international radar now. It's a big deal. I'm proud I could help them in the beginning. Michigan is a backwater, and to end up with international stuff in Michigan is pretty cool."
The officials who descend on Richland Park constitute a who's who in eventing, including Olympic course builders Jay Hambly and Bert Wood, with Nigel and Allie Casserly, who announce at Rolex Kentucky, providing a feel of the big-time. No less than 11 people live at the Willmarth's house during the show, where Bob's mother serves as staff cook.
"We have volunteers who take their vacations to work here," he said.
The community pitches in as well. "It's turned into a great community event," said Walker. "Bob wanted the community involved, because he wanted it to be of value to Richland, rather than just a horse trials at his place. The local farmers have been an enormous help to him. Now it's a matter of honor to do it well."
With two Rottweilers, four horses and two miniature donkeys for family, plus many nieces and nephews, Bob and Kay Willmarth—now semi-retired—are free to devote themselves to keeping Richland Park Horse Trials a premier event.
"They're both into it, and they're doing it together," said Unzens. "They work together on everything. It's the perfect match for putting on an event. When you can work together all day long and then live together, that's special."
Kate Dernocoeur