It's been a while since my last blog and this is one that I have been wanting to write for quite some time now.
Recently I have been noticing that not all of our younger professionals are being taught that each and every horse we ride is an individual and that you need to change your expectations and techniques for each one based on what is going on. This is a lesson that I was very lucky to learn early on since I am the daughter of two great horsemen, Mitch and Kathy Steege, but I have been noticing a lot at the horse shows lately that not everyone seems to have been taught this.
Some riders want each horse to go in the same frame, in the same tack, and jump the same schooling jumps. One of the things that I think is an important part of being a good horseman is being able to listen to a horse and adjust your techniques and expectations for a particular day accordingly.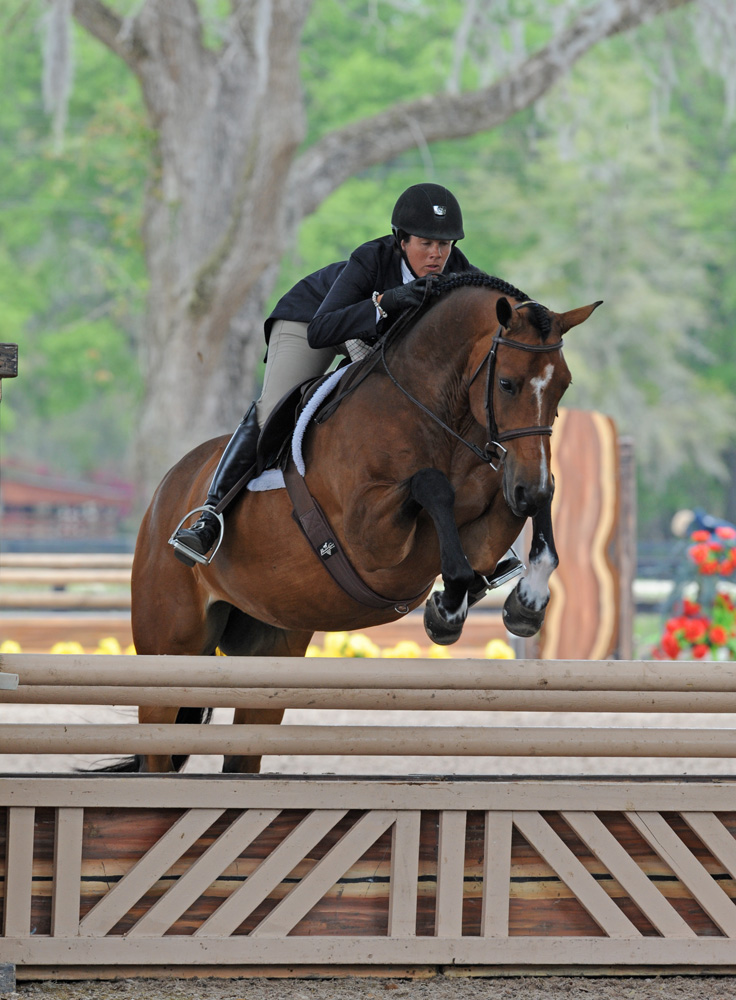 It's taken time and patience to develop Balou.
Photo by Molly Sorge
This makes me think of one of the best, and quirkiest, horses that I have had up until now in my career and that is Lisa Arena's Balou. There is not a horse out there that I would trade him for and he has become a huge success, but in the early stages of his career we had some really exciting day. In the end he taught me that the horses teach us just as much if not more than we teach them. And he also taught me that its OK if you don't win every class you compete in—sometimes you have to just use them as a step along the way to an end result.
Lisa bought Balou as a 5-year-old from Emil Spadone at Redfield Farm. Kate Conover had imported the horse with the help of her partner in Holland and they had only had him for a few weeks at Redfield farm in Ocala, Fla., when Lisa and I first saw him.
A few weeks before we saw Balou, Lisa had told me she wanted a "practice horse" that could live at her family farm in Fairport, N.Y. Something older and quiet that she could ride every day and practice jumping small courses when she was home on her own.
We had not really tried any horses yet but I was keeping my eyes and ears open. Then one Monday in Ocala Lisa had come with me to do a few things at our barn and on our way home we decided to just pop in over at Redfield and see what was going on. Man was it our lucky day! While we were there Kate Conover rode Balou and jumped him around a little bit. Lisa and I were in love.
As we drove out the driveway she said, "I have to have that horse!" Now this was not exactly the "practice horse" that we had talked about but I had to agree with her. He was small in stature—about 15.1 hands—but he was mighty and so athletic.
She did end up buying Balou in March of that year. He was very green and had never shown before, so we took him home and spent the rest of Florida that year doing some ticketed warm-ups and giving him a hunter education. He was extremely talented and well balanced and jumping was very easy for him, and he also seemed to have that star quality and cockiness that a great show hunter requires.
That summer I showed him in the pre-green hunters four or five times and he was champion or reserve at every show including Capital Challenge. Everything seemed to be going pretty smoothly.
At Capital Challenge he was reserve champion and he qualified for the big future hunter classic that was in the indoor ring. Lisa and I were beaming! We had never shown him indoors before. In the first round he was a little bit nervous but was still great and qualified for the top 12 to jump again. In Round 2 he spooked and ran out like a pony past the first jump. I pulled up, gave him a pat and started again and he jumped around well.
Next, we moved on to Harrisburg. I believe this was the first year they had the pre-green hunters at Harrisburg. I rode him in the arena the night before and the morning of his classes and he felt like a million dollars. He was as cocky and confident as ever.
But, when it was time for the first class and I trotted in the ring all by himself with the jumps set he was TERRIFIED. He did this super-animated, suspended trot to the other end of the ring. We later named this his "pepe le peu" trot! I knew this was not going to go well so I took my time and took an extra circle at the far end before picking up my canter.
Finally it was time and I had to attempt the first jump—he took one look at it from 10 strides away and bolted to the left to avoid it.
Lisa was horrified—I could hear her gasp in the stands. But I persevered and I slowly coaxed him over each of the jumps and completed the course. He was better in the next class but not good enough for a ribbon. The next day had only one jumping class and he was great and he ended up getting third, which was agreat way to end his pre-green year.
Home he went to rest for a few months before Florida and his first year green debut.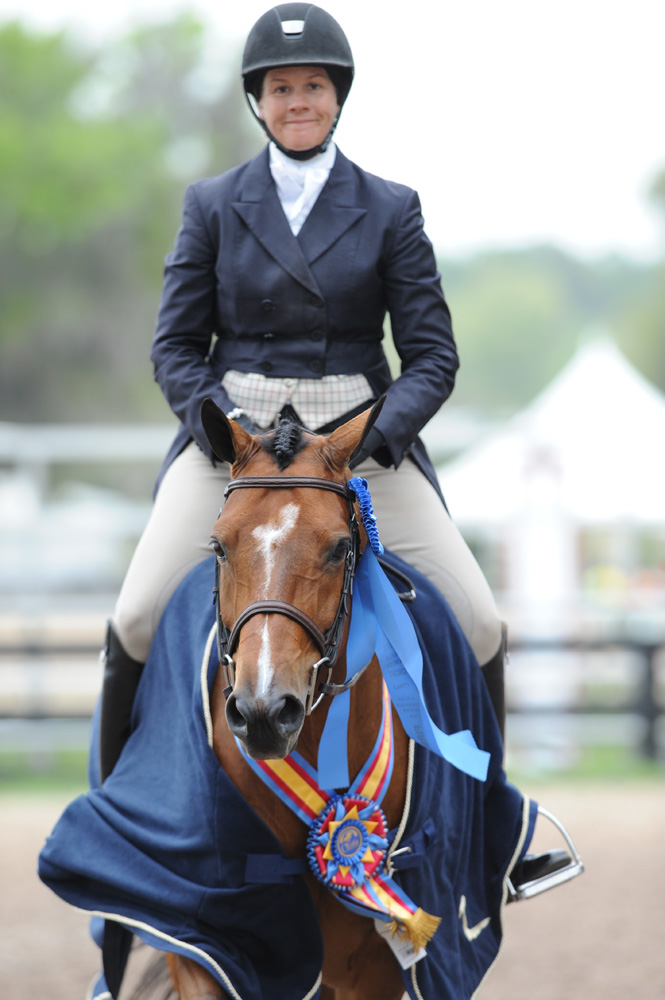 Amanda and Balou.
Photo by Molly Sorge
Fast forward a few months and Balou had gone to Jacksonville in January and done one show of first year green and he was champion. Now it was the first week in HITS Ocala. On Tuesdays in Ocala they have a high/low hunter class in the main hunter ring. It is judged but its casual and a great way to get the horses acclimated to the main hunter ring which is a big, beautiful ring but can be a bit spooky with the trees and shadows in it.
I jump fence 1 and all is good. Then I turned to go up the diaganol line. Balou turned the corner, took one look at the jump and bolted to the left, flying by it like a pony.
I'm not a huge disciplinarian but I decided that now he did this once at Capital Challenge, once at Harrisburg, and now this was the third time. I thought it was time for me to "train" him and teach him this is not OK. I gently pulled him up and I happened to have a crop so I gave him one strong, swift lashing with the stick behind the saddle on the left side.
He proceeded to buck and rear. I lost both stirrups and was hanging on by a thread to his mane—at which point he bucks and rears once more for good measure. Lisa was white as a ghost and my dad, Mitch Steege, was laughing and saying, "He just trained her."
I regained my composure and decided that to be on the safe side I should do a slow, conservative seven strides in what is supposed to be a six-stride line. Balou had other ideas. I turned the corner and he grabbed the bit and bolted down to the in of the line. He got to the out of the line so fast that I was pulling as hard as I could to do six strides—forget the slow, conservative seven!
I was sweating, tears were running down my face because we were going so fast. We somehow made it through the rest of the course. When I came out of the ring, Lisa asked, "Why did he do that?"
Mitch chuckled and said, "He just trained Amanda to never, ever reprimand him with a stick again."
But I had no idea what to do now, so I said to my dad, "Shouldn't I go in there again? Or go in the schooling area and practice some more? How am I ever going to do first year green tomorrow?"
Mitch said to me, "You did enough for today—go give him a bath and put him to bed for the night. He will be fine tomorrow."
It goes against what you're "supposed to do" to put a horse away without correcting a disobedience, but Mitch was RIGHT. Balou has gone on to win numerous champions and reserves with me in the first year green, second year green, regular conformation, and 3'6'' performance hunters and with Lisa in the adult hunters and amateur-owner hunters at shows such as Devon, Capital Challenge, Middleburg Classic. He even managed to do all of this while spending a lot of time at home with Lisa being her "practice horse."
But man did he train me—I never even carry a stick when I ride him anymore, never mind hit him with it! Conventional wisdom says to reprimand a horse when they disobey like refusing a fence, but some horses like Balou that's counter-productive.
It just goes to show you that the rules are made to be broken and that it's important to try to listen to our animals and the lessons they can teach us. Thanks Balou!
A trainer specializing in hunters, jumpers and equitation, Amanda Steege operates Ashmeadow Farm out of Far Hills, N.J. Read all of her blogs.