John Madden describes what each rider had to think about before getting a leg up onto the others' horses.
The horses in the final four for the individual show jumping medals at the Alltech FEI World Equestrian Games were a fascinating mix of types. It's always fun to imagine what it would be like to swing a leg over one of these top horses. I watched them all go all week at the WEG and thought about what I might tell someone competing in the final four about my observations, if they asked my help.
These four are all lovely horses, and when we're talking about things that these riders are doing, it's all about the tiny little details. This is nuance at a very high level.
But then again, I tried to discuss this with my wife Beezie, who's a top international rider. Her response reminded me of something Hall of Fame baseball player Honus Wagner once said: "There ain't much to being a ball player if you're a ball player."
Beezie said she'd just get on and ride them without thinking about all these things. Maybe all these guys did the same thing. To them, there isn't so much to it.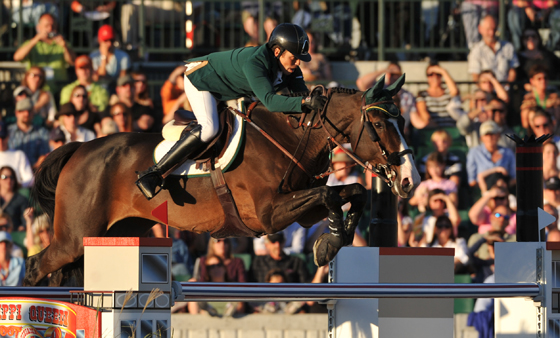 Seldana Di Campalto: An 11-year-old bay Dutch Warmblood mare (Emilion—Alme Star), usually ridden by Saudi Arabian Abdullah Al Sharbatly. Seldana had two rails with Al Sharbatly, clean rounds with Rodrigo Pessoa and Philippe Le Jeune, and a rail and a time fault with Eric Lamaze.
What you must do on Seldana: Stay smooth, particularly with your hands. You have to ride to a forward distance as much as possible. She has a difficult time shortening to a fence. It's also your goal to realize how sensitive, and borderline quirky, her temperament can be.
I've seen that horse a lot, and I wouldn't say she's hot as much as she's temperamental. I think she knows what she's doing and she knows what she wants. You have to be smooth and not argue with her much.
Abdullah's a good rider, and he knew he had to get her forward to the jumps, but when he got a little bit wrong to the jump, that irritated her. Philippe placed her exactly right at each jump, and she went like a computer for him and softer and quieter because of it.
What you can't do on Seldana: Decrease to a short distance to the bottom of the jump. While she has the mechanical ability to jump from there, she often seems to resent having to work that hard. She likes to have momentum.
You also can't interrupt her rhythm. You have to work with her temperament and stay smooth, especially with the hand. Making big adjustments changes her rhythm, and she does much better with a consistent rhythm.
What you have to help Seldana with: Her balance, but not by forcing the issue. You do that by keeping her on the correct lead, especially behind and on the turns. That sets it up so you can come forward to the fences.
The underlying thing you should always be thinking about is that she has a great temperament as long as she's working for you. That's a big differentiation. You can have horses that are miserable all the time, and you can have horses that are wonderful all the time. She's wonderful as long as she wants to be and she's happy.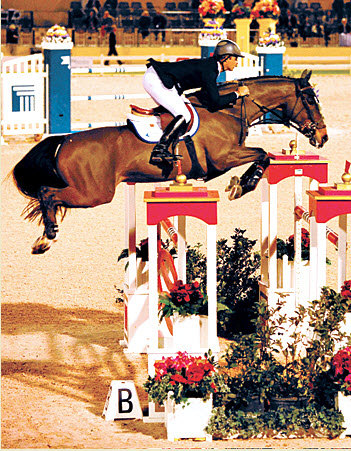 HH Rebozo: A 10-year-old bay Mexican Sport Horse stallion (Tlaloc La Silla—Renata La Silla, Ramiroz), usually ridden by Brazilian Rodrigo Pessoa. Rebozo had one rail with Pessoa, a rail and a time fault with Lamaze, and jumped clean with Le Jeune and Al Sharbatly.
What you must do on Rebozo: Be as smooth and uninterrupted as possible. You have to change as little as possible, both with your hand and leg.
He has all the ability, and he's careful. But while he's got a super character and he's very sweet, getting clean jumps out of him would probably take the most accurate riding of all these horses. He'd be the horse where the ride would be the most critical, I'd say, to get good results.
What you can't do on Rebozo: Just leave him alone or abandon him. He's a bit of a colder horse, so you must support him the whole way around and give him the energy he needs without distracting him. You have to keep his attention on the fence. When he had the fault with Rodrigo, he was just looking somewhere else.
What you have to help Rebozo with: Keeping his concentration. You don't want to be a backseat driver on this horse; if someone's talking behind you while you're driving a car, you lose your concentration. You must keep your concentration and focus in every stride, making sure you're keeping him where he needs to be to jump his best. He's not one to handle problems on his own; you've got to be very accurate.
You want to plan way ahead because you need to be able to get to all the oxers and be able to help him across the oxers. You have to set him up so you can help him, without interrupting his concentration. That takes a very accurate vocabulary of aids. You have to be very accurate and careful with your hands and seat and legs.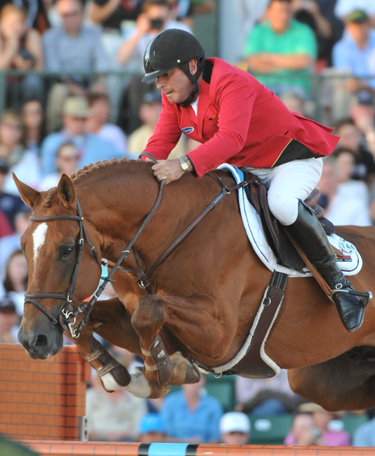 Vigo de Arsouilles: A 12-year-old chestnut Belgian Warmblood stallion (Nabab de Reve—Fleuri du Manoir), usually ridden by Belgian Philippe Le Jeune. Vigo had clean rounds with Le Jeune, Al Sharbatly and Lamaze and two rails with Pessoa.
What you must do on Vigo: Keep him together, keep him engaged all the time. Philippe, as his rider, is thinking all the time that no matter how good the flatwork gets, it always has to get better, so he can keep delivering him to that spot that he needs to. And he has to be able to establish a pace and a balance that don't require the horse to be that agile with his front end, so he can rely on the horse's scope instead of his quickness.
What you can't do on Vigo: Give him too much leg. You can't rush or get excited with your leg and drive him at the jump. At a big oxer-oxer-vertical triple combination, it was amazing to see Philippe just wait and wait and then just sit there. And the horse just pinged over the two oxers. You can't rush him, and you have to trust his scope. And you must be incredibly patient and organized.
What you also can't do is let him gallop loose and forward to a vertical. That's what Rodrigo did; he just galloped down a diagonal line and the horse wiped out two in a row.
What you have to help Vigo with: You can't rely on him to be too clever too close to the fence. You have to put him in a place where you can keep him together and give him room to get to the jump. And you have to give him time to think and room at the fence, and that's why you have to keep him together.
The horse has incredible power, and he's careful, but he's going to hit the jumps if he doesn't get there the way he needs to because he's not the most agile horse. To me, with the American style of riding, this horse would be the most difficult.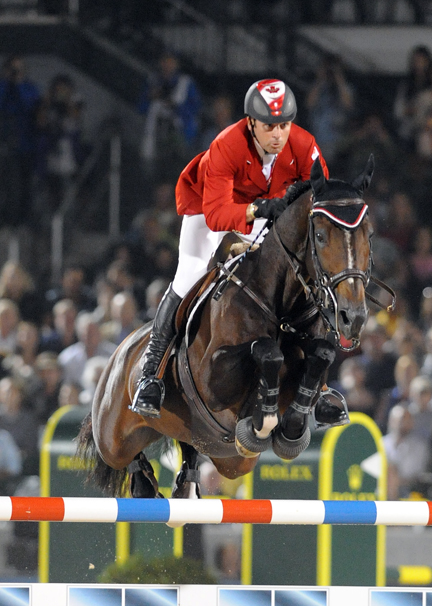 Hickstead: A 14-year-old bay Dutch Warmblood stallion (Hamlet—Jomara, Ekstein), usually ridden by Cana-dian Eric Lamaze. Hickstead earned the Best Horse title by jumping clean with all four riders.
What you must do on Hickstead: Hickstead is an interesting horse. What you have to try to do is see the distance early and come forward to the jumps.
You really saw this come into play in the warm-up area. I think the other riders expected him to make a big bid at the jumps, and he didn't. You saw a couple of them pull up before a jump, and it wasn't because he was running off, it was because there's a lot of action, and then at the fence, you still have to come forward to the fence.
It's easy to get put off by the amount of pace that Hickstead likes to carry, because it's got to feel like things are happening really fast and that you're just going to wipe out the jump. But that's why you have to have a little faith in his jump and athleticism and less faith in your need to adjust him.
While you have to come forward to the jumps, you have to immediately get him organized after each fence and re-establish the pace and the rhythm. You have to keep resetting the clock. He's a hot and quick horse, and once you jump a line, you have to get him right back so you can build up your speed and momentum again to jump the next fence.
He started to snowball with both Rodrigo and Abdullah. He got more and more rapid. The triple combination at the end of the course was like a set of speed bumps for them. After each fence is the beginning of the approach to the next fence. You need to immediately get him back and reset his pace and rhythm so you can then let him go to the next jump. If you don't do that resetting, it turns into a snowball going downhill to the next jump. It just gets more and more quick.
What you can't do on Hickstead: Make an adjustment at the last minute. You can rely on his quick legs, and he's so clever that he can jump from any distance. He won't run under the front rail of an oxer. He won't get there too soon and punch out the front rail. He just won't do it. So you have to have faith in that and worry less about making the distance perfect and more about coming forward to the jumps.
What you have to help Hickstead with: You can help him by not over-controlling the distance but making sure the pace is forward. You have to help him with your hand to keep him from getting aggressive, but very little. You don't want to make a huge adjustment in his stride for a distance.
You have to help him by just letting him do his own thing. In this picture, Philippe is just sitting up there and leaving him alone.
---
John Madden, Cazenovia, N.Y., is married to international grand prix rider Beezie Madden. Together, they operate John Madden Sales Inc., where they train horses and riders. The horse business has encompassed John's entire life, and in addition to his business he's the Organizing Committee Chairman for the Syracuse Sporthorse Tournament (N.Y.) and on the U.S. Equestrian Federation High Performance Show Jumping Computer List Task Force. He began contributing to Between Rounds in 2008.