The Connecticut teen beats some stiff competition to qualify for the ASPCA Maclay National Finals.
Julia Weiss couldn't quite believe what she heard at the Region 1 Northeast Maclay Regional, held during the Grand Fall Classic, Sept. 28 in Westbrook, Conn.
After moving up from third in the flat phase, Weiss was in the lead for the final testing. "At first, when they called back the order of go for the test, I didn't really comprehend it. It didn't hit me, and I asked [trainer Val Renihan] when I went. She said, 'You go last.' I said, 'Shut up!' " Weiss admitted, noting it was nerve-wracking to have 10 riders go before her, including consistent performers Zazou Hoffman and Emma Lipman.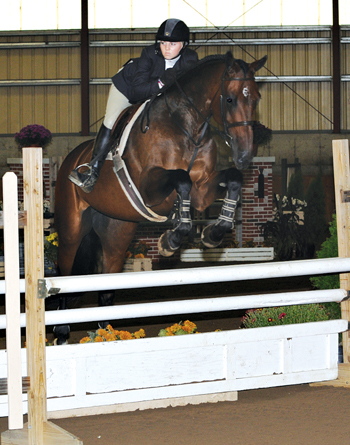 "I'd never been in that position before, testing on top with such great riders under me, so for a second I kind of freaked out. But then I realized there was nothing to lose; I was already qualified. I knew what I had to do, and I did it—without making a huge mistake!" Weiss, 17, said.
Coming into regionals off of a short training lapse due to the start of her freshman year at Elon University (N.C.), Weiss, of Greenwich, Conn., faced the field of 76 riders with some extra confidence drawn from her win the day before in the PHA Medal Final.
Weiss rode Emil Spadone's Schubert, a partnership Renihan helped arrange last August. "It's been a dream come true," she said of the opportunity to ride the 9-year-old gelding. "Val has been amazing; she's helped me so much. She really not only taught me how to ride better but also to be more confident in my ride."
"[Julia and Schubert] have such a genuine love for each other, and they both try so hard to do well, so it makes my job a pleasure," said Renihan. "You can just tell her what she needs to know about how to ride the course and warm them up with a few of the exercises in the course and leave her be. She is a great team player and makes all of the other kids feel good about themselves, so they all look up to her and seek her advice."
"There are so many great riders in the Zone 1 Regionals that it was a real thrill to win it," Renihan added. "She is a great kid and takes none of this for granted."
Last year's regionals taught Shelby Wakeman not to take anything for granted. Her horse stopped at the fourth fence, depositing Wakeman on the ground. "It was really just a fluke—he stopped and it was totally my fault. It was the first and only time he's ever stopped and first and only time I've fallen off him," recalled Wakeman, who shows as a 17-year-old.
The episode made this year's Region 8 West Maclay Regional, held Sept. 13 at the Oaks Blenheim Fall Tournament in San Juan Capistrano, Calif., all the more nerve-wracking for Wakeman, but she put the ghosts aside to win. "I was really, really nervous—it was terrible! I went early in the order, and all I could think about was not falling off and not making a mistake like that. Before I went in, everyone was asking if I was OK because I was really pale since I was so nervous!" she said.
Though her regionals performance last year didn't qualify her for the ASPCA Maclay National Championship (N.Y.), Wakeman placed fourth in the USEF/Pessoa Hunter Seat Equitation Medal Final (Pa.) the week before the Maclay and qualified at the last minute. She finished the Maclay Finals in third place.
Wakeman, who trains with Karen Healey and Kasey Ament, put those uncharacteristic nerves aside as soon as she stepped in the ring on her 11-year-old Dutch Warmblood gelding, San Francisco. "I can't really describe it—everything just came together at once, and it went really well. I came out of the ring and was so happy it was over!" she said of the round that put her in second out of 38 riders going into the flat phase. After the flat, the judges didn't test the riders further to place her on top.
"The funny thing is that I usually don't flat the best. When I first moved to Karen's [when I was 14], I was terrible in my flatwork," admitted Wakeman, who entered regionals coming off of a break in her training, having begun her freshman year at New York University on a pre-med track, majoring in psychology.
After Healey imported "Frisco" as a 5-year-old, she and Ament—then one of her junior riders—developed him into the horse that took Ament to the 2004 BET/ USET Show Jumping Talent Search Finals-West victory. While Wakeman has owned him for two years, she said, "He's been Karen's baby from the beginning. She's definitely attached to him."
Wakeman can now focus on this year's Maclay Finals, held at the National Horse Show during the Syracuse Invitational Sporthorse Tournament (N.Y.), Oct. 29-Nov. 2, sans the regionals albatross she overcame last year.
Pulling Out The Stops
Though she was tempted to play it safe, Hayley Barnhill, of Collierville, Tenn., heeded trainer David Pelligrini's wise advice to take some chances during the Region 4 Midwest Maclay Regional, held Sept. 27 at the Kentucky National in Lexington, and it paid off with the win.
"In the first round, Dave wanted me to do an inside turn that no one else did. I didn't want to do it and I was nervous about it, but I guess it worked because I was on top after the first round," said Barnhill, 15, whose standing dipped slightly to second going into the final test of the top four riders out of the field of 62.
"Everyone was very good in the test," she said, explaining that the main differences in the rounds were in handling the counter-canter to the final fence. "The first two people walked through the counter canter transition, and I did a flying change. Jennifer Waxman [last year's winner] went after me and landed on the counter lead and held it around the turn. They told me to take risks since we were already in. If you can't take chances here, then why go to finals?"
Having trained with Pelligrini for five years, it was easy for Barnhill to have faith in his advice. "We're very close; he's like my dad. He's very fun and makes the horse shows fun too," she said. "I trust him and know that he's not going to tell me to do something stupid!"
With three more junior years in store, Barnhill didn't come into regionals with tricolor dreams. "I was shocked—it was the coolest feeling, doing the victory gallop and the whole thing, the best day of my life," said Barnhill, who will be purchasing her 7-year-old, Danish Warmblood partner, Beyond Common Sense, who she'd been leasing from Jimmy Williams since the spring.
Stacia Madden gave her charges similar advice going into the ride-off for the Region 2 East Maclay Regional title at Old Salem Farm on Sept. 7 in North Salem, N.Y. Jacqueline Lubrano, 17, of Glenmoore, Pa., didn't play it safe with her lead going into the test and maintained her standing for the win.
"What's fun in those situations with the kids is you know they've made the cut at that point, then you can experiment a little bit with their testing skills. I told the kids to push the envelope, to do things on the edge of difficult so they could see how they would do in pressure situations like finals," said Madden. "They did flying changes where they could do simple, really showed the hand gallop… Because [Lubrano] was coming in with an advantage as the leader, she maintained and didn't leave any room for anyone to move ahead of her."
Lubrano didn't decide until the morning of the regionals to ride her sister Elizabeth's horse, Galou II, instead of her own Calito 7, since he was more suited to the day's course. "She knows her horses extremely well," Madden said of Lubrano. "She's got physical strength on her side as a rider, keeps her horses at home a lot during the year and does her own work, so she knows her horses' personalities in and out of the barn."
"I want to thank my sister for letting me use her horse and helping me with him along the way. We're always together at home riding, so we always help each other and kind of train each other," said Lubrano.
Dedication, Preparation And A Little Levity
Showing as a 13-year-old, Hasbrouck Donovan has already made a big impression, besting 40 other riders to win the Region 3 Southeast Maclay Regional, held Sept. 6 at the North Florida Hunter Association show in Jacksonville, without the need for a ride-off.
"I had to go third, and it was my first regionals, so I was really nervous. Paige Dekko, who also rides with [trainer Don Stewart], rode before me, so it was helpful to see her go," said Donovan, of Gainesville, Fla. "I thought that I was going to get a ribbon, but I didn't think we were going to win. Flatwork is where I struggle a little, so I've been working on that a lot."
Riding her 10-year-old Dutch Warmblood Levity, bought during the Capital Challenge (Md.) last year, Donovan was excited that her hard work with him had paid off. "He can sometimes be very temperamental at home. You have to know his boundaries, but he's very sweet," she said.
Starting out at Don Stewart Stables with trainer Bibby Farmer-Hill in the medium ponies, Donovan benefits from working with the entire training staff, including Ronnie Anderson and Megan Edrick. "Don makes things so much harder than they'll be when you show so you're really prepared when you get there," she said.
"She's a model student, very focused and energetic. She has a really good work ethic and rides every day. She's a little ahead of schedule as far as what she's done, so we're really excited about her progress," said Stewart. "After the win, she was all smiley, but she didn't jump up and down and go crazy—she keeps her composure—but her mother and I did that for her!"
As head coach of the University of Florida's 2006 and 2007 NCAA championship basketball teams, Hasbrouck's father Billy Donovan wasn't able to witness his daughter's winning performance due to a game day conflict, but the two shared the news about each other's wins during her ride home.
One of Stewart's working students since April, Chris Nelson, made the trip to Lake St. Louis, Mo., with Farmer-Hill at his side to bring back another Maclay regionals cooler to the farm, earning the Region 5 Central title at the St. Louis National Charity on Sept. 13. Nelson's partner for the day was Stewart's 9-year-old, 17.2-hand Holsteiner, Quick Question, who was a brand-new ride for him.
Though he had good experience in the hunters and jumpers, Nelson, 18, just started showing in the equitation division in the spring and applied for the position with Stewart to help prepare him for a career in the industry. "He's ridden various and sundry horses. He's very flexible that way and he understands this is a job if he wants to be a professional. He's accurate as a rider with nice feel," said Stewart with a chuckle. "He's hard-headed, he's home-schooled, he's a very good worker and very responsible and dependable."
"I've been lucky enough to be with Don and ride a lot of horses, and it's fairly easy for me to get on a new horse and adjust. It made it easier for me to get on a new horse right before regionals," said Nelson, of Dallas, Texas.
With a field of 30 riders, and called back into the top group to flat, Nelson had no idea where he stood when they prepared to pin the class without a test. "I went last and got to watch a lot of the class. Going in, I was pretty nervous because I'd seen 10 to 15 nice rounds early on, but Bibby had me work really hard and had practiced a lot of parts of the course in the warm-up," he said. "I felt like it was good enough [to qualify], but I wasn't 100 percent beyond that. I'm very excited to make it there, but it's my first and last shot at indoors, since I've never been there before."
Big Strides On The Flat
Audrey Carlson, 16, of Boulder, Colo., had a well-timed breakthrough with Charade, the 15-year-old warmblood she's leased from Alexandra Ansteth for a year and a half. The pair capped off an occasionally challenging year with the Region 6 Mountain Maclay title from the High Prairie Fall Classic, held Sept. 13 in Parker, Colo.
"The second and third jumps were two big oxers, and I got him pretty strong and forward to both of them, so when we had to bend from the second oxer to the skinny, that was a little shaky. That was my one rough spot in the course, but the rest of it finished up really smoothly," said Carlson, who didn't know the rankings going into the flat phase, which has been a source of trouble for her.
"It was the best he's been for me all year on the flat. It really came together at the perfect time. Let's just say it's not exactly my strong point! It's been a work in progress all year for me.
"My trainers—Michael Dennehy and Emily Hook—really helped me, working on my position and getting me stronger and teaching me how to get him light, supple and responding to me," continued Carlson. "Charade is sometimes really hard for me to ride. He's built on his forehand, so I have to lift him up and get him off of my hand, and that's way different than my junior hunter, so he's really taught me a lot about how to ride a different type of horse. I feel like I've really progressed with him."
Hannah Evans has only been riding Coventry, her 10-year-old Bavarian Warmblood birthday present, since June, so she was thrilled to win the Region 7 Northwest Maclay with him at the NorthWest Autumn Finals in Monroe, Wash., on Sept. 13. Coming back on top after each phase turned up the heat for Evans to maintain her lead, but she
welcomed it. "I'm really cool under pressure and ride better with it," she said. "So it was good to have that pressure to keep my position.
"The course involved a bending line before the bounce and there was a controversy: you could do a forward, leaving-out seven [strides] or a little bit of a bouncing, waiting eight [strides] because it rode on a half-stride," she said, explaining that she and second-placed Carly Anthony opted for the eight. "Geoff Teall was one of the judges, and I think he liked how the eight rode compared to the seven."
In the test, the top four riders faced two jumps off of the counter lead, in addition to a trot jump and a halt at the end. "The test was pretty straightforward but really showed how well you and your horse connected," she said. "The best part for my horse was the counter-canter because we'd been practicing that with him all summer."
Evans has trained with Denise Youell since she was 7. "She's a pretty small operation so I get a lot of one-on-one interaction, and I don't have to worry about fighting for time slots for lessons or feel rushed or pushed in any way,"
she said.
"It was really exciting, a really big accomplishment for me working with 'Tosh' for such a short time. He's come such a long way—I don't think I could have done the flat phase with him in June," she said. "I work with my horses alone too, and I groom my own horses, and it's nice to know that I helped bring him along. I just wanted to
qualify for finals, so it was a real treat to win."