I'm a touch melancholy at the end of the Winter Equestrian Festival (Fla.). After spending an entire season (about 20 weeks, which is amazing) working, competing, playing and sleeping in one location along with a lot of my friends from Europe and the U.S., in April we all go our separate ways.
It's like leaving home. And although I'm excited for the upcoming seasons, shows and scenery, I will miss the comforts of Wellington.
WEF 2017 was a wild roller coaster ride from the beginning. Early on we had a perpetrator at the barn—nothing happened but I spent a night there just to be certain all the horses were safe. That's the thing about what we crazy horse people do—anything for the horses!
About a year ago, the super Sarah Ryan purchased the phenomenal bay we call Little Bear, whose show name is Dubai. Early this season she bought a gorgeous gray, SHL Spectre (aka Coco), who made her debut in the 6-year-olds. What a star.
Chacco joined our great group of bays and Norma Jean the Jumping Bean was our little redhead along with Cristalina and Madi Myro's mounts, we had a super selection of sale horses. We sold the wonder mare Disco Lady. She and I learned a lot together tackling courses from the Rolex arena in Lexington to the South Point indoor arena in Las Vegas. I was proud to be a small part of her life—still miss little Miss Piggy.
It was the season of "50 Shades of Grey Mares"—Chablis, Chenoa and Daloma. But life would not be complete without a bay brigade—Chacco (we call him Moose or Chacco Chacco Chip), Aragorn, Zandigo, Insouci, and Tabou joined the Neil Jones band from Europe.
Neil Jones Equestrian loves supporting the super special events where we get to jump and dress up! Like sporting pink polos and Norma Jean had her own tiara for Battle of the Sexes (which of course the girls won again).
My super bay man, Mr. Mighty Mouse (Cornetiero), and I made our Saturday Night Lights debut and survived with ribbons to prove it! Dubai did Deeridge (wrote about that in my last blog) and it was amazing! Chacco Chacco Chip helped us get there. The bay brigade strikes gold (well in my world).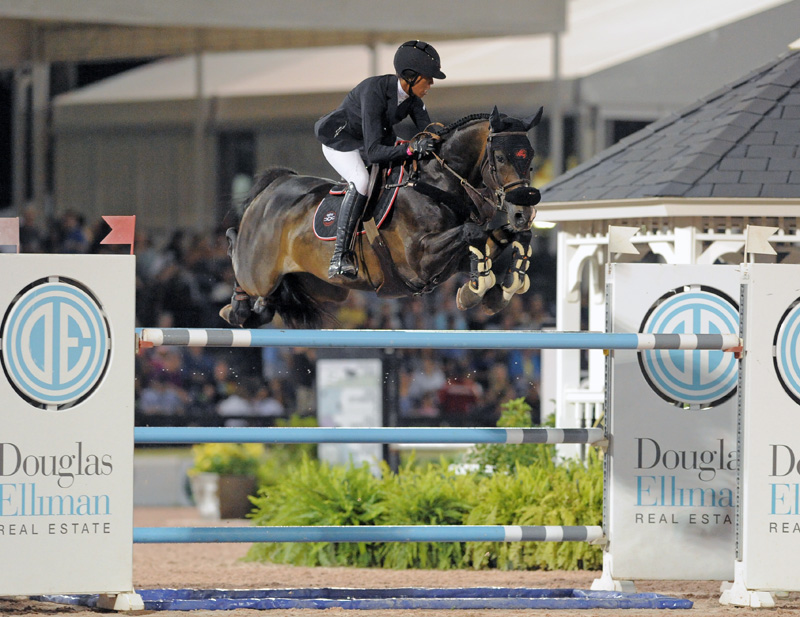 Horses aside for a minute, can I just express once again how incredibly happy and lucky and ecstatic (and angry that happened at all) I was that some angels were watching the day some bad man stole my little Midge (dachshund) and dropped him the middle of a street. They saved him and I am forever grateful.
Dachshunds aside and back to horses and helmets, a few weeks before WEF was over Mighty Mouse and I had a bad fall in the warm-up ring preparing for the Saturday Night Lights class. I thought I was OK to show, but my adrenaline covered up most of the pain. Luckily we are both OK, thanks in large part to my KASK helmet, but scary moments like that remind you how dangerous this sport can be.
My amazing team leapt into action, taking care of both Mouse and me, and picking up the slack while I recovered. The crew at WEF made certain that I was seen quickly at Wellington Regional Hospital. Accidents happen and I consider myself very lucky, but you can never be too careful and it would be a very different story if I wasn't wearing a helmet. Whether you're showing, riding at home, or simply going on a trail ride, why take the risk?
So back to some lighter moments, some of you may know that I am an Instagram fiend. I had a ton of fun with #WhatTheWEF Wednesdays this season, check it out on my feed at @mavisspence. I mean there's nothing like the WEF life where people golf cart from their farm to the show, sometimes "ponying" their horses along. The chestnut golf cart pony pro inspired the first #WhatTheWEF!
Giant shout out to the dream team who makes it all possible, especially Lauren Dreyer, Ally Bradley, Justine Lyons and Madi Myro who put their hearts and souls into taking care of the horses and of me. (Takes one to know one!) We had up to 18 horses going over the course of WEF and that means many a long day's journey into night.
WEF 2017 is a wrap and never in my wildest dreams would I have imagined it going the way it did. I managed to qualify for all the grand prix classes, finishing up with a silly fence down in the last four-star on Mr. Mighty Mouse. This circuit has been a fairytale and I have so many people to thank for making it all possible. It takes a village and I wouldn't trade mine for anything!
Mavis Spencer is an up-and-coming U.S. show jumper who works for the dealer Neil Jones and runs her own Gallop Apace business. Spencer rode in the jumper, equitation and hunter rings as a junior, then took a few years to work as a groom and barn manager before getting back in the show ring. You can read more about her journey in "One To Watch: Mavis Spencer Has Gone From Grooming To Grand Prix."
Read all of Mavis' COTH blogs.