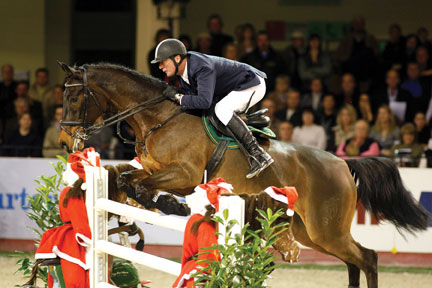 In the Christmas adorned Frankfurt Festhalle (Festive Hall) on Dec. 16, more than 6,200 spectators kept their fingers crossed for European Champion Meredith Michaels-Beerbaum. But as the last starter in the jump-off of the Master League Final, she missed victory aboard the 12-year-old, Hanoverian Checkmate by .20 seconds.
Instead, Germany's Thomas Voss earned the victory in the International Mitsubishi Cup, the Grand Prix of Frankfurt, aboard Leonardo B. Voss received a Mitsubishi car worth $65,000 plus more than $37,000 in cash. The riders placing second through sixth also received a combined prize of a car and money. Third place in the tense jump-off went to Franke Sloothaak aboard Aquino.
In the Final on Sunday afternoon, 10 of the 37 competitors qualified for the jump-off. It was looking as if a much larger number of riders would make it to the jump-off in this $355,000 competition, but toward the end of the first round, the top riders did not post many additional clear rounds. Most of the favorites had faults.
The 2003 European Champions and current European team silver medalists Christian Ahlmann and his top ride Cöster had one pole down at the last element of the triple combination.
"I had a good feeling, how he was jumping, but yes, maybe the top mounts are a little bit tired at the end of the year," he said.
Marcus Ehning retired after Sandro Boy dropped one pole. "I do not think I did something wrong in approaching the fence; he just jumped 3 millimeters too low and after the fault there was no reason to
continue. Too many riders were already qualified for the jump-off."
Austria's Thomas Frühmann and The Sixth Sense retired after lowering one pole. Ludger Beerbaum and Goldfever had two poles down before they retired.
"It has been a long season for Goldfever with the European Championships at Mannheim [Germany] and now the indoor shows. Goldfever will have a break now, but I plan to compete him again next year. Certainly, his career will not last long anymore, since he will be 17 in 2008. But, for the moment, I am not
planning to retire him."
With Enorm, who he hopes will be his future top mount, Beerbaum had two poles down in Saturday's major class. The grand prix winners of Vienna [Austria] and runners-up of Friday's Championat of Frankfurt, Hugo Simon and Ukinda, pulled three rails in the first round of the grand prix.
But Voss was happy: "This victory has made my wildest dreams come true. I was lucky to go as the sixth starter in the jump-off. There were fast clear rounds already, and I decided that I would go as fast as I could knowing that Meredith was still coming behind me. I am very happy that my horse cooperated so well. That he can be fast he has proved already several times this year."
In Saturday's major class, the Champions Cup, Ehning took victory with Noltes Küchengirl by more than a second in a fast, eleven-horse jump-off ahead of Simon and Caldato. Third place went to the Dutch rider Juergen Stenfert with Julot Trefle.
Ehning had been eliminated in three rounds of the European Championships last summer with Küchengirl due to refusals. He said, "It has not been the most demanding class for Küchengirl since the European Championships, but it was the first victory since Mannheim. Actually, she has jumped all other courses since Mannheim very well. In her first show after the Europeans at CSIO Barcelona [Spain] mid-September, but still in smaller classes."
Stenfert has had the 10-year-old, French gelding Julot Trefle, formerly ridden by Katharina Offel, just three months, and Frankfurt was just their third show, but he is optimistic for the future.
"This was our first demanding class together. I think he is going to be my top mount for the future," he said.
In the Championat of Frankfurt on Friday evening Germany's Rene Tebbel won aboard Farina ahead of Simon and Ukinda. Alois Pollmann-Schweckhorst took third aboard Linos.
---
Additional Doping Tests To Be Held At Master League Shows
"We want to set signals for an open and fair sport and if necessary put some pressure on the FEI to fight the doping problem more intensively," announced Kaspar Funke, organizer of the Frankfurt Festhallen Horse Show and director of Escpn-Marketing.
"In 2008 we will take at each of the 10 Master League horse shows 10 additional doping samples at our expense as organizers, and we will pay for an accelerated investigation of those samples including the ones taken by the FEI to reduce the time before the results are delivered from several weeks to five days."
This acceleration of the laboratory tests raises the price for one doping control to about the double of approximately $725. A worthwhile investment, believed Funke.
"As a marketing person, I see the doping problem as an image problem," he said. "My ideas about how to deal with a rider in case of a positive drug test would, for example include suspending the horse immediately for at least one year. Therefore the use of doping substances would become much less attractive, and I have the feeling that these ideas are supported by the riders."
Co-organizer Ann Kathrin Linsenhoff—Olympic dressage team champion in 1988 and future chairman of the German organization Deutsche Sporthilfe (for the financial support of German top athletes)—supports Funke's initiative.
"It is not very encouraging how much time it takes before the results of a doping sample are available," she said. "The FEI is lacking money to carry out more and faster doping tests. For this reason we as organizers have thought about becoming trailblazers and putting the necessary money at our disposal."
Birgit Popp