For two years amateurs in eventing were allowed to make $2,500 riding and training, but as of Dec. 1 they'll have to follow the general rule that forbids such compensation.
The amateur rider holds a well-established place in the hunter/ jumper world, but in eventing, officials and riders alike are still trying to figure out exactly where amateurs fit in the overall picture of the sport.
Two years ago, a rule went onto the U.S. Equestrian Federation books that gave amateur eventers more leeway than their hunter/jumper and dressage counterparts. You could still be an amateur eventer, even if you made up to $2,500 from activities forbidden in the amateur status rule, GR1306.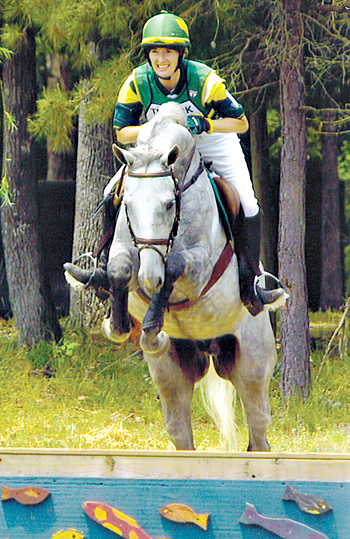 As of Dec. 1, 2008, eventers will be back to status quo, however, falling in line with the general rule, which doesn't allow amateurs to make a single dollar from teaching, training or selling horses (see CliffsNotes sidebar, p. 18).
Unlike hunter/jumper competitions, events seldom offer amateur divisions. Yet as more and more eventers whose highest ambition is novice or training have entered the sport, they've asked for some form of recognition. The U.S. Eventing Association provides amateur classes at the American Eventing Championships and a leaderboard for amateurs from beginner novice to advanced as well as an overall amateur leaderboard sponsored by Stackhouse Saddles, but riders wanted more. They wanted a way to divide divisions so that riders with full-time jobs who never compete above novice level wouldn't find themselves in the same division as someone who'd ridden at the Olympics. After all, you can't get on an amateur leaderboard if you never place high enough in a division to earn any points.
The problem with using the USEF amateur rule to define who can and cannot enter a division is that the rule only addresses how much money you make from horses. It has nothing to do with how good you are. And it excludes people who really aren't professional riders—but might make a few dollars a year teaching up-down lessons—from riding as amateurs.
"The general rule in the USEF Rulebook has always applied to eventing, but it doesn't really work well for eventing. We were trying to find a way to make it work," said D.C. McBroom, who participated in the amateur rule re-write.
At the 2003 USEA convention, members and officials tried to hammer out a rule that would address a rider's professional status and the level at which he or she has ridden.
"No one in the USEA could agree on how they were going to define amateur," said Malcolm Hook, chairman of the USEF Eventing Committee. "At the last Boston meeting [in 2003], Packy McGaughan had written what I thought was a very good rule. He presented it at the meeting, and the membership and some of the USEA officers said it was completely unacceptable."
Why Don't We Have More Amateur Divisions?
Although there are certainly plenty of eventing amateurs out there, it's rare to actually see an amateur division offered at an event, especially above training level. Amateur riders gain points for the U.S. Eventing Association leaderboards no matter which division they ride in, but many riders want to ride in divisions with their peers, not against professionals in large open divisions.
"The organizers will offer it if the riders will enter it," said D.C. McBroom. "So many people want to point fingers at the other and say it's your fault that you're not offering it, but we all have to work together in this situation."
In the past, organizers chose which divisions the event would offer and listed them in the Omnibus. If you wanted to enter at novice, you'd have to pick the best fit from whatever divisions of novice the organizer offered. That might only be open novice, or an organizer might choose to offer open novice, junior novice, novice horse and so on. But if only two people entered the novice horse division, the organizer still had to run it because it was listed in the Omnibus.
Then the USEA introduced a new entry form. Now riders must list their preference on the entry form, and then organizers can look at the entries and decide which divisions to offer based on the number of people who want to enter them.
On the new entry form, riders are supposed to numerically express their preference. So you might say that novice amateur is your first choice, novice horse is your second choice and open novice is your third choice.
The idea was to give everyone some flexibility. If an organizer noticed that 10 people had requested an amateur novice class as their first or second choice, then the organizer could offer that class. But the organizer wouldn't be forced to offer amateur novice if only two riders wanted to ride in it.
Unfortunately, the new entry forms have caused a lot of confusion. Many riders fill out the division preference section incorrectly. That's led some organizers to only offer open divisions.
"Instead of writing down a numerical preference, they'll check a box," said McBroom. "Without the numbers, [the organizer or secretary] knows it's a preference, but they don't know what order that preference is. They'll stick them in one division, and then the rider will come and complain that their first preference was another division. If they indicated it, they would have gotten their first preference. The organizers want to serve the riders and try and meet their desires as best they can, but they get frustrated if they're not given the tools to accomplish that."
Jo Whitehouse, chief executive officer of the USEA, joked that understanding the entry form may need to be the USEA's next educational campaign.
"The organizers aren't holding amateur divisions very often because nobody is asking for them," she said. "Unless the riders state on their entry form that they would like an amateur division, the organizers won't do them for three or four people. The riders have it in their hands to change it."
"Once the committee started working on the issue, we found out that it was a much broader topic than just amateur status," said McBroom. "You couldn't define an amateur unless you defined a professional. Once you started defining professionals, then you started having to look at horses. That's how we got into revising all of the divisions that are listed in Appendix 3. It was four years that the committee as a whole worked on it."
McBroom said that every time the committee submitted a new amateur rule, someone would object.
"We talked to a bunch of people. We found 80 percent of the people who would be affected by the rule would be considered amateurs under the general rule without any exceptions. It was the 20 percent who fell outside that definition who were the most vocal about the rule. They wanted the bar set right above where they would fall. Everyone wants to be an amateur."
The rider status committee finally determined they couldn't write a better rule than the USEF general rule, but the USEF Eventing Committee members took a crack at it by instituting the $2,500 exception.
"If a graduate Pony Clubber goes back and teaches lessons, even though he or she is a lawyer or whatever in private life, and that person makes $150 for a day of Pony Club lessons, then somebody would say, 'She taught my Pony Club, and she's not an amateur any more.' Those are the kind of things they were trying to allow for," said Jo Whitehouse, USEA chief executive officer.
"I think if you teach a little bit at the lower levels, there has to be some sort of scale," agreed Karen O'Connor, who sits on the USEF Eventing Committee. "The grassroots instructor who is trying to promote the sport should not be penalized and have to compete with professionals on their young horses who ride and train at the upper levels."
If You Can't Enforce It, It Won't Work
The new amateur rule debuted in eventing for the 2007 season. New entry forms also appeared around the same time, which allowed riders to request an amateur division for their respective level.
Although the rule change was made with the best intentions, it soon became clear that enforcement would be tough.
"We did the rule change proposal, and it went through all the discussion that they go through," recalled Hook. "The USEA came up with it, the Eventing Committee approved it, and then it goes to legal review that reviews all of these [rule change proposals], but as it turns out, legal review did not look at this one."
Hook received an e-mail from Lori Nelson, USEF Liaison to the Hearing Committee, in the fall of 2007 indicating a problem with the new rule for eventing.
In general, USEF affiliates are allowed to have their own rules. In dressage, for instance, you can't become an amateur until the year after you turn 21, because you compete as a young rider until then. However, it's still up to the USEF to enforce the rules, no matter what the separate affiliates write, so the rules have to be enforceable.
"People were being outed. They were competing as amateurs in eventing, and there were letters coming in that said, 'I happen to know she makes more than $2,500 teaching lessons.' Typically they were anonymous. But it was becoming controversial," said Hook.
Determining exactly how much money someone makes, especially in an industry where on a regular basis dollars change hands with no documentation, wasn't going to be easy for the Hearing Committee.
Another problem arose when eventers tried to compete outside their discipline.
"Eventers, who fell under the $2,500 but more than zero dollars, were going to dressage and hunter/jumper shows and trying to enter the amateur division," said McBroom. "It's the Hearing Committee that has gotten rid of the exception, not the USEA. They looked at it all last year and said, 'We can't make this work. We can't issue dual status cards.' They'd have to issue cards for people entering cross-disciplines, and then they'd have to examine their income and say, 'You're an amateur as far as eventing, but not for the other disciplines.' "
Nelson confirmed these reasons for changing the rule, although no one from the Hearing Committee would comment on the situation.
"I can see where the Hearing Committee saw it as a problem coming down the road at them," said Hook. "I sympathize because they've got a difficult job as a quasi-judicial body trying to enforce rules like that. When you start having little exceptions like that it's going to make things a lot more difficult."
The USEA Executive Committee and the USEF Eventing Committee bowed to the wishes of the Hearing Committee and agreed to bring eventing amateur status in line with the general USEF rule. This rule change will take effect Dec. 1, 2008.
"It was an unfortunate mix-up," said Hook. "If we're going to have an amateur division, the sensible thing is to define it the way everybody else does. The rubber meets the road with the Hearing Committee. They're the ones that have to deal with this stuff. It's easy for us in the Eventing Committee to say something works perfectly and be happy with it, but when there's a violation or an alleged violation, they're the ones who have to sort out the
tangled mess."
The CliffsNotes Version Of The Amateur Rule
Although the full version of GR1306, which defines amateur status in the U.S. Equestrian Federation Rulebook is too long to publish here, a short synopsis explains the salient points.
Amateur status isn't defined by one's equestrian skills or accomplishments. For eventing, a rider may start competing as an amateur if he or she is 18 as of Dec. 1.
Amateurs may not receive remuneration for riding, driving, showing, schooling or conducting clinics or seminars. Amateurs can't give riding or driving lessons, lessons in showmanship, instructions in equitation or horse training. If someone in your family is receiving remuneration for boarding, training, riding, driving or showing a horse, then you can't ride, drive or show that horse as an amateur. Nor can you give instruction to someone if your family member or corporation will receive remuneration.
You can't accept remuneration for the use of your name or photograph in connection with an advertisement.
If you sell horses or ponies that don't belong to you or a family member for a commission, you're not an amateur. Advertising services such as training or lessons is not within the amateur rule.
However, you can be involved with horses in many ways and still be an amateur. You may write books and/or articles about horses. You may work as an event official, veterinarian, groom, farrier, tack shop operator or breeder. You can run a boarding barn, as long as the only payment you receive is for taking care of the horses. You can even receive remuneration for your expenses, as long as there is no profit.
Will The Riders Miss It?
Amateur riders actually seem largely ambivalent about the change. After all, according to McBroom, only a small percentage of amateurs actually took advantage of that $2,500 window.
"When they change rules like this, I don't really care. I'm going out to event my horses. I love eventing, and I really don't care as long as they don't change the fundamental nature of the sport," said Wendy Bebie, who sat in seventh place on the overall amateur leaderboard at press time.
"I hadn't been aware that we could make $2,500 until a few months ago. I thought an amateur was an amateur," admitted Julie Ann Boyer, the third-placed rider on the overall amateur leaderboard. "It doesn't affect me. I'm totally an amateur. It's tough being an amateur in this sport, holding down a job and competing against professionals."
However, Boyer and Bebie do appreciate the fact that a leaderboard exists to recognize their accomplishments.
"Even if you don't get anything, just bringing [the leaderboard] up on the website, it's kind of cool to see your name there. You don't get a whole lot of recognition," said Boyer.
Elizabeth Ricklefs is another amateur rider who's made it onto an amateur leaderboard at the intermediate level.
"It's nice to see how you're ranking against your peers. I consider other amateurs my peers," she said. "It's one of the only sports where amateurs compete against Olympic gold medalists. It gives you a little bit of recognition. Otherwise, the majority of people in the amateur ranks wouldn't get any recognition at all. But I feel that anybody making $2,500 a year off horses certainly isn't making a living off horses."
"I don't object to changing it to zero, but I don't think $2,500 makes you a professional," said Boyer. "Who could live on $2,500? That's riding a couple of horses in exchange for some bales of hay or some money here and there. It won't affect my life because I don't take money, but if it stayed as $2,500 it wouldn't bother me either. For people who hold down another job, it's nice to have a little extra money to pay for the shows."
But this change won't get at the crux of the amateur rule, which tries to divide those who ride all day long from those who don't.
"I've been in amateur divisions at preliminary, training and novice. People complained that I was in the training level amateur division," said Bebie, who has ridden at the advanced level. "I didn't make up the rules. I just sign up. I am an amateur. I don't make any money. I lose money by the thousands every year. I don't think amateur should mean you haven't made it to the top, it just means you don't make any money. That means you're lucky enough to afford to go eventing without making money in it."

Sara Lieser
---
Change Is In The Air For Amateur Jumper Riders
Two years ago, when the U.S. Hunter Jumper Association Amateur Committee set out to institute a routine change to establish national low and high amateur-owner year-end awards, they discovered a glaring discrepancy: the rules for the amateur-owner hunter and jumper riders didn't match.
While the hunter rule (HU106) forbids amateur-owner hunter riders from competing on a horse they do not own at the same competition, the current jumper rule (JP117.2) does not make the same demand but allows show management to impose additional restrictions on these competitors.
"Right now it's perfectly within the rules for someone to show in the [amateur-owner] jumper ring and then show
someone else's horse in the adult [hunters], but not to show in the amateur-owner hunters and someone else's horse in the adults," said Tracey Weinberg, chairman of the Amateur Committee. "We sat there and said, 'An amateur is an amateur is an amateur,' whether you're in the hunter ring or the jumper ring."
The committee proposed rule change 489-08, which nullifies show management's ability to impose additional restrictions on amateur-owner jumper riders and copies the identical language that's in the hunter rule, stating: "An amateur who rides for a person outside of his/her family may not ride in a class restricted to Amateur Owners at the same competition."
Weinberg insists that the impetus for the rule change came from a desire to make the rules simpler, rather than a barrage of complaints or any major problems. "We're trying to make the rules easy to understand, with no loopholes and no exceptions," said Weinberg. "Amateurs come under so much scrutiny anyway, there shouldn't be any gray area."
The USHJA Board of Directors will vote on the proposal in December, and if it's passed the rule will go to the U.S. Equestrian Federation Annual Meeting for the next round of voting. If the proposal passes it will come into effect in December of 2009.
The USEF processed three other rule-change proposals affecting the general amateur rule (GR1306), which await
deliberation by the USHJA and the other discipline committees. Rule 081-08, proposed by Erin Cumbee and Natalie Llerena, applies the amateur rule to junior riders. Rule 475-08, proposed by the USEF Hearing Committee, clarifies the limitations on sponsorship and reimbursement of expenses. The last proposal, Rule 476-08, also introduced by the USEF Hearing Committee, incorporates the limitations on sponsorship and reimbursement and restructures the language of the rule top to bottom.
All of the proposed rule changes are available at http://www.usef.org/contentPage2.aspx?id=rulebook.
Mollie Bailey